There is no doubt that, as a society, our collective hygiene awareness has heightened over the past two years.
One of the earliest and most digestible pieces of advice given out by medical experts at the onset of the Covid-19 pandemic 2020 was all to do with cleanliness basics. Wash your hands, clean down surfaces after use, and use and dispose of tissues and wipes were just some of the messages that were magnified in those early pandemic days.
Of course, these are all important hygiene measures regardless of whether a virus is in mass circulation or not. However, it is clear for all to see how the pandemic has served as something of a general hygiene wake-up call; a prompt for establishments such as shops, offices and hospitality venues to ramp up their cleanliness strategies.
For businesses handling food, the pandemic has equally underlined the importance of not dropping the ball when it comes to hygiene.
We are all familiar with the five-star rating system – for many consumers, it serves as an important piece of information that factors into their dining destination decisions. Indeed, according to a study by the Food Standards Agency, around 85 percent of consumers and restaurant goers are aware of the hygiene standards in places they eat out at or buy food from.
Recent research carried out by the University of Kent, University of Reading and IHS Markit also found that UK consumers highly value food which has been produced to safety standards set by regulatory bodies from both the UK and the European Union. Failure to adhere to high food standards therefore presents risks in terms of loss of reputation and standing among target markets.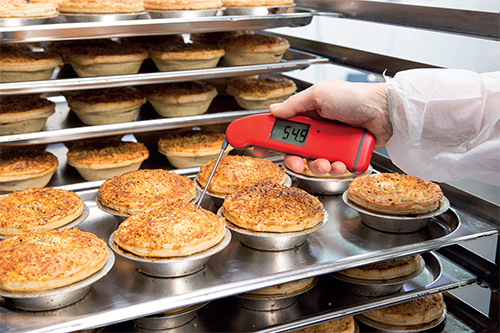 That said, reputational damage may be the least of organizational worries should they fall foul of food safety standards. Serious public health issues can arise from unsafe food handling and storage practices, the financial penalties for which can easily force businesses to close – that's if they have not already been forced to shut by health inspectors.
Food safety enters the information age
In the UK, Hazard Analysis and Critical Control Point (HACCP) is the government's legislative criteria for protecting food from biological, physical or chemical contamination. It is against these standards that food businesses are measured against when it comes to hygiene. They are rigorous, and rightly so. No longer is a sniff test or visual inspection enough to determine whether food is safe to consume.
Temperatures are a critical litmus test. The leading cause of food spoilage is the cultivation of bacteria, fungi and other microorganisms which, as they multiply, produce harmful and toxic substances that make food unsafe for human consumption. At room temperature, bacteria that can cause serious illnesses can double every 20 minutes.
This not only highlights the importance of proper refrigeration methods when it comes to storing fresh foods, but also the need to constantly monitor storage conditions. To do this effectively, we need a constant stream of reliable data to monitor and base remedial and proactive hygiene decisions on.
Here, wireless data loggers have a crucial role to play. As IoT-enabled devices, they can provide food handling businesses such as catering facilities, supermarkets and transporters with the comprehensive information they need to act immediately should any temperature issues arise.
Wireless data loggers work by transmitting data via the cloud which is then stored locally on PCs, smartphones, tablets or whatever connected device the user chooses. Here, the user can access temperature monitoring data in real-time, no matter where they are located, ensuring that checks are completed correctly, issues identified, and corrective actions taken to reduce or prevent incidences of food spoilage.
These devices are especially well suited to organizations that face challenges in collecting sufficient real-time or near real-time data manually – think large retailers and catering companies that rely on industrial scale refrigeration units. For such firms, wireless data loggers serve as vital tools to ensure compliance at all times of operation.
Food safety doesn't cost the earth
Indeed, there are benefits to be reaped beyond complying with food safety standards. By implementing smart, automated devices such as wireless data loggers to give you a real-time picture of food storage temperatures, companies can save human labor hours in the process.
Our data loggers start from £30+VAT, so organizations can soon deliver a return on investment. Data loggers free up staff time which can be spent on value-add tasks – and these devices don't take breaks, and are able to work every day of the year.
In numerical terms, businesses which take an average of 15 temperatures per day could be in line to replace 73 hours of manual labor a year which translates into a saving of more than £600. Further, devices such as wireless data loggers may be the difference between passing food safety inspections and falling short, which can carry far more serious financial implications.
With consumers and society at large paying greater attention to the hygiene practices of businesses that provide their food, now has never been a better time to leverage real-time data enabling technology to keep safety standards high.
For a list of the sources used in this article, please contact the editor.
Electronic Temperature Instruments
Jason Webb is Managing Director at Electronic Temperature Instruments, the UK's largest digital thermometer manufacturer and exporter of electronic thermometers and temperature probes. A privately-owned company founded in 1983 by Peter and Miriam Webb, ETI employs over 200 staff across four company owned factories in Worthing, West Sussex. The company has been presented with four Queen's Awards, most recently in 2018 the Queen's Award for Enterprise for Innovation. ETI manufactures 70 percent of the products it sells and distributes and it also exports approximately 59 percent of its annual turnover globally. ETI also supplies thermometers to other industrial sectors including construction, healthcare, scientific laboratories, HVAC and refrigeration.
For further information, please visit: https://thermometer.co.uk