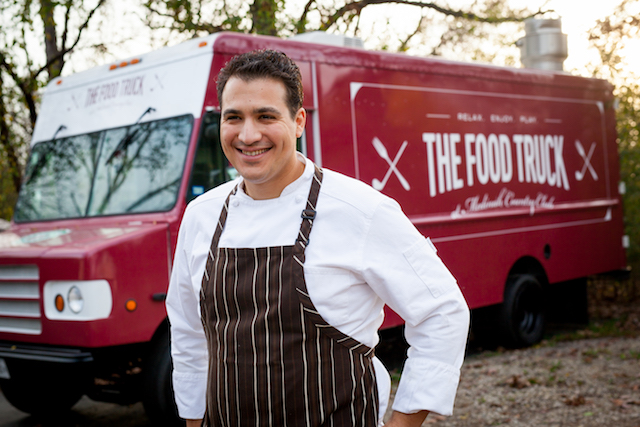 Medinah Country Club has earned the pride of members with its menus.
When members dine at Medinah Country Club, they can be confident they are being served by a team that shares their desire to have the best experience possible. "I have a team of very passionate people," Executive Chef Michael Ponzio declares.
Located in Medinah, Ill., the club opened in 1924 but recently completed a remodeling program. Today, it has three 18-hole golf courses, 100,000-square-foot clubhouses, paddle tennis and a pool.
Its dining operations, Ponzio notes, include two restaurants, a food truck, three halfway houses, a pool kitchen, a gun lodge, and chef's garden. One of the eateries, the Oasis, is located in one of its clubhouses.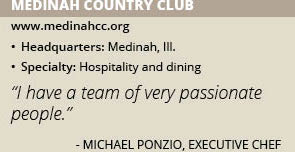 "[It] is our 19th hole that we converted and put a kitchen into because it's so busy," he describes, adding that the clubhouse also features Fireside, a farm-to-table restaurant, located upstairs.
"We also have the Casbah, which is a craft and cocktail bar," Ponzio continues, adding that the county club also features a several banquet areas.
Ponzio adds that some of the club's most popular items include the Medinah Meatball, a 10-ounce meatball. "It's very old school, served in marinara sauce," he says. "It's fantastic."
Other top sellers include the club's custom burger blend, which is made from patties that are hand-packed on site, along with its lobster roll. "The members take a lot of pride in the menu, which is exciting, since it's such a golf-centric program," he says.
Family in Food
Ponzio joined Medinah Country Club in 2013 after gaining extensive experience in restaurants. "This is my first country club," he says. "It was an interesting change."
Under his tenure, the club has implemented a methodology to the meals it serves, which has involved extensively researching the ingredients. For example, "[We'll look at] where were the pigs raised and what they were fed," Ponzio says.
"All those kinds of little steps [matter], because people want the idea of healthy eating," he says. "We're at least giving them the best products."
This vision is shared by his staff, who he has carefully recruited based on personality as opposed to experience. "For me, it's all about attitude," Ponzio says. "If they can show they're the type of person that fits into our culture, we'll teach them everything we can."
His team, he adds, regularly contributes when the club's restaurants make menu changes. "We sit around the table and talk about ideas, because we're a family," he says. "I started it, but they take the ball and start running with it."
On Its Own
Medinah Country Club uses products from local farmers, as well as many ingredients that it grows on the property. For example, "[We have] our own chickens for eggs," Ponzio says.
This program, he notes, started three years ago when the club's general manager approached Ponzio about growing a garden, as well as building a chicken coop. "We started with 12 hens and now we breed them on the property," he says.
Today, it has 40 hens. "The members love it," Ponzio says. "Their kids will take leaves from the garden and feed the hens through the fence. We have this whole self-sustaining ecosystem."
It also has its own maple syrup program. "This year, we're growing up to almost 100 trees," he says, noting that the club expects to produce nearly 100 gallons of syrup this year and introduce honey later in 2019.
The Next Step
Medinah Country Club continues to be in growth mode, Ponzio says. Currently, it is in the process of constructing a large outdoor deck on the rear side of the Oasis that will connect to Casbah "to enhance the members' service," he says.
He also sees collaboration in the club's future, which will find in partnering with one of the local farms. "They're going to give me a fairly large chunk of land to grow our products," he says.
This will allow Ponzio to continue keeping a close eye on the ingredients in its kitchen. "That's definitely the next step when it comes to the culinary side," he concludes.