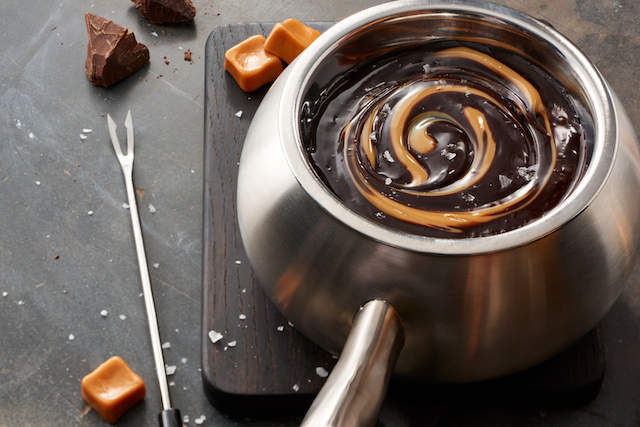 Melting Pot is refreshing its brand with changes to its menu and design.
In "On the Origin of Species," naturalist Charles Darwin suggests that species need to evolve to fit a changing environment. Melting Pot restaurants, the preeminent fondue operation in the United States, is planning its own evolution.
"It doesn't happen overnight," says Jason Miller, director of culinary innovation and corporate chef. "We started in 2018 and by 2021 we're looking to have the bulk done."
The first Melting Pot opened in an Orlando suburb in 1975, serving only cheese, beef and chocolate fondue. Mark Johnston, who was working his way through college as a waiter at Melting Pot, saw how popular the concept was and with his two brothers raised the money to open their own Melting Pot in Tallahassee, Fla.
In 1981, they opened a second Melting Pot in Tampa. In 1985, the brothers bought all rights to Melting Pot and began selling franchises. Today, the company has 108 locations in 31 states and – since 2010 – in Canada and Mexico. About three percent of those are company stores; the rest are franchises.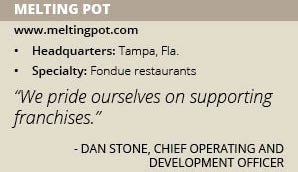 Relay Race
Fondue is not your typical dining experience. There are cooktops on every table and food is cooked at the table rather than in a kitchen. "Making that cheese at the table, as interesting as it is, can be time-consuming," Miller says. "You are there and you're hungry and you are just waiting for a server to finish crafting the cheese fondue."
That is why Melting Pot plans on having a cheese and chocolate station in the dining room. The tenders will make the cheese at the station and a server will bring it to the table to add final ingredients. "Think of it in terms of a relay race," Millers says.  "The server comes in on the last leg. You still get that entertainment factor and it allows customization. It doesn't compromise the integrity of the cheese or the quality of the ingredients."
That's important. Melting Pot buys high-quality ingredients from sustainable vendors. The company works with Cacao-Trace® to make sure cocoa farmers are earning a living wage and that the post-harvest fermentation of cocoa beans produces superior tasting chocolate. Additionally, the Melting Pot works with cheesemaker Kindred Creamery®, based in Wisconsin. In partnership with the Swiss/American company, Emmi Roth®, the cheesemaker is known for their Cows First program. This program recognizes farmers' hard work and respect for their herds and allows them to treat their cows like family. Treating its cows well produces better milk and therefore cheese.
In addition to fondue, select Melting Pot locations will offer cooked foods options. "There might be a person in a group that doesn't want fondue and that one veto vote sways the group [to another restaurant]," Miller says. "One of our legacies is that Melting Pot was a cold prep kitchen. Now we are adding ovens, fryers and cheese melters. We can compete with other restaurants."
Besides satisfying a potential veto diner, cooked foods allow diners to get in and out much quicker. That means Melting Pot restaurants can start offering lunch, something the restaurants couldn't do in the time it took to serve a typical four-course fondue meal.
Restaurants now offer new cocktails with an emphasis on clean and fresh ingredients.  There will also be a centrally located area for wine.
As with any makeover, there are challenges. Those include hiring higher-wage cooks, training of employees and buying kitchen equipment. Dan Stone, chief operating and development officer, thinks those challenges can be handled. To help work through it all, the company leverages a committee comprised of franchise owners and company staff.
To be clear, Melting Pot will remain a fondue operation during and after its evolution. "We are not departing from fondue," Stone says. "Historically we have been viewed as a special-occasions dinner – birthdays, anniversaries and engagements. The Melting Pot evolution allows us to broaden the brand and allows guests to think of us in ways they haven't thought of us." Melting Pot has fully instituted those changes in its restaurants in Red Bank, N.J., and El Paso, Texas. "The consumers love it," Stone says.
While the company wants to refresh its brand, it is flexible with franchisees. "Franchisees have to include some of the changes," Stone says, but can choose to opt out of the others.
Reasons to Invest
Those looking to start their own business have numerous reasons to consider a Melting Pot franchise. "Franchisees of Melting Pot would be bringing something to their communities that isn't just another sandwich shop or Italian restaurant," Stone says. "Because of the uniqueness of Melting Pot, we have a deep emotional connection with our guests. It's a brand that has been around for more than four decades. We pride ourselves on supporting franchises. Sixty-five team members to support 108 locations is a lot of support."
Melting Pot offers an eight-mile protective radius for franchise restaurants with rare exceptions such as airports or densely populated cities like New York City.
For new franchisees, the company helps with site selection, initial layout and space planning before construction and offers an eight-week training program for managers at its company operated locations. Closer to opening, the marketing team helps create a grand opening plan and company trainers go to the restaurant to train staff.
In terms of ongoing support, Melting Pot analyzes food and commodities markets to lock in high-quality foods at optimal prices. The company also helps with IT, P&L, inventory and other aspects of the business.
"We work very closely with our franchise community," Stone says.