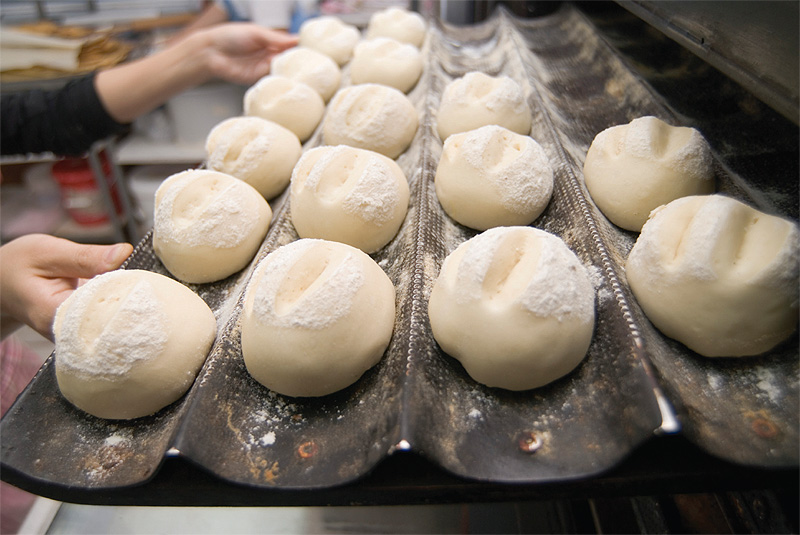 Making the grain
Celebrating 100 years in operation in 2015, Meneba has developed a strong reputation for producing and marketing raw materials and functional ingredients for bakery and food products
A long-term specialist in the development, production and marketing of cereal products, Meneba uses its century of expertise to serve its customers in a manner that will further cement its position as a well-established partner capable of bringing maximum value to grain. As a high quality supplier with a broad range of flours within its product portfolio, Meneba operates within numerous business sectors, from artisanal bakeries to industrial bakeries to customers within the food industry.


"Meneba began operations in 1915 and our main activities are milling, which we do from three locations: Rotterdam, Wormerveer and Bossuit. We mill approximately 650,000 to 700,000 tonnes of products per annum and from wheat and rye, the total sales is around 220 million euros, while the number FDA is 185," begins Gerard Verkerke, Sales and Purchasing Director at Meneba. "We have four customer groups, the first being artisanal bakeries in Belgium and Holland, while the second is the food industry for which we supply ingredients for biscuits, honey cake and those kinds of products. We also provide products to industrial bakeries, where products are sent to the retail industry; our fourth customer group is export clients who are mainly based in Africa and South America."
Customer focus
He continues: "What differentiates us in the market is our clear focus on delivering what the customer wants; to meet these needs we have a broad assortment of products and maintain consistent quality whether the customer is artisanal or industrial. We also deliver excellent customer service and seek out ways to actively help customers, whether that is in our in-house test bakery or in our customer's bakery or one-on-one with solo bakers. We also teach new skills or new techniques such as fermenting and develop new products such as new bread products for multi grain or find solutions for a problem on the line."
Able to produce the right cereals and varieties to suit the requirements of customers, Meneba can also add value through knowledge and flexibility as it has the broadest assortment of cereal specialties within Europe. Segments within Meneba's assortment of products include wheat flour, which includes Edelweiss, a flour base that boasts attractive baking properties for large white bread, small white bread and stuffed bread applications; it also includes T65 Tradition Francaise, a specific type of wheat flour that can be used in the preparation of authentic artisan breads as it is the perfect type of flour for the preparation of a homemade traditional sourdough. There is also a wholemeal segment, which includes Acacia, a product that gives the bread a firm and compact crumb; a light multigrain segment that includes Alaska, a mix of high-fibre white bread; medium brown multigrain segment that includes products such as Tundra, a multigrain mix for a golden blonde multigrain bread, which is richly filled with toasted wheat germ and pumpkin seeds; dark multigrain, which includes Crude Bolster Robust, a multigrain mix for a dark multigrain bread with a coarse and pure character.
In addition to these segments, Meneba also has spelt products, such as Triticum spelta, an ancient grain from the same family as wheat and process improvers such as Libre, a progressive process improver consisting entirely of natural grain components with a unique functionality. Alongside these product areas, there is also decoration/cereal specialities, rye and banquet products available.
Successful innovations
What makes this broad product range possible is oriented global grain purchasing, an awareness of market trends and sophisticated milling and processing techniques, as Gerard notes: "We have seven milling systems, which range from two to 24 tonnes per hour; we also have a great mixing system for flour and wholemeal and a mixing system for multigrains, which is mixed with multigrains, seeds, colours and flavours. We can also roast and toast wheat germs to make more tasteful products in the biscuit and bread sector. To further strengthen our capabilities, we recently invested in new machinery in the milling and cleansing departments as well as mixing in advance of future opportunities to make more tailor made solutions."
As demand grows for customised, natural products that bring optimised functionality for high-quality processing lines, Meneba is in an enviable position as it uses its nutritional knowledge, processing expertise and awareness of market trends to provide clients with successful innovations that not only integrate with the trends of today, but will also meet the demands of tomorrow. Some examples of product innovation include multigrain mixes that are free from E numbers and lactose and process improvers, which make it possible to prepare bread authentically while using modern production processes.
Future focus
As demand for its versatile range of products continues, Meneba is on the verge of reaching full capacity and will be looking to expand in the near future to ensure it can continue meeting the requirements of its increasingly diverse customer base, as Gerard concludes: "This expansion will not only enable us to further enhance our dough making and pre-fermentation capabilities for a few new products, but will also make it possible for us to produce flour for sponge cake and other items for the food industry. On top of expansion, another focus for Meneba is to make the chain from farmer to customer more open and transparent, which will allow consumers to see where their bread is made and where their wheat comes from. As a company that delivers quality in both service and products, transparency is important to us."