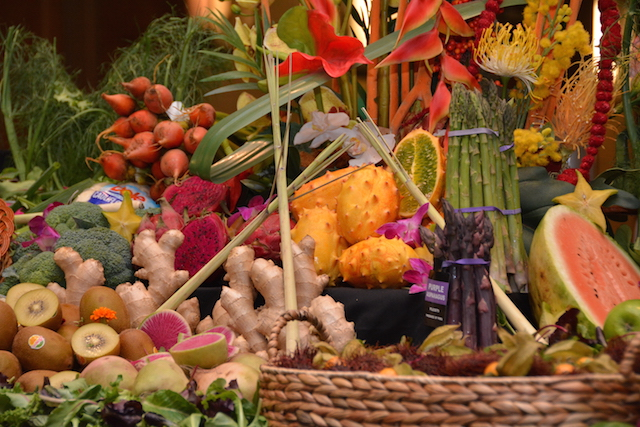 Merchants Market Group LLC
As a broad line distributor, Merchants Market Group services the Caribbean islands while maintaining a family culture.
When dining at a restaurant or staying at a resort in the Caribbean, chances are the products from seafood to Certified Angus Beef to spices, all the way to the napkins were all distributed by Merchants Market Group, a broad line distribution company. Founded in 1969, the company has grown aggressively, especially within the last five years.
Merchants Market Group consists of five operating companies, all reporting to President Rick Wilson: Merchants Export in Palm Beach, Fla., which buys and consolidates all of the products and ships them to the Caribbean distribution centers. Those distribution centers are Merchants Market of St. Thomas, St. Croix, St. Maarten and Anguilla.
"There's nobody else like us," Wilson says. Merchants Market Group is the parent company, which consists of Wilson, the financial department, sales and IT support.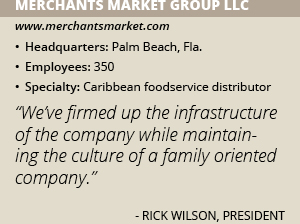 Merchants Market Group carries 12,000 SKUs, primarily food items and disposable items. "We are the only broad line distributor that carries all the items," Wilson says. "We carry anything a restaurant operator or resort could need relative to foodservice and stock."
Luckily for Merchants Market Group, there isn't a lot of broad line competition that services the islands. The company's main competition are smaller, niche distributors and cash-and-carry wholesale companies. "We may not be the cheapest because we have a high-service profile providing quality products delivered in our temperature-controlled fleet," Wilson notes.
It sets itself apart from these other distributors by investing heavily in its food transportation. All trucks are inspected before and after delivery and temperature-controlled throughout the journey. Items from the Palm Beach export facility are transported via cold storage containers. The storage buildings are refrigerated, but include multiple temperature zones to ensure all food is safe and kept to Merchants Market Group's highest quality standards.
"I believe we are not the cheapest, but we pride ourselves on high-quality and high-service standards," Wilson says. "We're a one-stop shop for restaurants and foodservice operators."
Long-Term Partners
Although Merchants Market Group has been successful the last few years, it is always at the mercy of the tourism market, given that the Caribbean is a tourism-based economy. It has a tendency to fluctuate more than regular markets, Wilson says. So, the company's restaurant and resort customers have to adapt to the spending habits of tourists.
"One of the things we've adapted to is carrying things that are more in line with our clients price-wise," Wilson says. "So with economic pressures, we have adapted our product line with multiple quality levels to help support whatever changes they need."
A company called 2015 Holdings bought Merchants Market Group two years ago, which will help the company expand throughout the Caribbean. It wants to put more brick-and-mortar operating companies on more Caribbean islands and look for strategic alliances with distributors, manufacturers and shipping companies. 2015 Holdings is making significant investments into all of the operating companies in the way of facilities, fleet and technology.
"We have many great long-term supplier partnerships," Wilson explains. "Part of our logistics supply chain is our shipping partnerships because everything we have goes out in containers. We have fantastic relationships with them. Managing our shipping partnerships is huge to us and we have contracts that are very strong. The other big piece of our supply chain is that, at the end, we have wonderful facilities on our islands where the product ends up for final distribution."
Wilson says the company is able to maintain these long-term partnerships – some dating back more than 20 years – because the suppliers and shipping companies are able to grow with Merchants Market Group. Also, Wilson notes, the company prides itself on paying its partners timely and living up to its commitments. "A big foundation of this company is integrity and sticking to what we say we're going to do," he says. "That kind of relationship, along with the growth piece, makes us a good choice for people to want to do business with."
Company Pride
Many of Merchants Market Group's people have a long tenure with the company; some staff members having dedicated 25 to 30 years to it. Wilson says they're all very knowledgeable with high-level experience that can give clients confidence because they're well versed in service and, especially, food safety.
"These people have a lot of pride in the company," Wilson says. "When you work somewhere this long, you feel like you own a piece of the company. When people go out to eat, they're talking about the company to businesses. They're motivated in pride in where they work and believe everyone should be buying from us. They motivate me more than I motivate them."
Wilson has been president of the company for only a short time having moved into the leadership role in January after being the General Manager of Merchants Market of St. Croix since 2014. According to Wilson, he says he feels lucky to have inherited such a positive company culture. And he strives to maintain the family culture because, up until a couple years ago, the entire company was family owned and operated.
"I'm proud of the advancements we're able to bring to the company," Wilson says. "We've firmed up the infrastructure by integrating industry standards and state of the art IT Systems. It still is very family oriented. We are able to bring much modernization while maintaining what made it good in the first place."