Merisant's focus on efficiency and product innovation is allowing it to make the world a sweeter place. Expansion into international markets and different product types is a high priority for the company, which markets and manufactures the Equal®, Pure Via® stevia and Canderel® tabletop sweetener brands.
"We have a vision to double our size," says Paul Block, CEO and president of the Chicago-based company. "In particular, we're very excited about future growth in Africa and Asia, two continents where we see significant growth opportunities for food and beverage products in general."
The company in recent years has expanded its distribution channels and product lines to grow with market demand in China, India and South Africa. Merisant also has significant marketshare for sweetener products in Europe, where consumers are again beginning to make more discretionary purchases following the worldwide recession. "European consumers are becoming more energized, and that bodes well for us," Block says.
The majority of the company's business is international. The Equal and Canderel brands enjoy a dominant marketshare in Europe. In the United States, the company sees steady sales of Equal, a brand which marks its 30th anniversary in 2014, as well as significant growth of Pure Via, an all-natural, non-GMO and low-calorie sweetener.
A Positive Culture
Merisant supports its international operations with offices in Spain, the United Kingdom, Argentina, Mexico, Switzerland, Australia and France. The company operates manufacturing sites in Manteno, Ill., and Teplice, Czech Republic. In addition to manufacturing its own products, the company also partners with contract manufacturers as needed.
The factory in the Czech Republic, which opened five years ago, greatly added to the company's capabilities. "That plant gives us the ability to source materials and produce our products more efficiently and be more proficient overall," Block notes.
Merisant recently reconfigured its production lines to focus on larger production runs and also added new form-fill-seal packaging equipment. The new additions have allowed the company to expand into private-label packaging, which many retailers demand, he adds.
Fast and Agile
Lean manufacturing and Six Sigma principles are incorporated into the company's operations. "We've very lean and have a flat hierarchy," Block says. "We have a culture of moving extremely fast and being agile, innovative and creative. That culture has really carried over to our manufacturing operations."
Block credits Merisant COO Rich Mewborn with much of the company's operational success. Under Mewborn's direction, the company has changed the way it negotiates and structures contracts as well as the way it bids RFPs. The company also hired a chief procurement officer to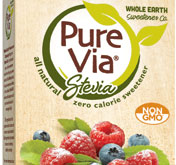 oversee its sourcing, and a new sales and operation planning manager, who oversees its forecasting.
The company's key suppliers include Pure Circle, the world's largest manufacturer of stevia; and multinational agribusiness company Tate and Lyle, with whom Merisant has an innovation partnership. "Combining our supplier relationships and manufacturing capabilities with our strength in sales, marketing and distribution has given us the opportunity to succeed," Block adds.
Moving Forward
Merisant leverages its manufacturing operations and relationships with suppliers to regularly introduce new products to the market. "We believe in trying different types of packaging and promotions, eliminating the things that don't work and leveraging the things that do," Block says.  "We're doing a number of things that are pushing the envelope around the world in new product development."
The company's newest products include Pure Via stevia cubes, as well as a version of Pure Via with raw sugar. Merisant also recently introduced new packaging including a resealable bag with a pour spout.
Product expansion is a high priority for the company both within and outside its core product base. Within the sweetener world, Merisant continues to develop products that can meet the dietary needs of diabetics or people seeking to lose weight. "Unfortunately, obesity and diabetes are epidemics that show no signs of slowing down, which makes our products an important option for consumers worldwide," Block says. "We're not happy about the prevalence of these conditions, but are glad that we are able to offer a solution to that portion of the population."
Ultimately, Merisant hopes to branch out beyond sweeteners into other product lines through acquisitions. "We believe we are an extraordinary sweetener company, but I also believe we can be a great food company in general," he adds.