Metcalfe's Market sets a standard when it comes to renewable energy.
After a century, Metcalfe's Market says it operates neighborhood stores that are "overflowing" with items. "Our markets are known for an abundance of local and premium quality foods," it states. "In fact, many of our own ingredients are sourced from local farms and artisans at the peak of their season."
Metcalfe's Market has a history going back to 1917, when founders Henry and Teresa Hess started the company with a single location in Butler, Wis. The Hess family rented the store portions of the building to the Milwaukee Cooperative Association, a co-op grocery, while they lived on its second story.
After Henry Hess' son-in-law, Vern Metcalfe, bought the store in 1937, he and his wife Mary managed it before building a new location about a decade later. The Metcalfes lived above the store, which was called the Metcalfe IGA Super Market. "Because many people didn't have cars at the time, Vern and Mary often delivered groceries right to their customers' homes," the company says.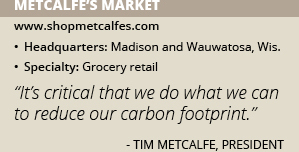 Born into the Business
Vern Metcalfe brought his two sons, Tom and Jerry, into the business at young ages. Initially, the two sacked potatoes, sorted bottles and assisted their father in picking up products at warehouses and produce docks.
The brothers helped their father grow Metcalfe's Market when they built one of its current stores in 1958. "When they made this move, they changed their affiliation from IGA to Sentry Foods, becoming one of the first Sentry affiliates in the state of Wisconsin," the company says.
Tom and Jerry Metcalfe extended the company's reach further with the purchase of a Sentry location in Monona, Wis., in 1969. Twenty years later, Tom Metcalfe bought out his brother's share of the company.
His first action was growing and remodeling one of the company's locations in Madison in order to meet customer needs. "He added more than 10,500 feet, expanding all departments and improved the store's décor," the company says, noting that this brought the location to its highest sales level ever.
The Fourth Generation
Metcalfe's sons, President Tim Metcalfe and Vice President Kevin Metcalfe, led another expansion of the location in 1999. "The brothers focused on the perishable departments' merchandising and lighting," the company explains.
This worked out so well for Metcalfe's Market that the location won two international awards for its design and set a new sales record. The following year, the brothers bought the family business, which now has two locations in Madison and one in Wauwatosa, Wis.
"Today, Tim and Kevin continue to focus on the company's steady growth and commitment to provide total customer satisfaction while offering only the best to the customers of Metcalfe's Market," it states. Its stores carry bread and pastries from 25 local bakeries, more than 500 varieties of artisan cheeses and the area's largest selection of local and organic produce.
Making a Difference
Metcalfe's Market says it is 100 percent powered with renewable electricity. "That means the electricity to power every light, refrigerator and check out-lane comes from renewable sources, rather than fossil fuels," it states.
The company has accomplished this through its partnership with the Ethos Green Power program, which is part of Green Power Generation, a non-profit. "Grocery stores are generally large energy users because of our product mix, store size and the fact that we're open seven days a week," Tim Metcalfe said in a statement.
"It's critical that we do what we can to reduce our carbon footprint – both because it's the right thing to do and because we know it's important to our customers," he added. The company's renewable energy purchases consist of approximately 85 percent wind and 15 percent solar power, which off sets carbon dioxide and other dangerous chemicals.
Mecalfe's Market also sources its renewable energy locally, even from some of the farms that it gets food from. "Our Green Power programs show our dedication to our community and are a simple way for consumers to support renewable energy just by doing everyday shopping," Metcalfe said. "It's a way for us to lead by example and to show that every bit of green power can make a difference."
But the company's green commitment does not end with solar and wind power. Metcalfe's Market also uses LED lighting, offers plastic bag recycling and has its REUSE & CHOOSE recycling program where it pays customers 10 cents per bag that they bring from home.
Tasting the Difference
Metcalfe's Market offers catering services with "delicious party platters to make entertaining in style easy," the company says. "Metcalfe's culinary team is committed to making sure that every item we prepare will look great and taste as impressive as [our customer's] event, whether it's a box lunch meeting, intimate dinner party, wedding or anything in between.
"Plus, we pride ourselves on using local, sustainable and organic products whenever possible," the company says. "[Our customers'] guests will taste the Metcalfe's difference."
Family in Food
Metcalfe's Market says it operates with a unique environment where its core values, the power and passion of its people, and client loyalty shape its culture. "The Metcalfe's Market family is full of chefs, foodies, culinary students and hard workers who like a fun place to work every day," it says.
Its team includes some who have worked for the company for more than 30 years. "We are able to best serve our customers, effectively run our business and maintain our unique culture by selecting self-motivated individuals who promote teamwork by example and excel in a service environment," it says.
"Metcalfe's strives to be a place where [employees] can dream, achieve and have an opportunity to make both [their] professional and personal goals a reality; a place where [they] are empowered to work hard, express [their] individuality, strive towards [their] goals and to participate in an experience that is as unique as our employees," it says.