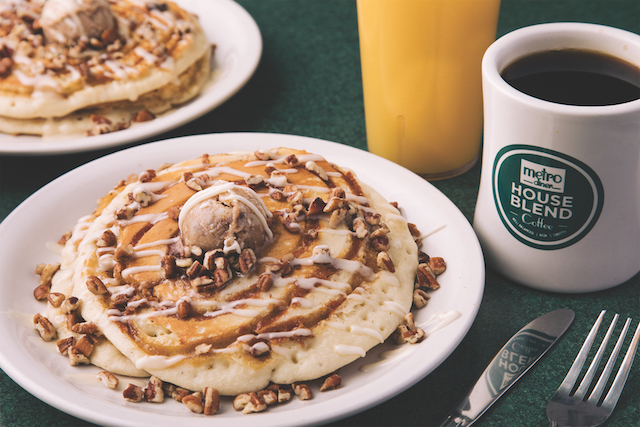 Metro Diner has grown from a small family operation into an empire of more than 65 restaurants.
It's known for contemporary culinary techniques, unique recipes, imaginative twists on old classics and making food from scratch. It was featured on Food Network's "Diners, Drive-Ins and Dives" and its meatloaf and fried chicken have received "best" mentions and awards from dozens of publications. It's Metro Diner – and it's taking America by storm.
What once was a family of three diners has grown into a mushrooming empire of more than 65 restaurants in a period of slightly more than four years. The first diner opened in 1938 and was revived as Metro Diner in 1992 – quickly becoming a favorite place for breakfast in Jacksonville, Fla.
In 2000, master chef Mark Davoli and his family took over the diner and elevated the menu to include innovative new dishes created from local ingredients. In 2014, Metro Diner was noticed by a few entrepreneurs and restaurant industry veterans.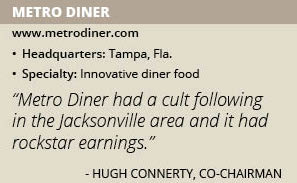 "We were looking to identify brands that we felt could be scaled on a significant level – brands that Americans would really like," says Hugh Connerty, Metro Diner's co-chairman. "Metro Diner had a cult following in the Jacksonville area and it had rockstar earnings."
Connerty, who was the first franchisee of Outback Steakhouse, and Outback Steakhouse co-founder Chris Sullivan saw the potential for Metro Diner to grow into a national chain. "We wanted to purchase the intellectual property and knew that the best way to build a brand is through a venture with the founder," Connerty adds.
Growing The Brand
It was a match made in culinary heaven. Connerty and Sullivan were joined by the former president of Carrabba's Italian Grill Carl Sahlsten, who became Metro Diner's CEO. Along with Metro Diner's founder, Mark Davoli, the group set out to grow the brand.
"We grew a couple of diners outside the Jacksonville area and started Metro Diner LLC," Connerty says. "Over the last 48 months, we've opened 62 new locations. In 2019, we are looking to open 22 more."
Known for warm and welcoming service, familiar faces and award-winning food, Metro Diner is a fast-growing eatery that has expanded from Florida into 13 states up the east coast to New Jersey and Indiana.
Metro Diner restaurants average around 3,500 square feet and contain roughly 125 seats. "The look and feel of the diners is very much like the original diner," Connerty says. "It's very homey and it offers great comfort food at a reasonable price. The average check is $13."
Last year, Metro Diner started experimenting with a larger footprint of roughly 4,000 square feet that features TVs and a counter bar component that serves cappuccino, milkshakes and alcoholic beverages. It opened four such locations last year and plans to open a few more this year.
"The reaction has been very positive so far," Connerty says. "They also have TVs in the bar area and I think it's going to prove successful."
Although Metro Diner is not in the franchise business, its company-owned stores have managing partners that own between 5 percent and 10 percent of the restaurant they manage. Connerty says that part-ownership gives the managers an extra incentive to make their restaurant more successful.
Culinary Creations
Metro Diner restaurants pride themselves on cooking from the heart. When it comes to food, quality and creativity is highly valued.
"Mark Davoli is a very creative guy when it comes to comfort food," Connerty says. "He didn't want to do normal diner food. He put a creative spin on it."
Among Metro Diner's favored dishes is the Fried Chicken and Waffle entrée featuring half a fried chicken and a Belgian waffle topped with a sweet, strawberry butter and served with a signature sweet and spicy sauce.
"It's definitely one of our popular dishes," Connerty admits. "It's a great recipe."
The Charleston Shrimp and Grits platter is another house favorite. The dish combines two fried grit cakes infused with cheese, roasted red peppers and Andouille sausage. It's topped with shrimp, sausage, onions and peppers in a shrimp sauce and garnished with chopped bacon and green onions.
"People love our Charleston Shrimp and Grits," Connerty says. "It's great comfort food."
Metro Diner is also famous for its award-winning meatloaf that's served with mashed red-skinned potatoes, brown gravy, veggies and a fresh baguette. Its hot turkey plate, also served with mashed red-skinned potatoes and veggies, is over roasted.
Of course, it wouldn't be a diner without omelets. Made to order, Metro Diner's omelets are loaded with a variety of ingredients and served with toast and a choice hash browns or grits.
For example, the popular Western Omelet features ham, cheddar cheese, mushrooms, onions, tomatoes, peppers and is topped with salsa. Although omelets are on the breakfast and lunch menu, Metro Diner restaurants serve breakfast all day and there's always something new.
"We evolve the menu all the time," Connerty says. "We run daily specials and there are over 100 recipes."
Aside from food, Metro Diner prides itself on customer service and attributes some of its success on the emphasis to keep itself local. Connerty says that Metro Diner is a company of restaurants, as opposed to being a restaurant company.
Since the company gives its restaurant managers part-ownership, it's evolved into a network of operators that follow the family values of Metro Diner's founding family.
"How do you replicate the culture of the founding family?" Connerty asks. "You teach it to others. We call that the Metro Diner way. You can have great décor, great food but what brings people back to a restaurant is how you make them feel. It has to be welcoming. When you leave, you feel good."
Every month, Metro Diner brings roughly 20 team members into its management program. They travel to the company's headquarters in Tampa, Fla., and train to do things "the Metro Diner way."
"That separates us from other restaurants," Connerty says. "Our team members tell us that they've never had the type of training that we do here. When I hear that, I know we're doing something right."