Where passion meets vision
With more than 150 years of operational experience throughout its portfolio, restaurant operator Mexican Restaurants, Inc. is now looking to grow its presence across the US sunbelt
Walk into any one of the nine Monterey's Little Mexico restaurants located throughout Texas and Oklahoma, and you'll be greeted with a familiar sight. The cantina walls, daubed in vibrant turquoise, burning red, and soothing yellow, sit harmoniously along the painted wooden tabletops. Sombreros are dotted high around the room, hung above the archways that lead through to the kitchen, where the busy, smiling staff are hard at work, cooking up all manner of Mexican home-fare: quesadillas, flowing with molten Monterey Jack; enchiladas stacked with grilled chicken, and bathed in Monterey's signature cilantro cream sauce; or Tex- Mex, available six ways.
Founded in 1955, the authentic Mexican chain is the oldest brand of the five that comprise the portfolio of Mexican Restaurants, Inc. (MRI), a Houston-based restaurant operator. Boasting a total of 38 locations across four states, MRI prides itself on a diverse range of fresh, authentic food, and a strong passion for hospitality. It's an approach that has helped MRI's restaurants build a broad-based appeal.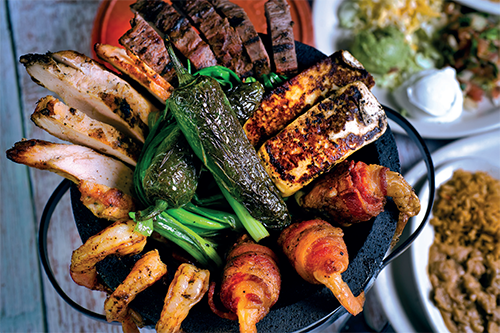 "Combined, our brands represent over 150 years of operational experience," explains Pete Pascuzzi, CEO of MRI. "We dedicate ourselves passionately to providing our guests with a great experience – one that begins with fresh, quality food and extends to friendly employees and a fun, often uniquely different atmosphere."
The remainder of MRI's brands have much in common with Monterey's Little Mexico. It was a former employee of that chain who, in 1973, founded Casa Olé. Bringing its twist on true Tex-Mex to customers throughout Texas and Louisiana, it's a brand founded on fresh, quality ingredients, from the avocado that tops the 'Tilapia Cancún' to the flourish of lime topping off its range of margaritas, available from the in-house bar. A third brand, Crazy Jose's, is a full-service restaurant located in Lumberton, Texas, recognized for its distinct Santa Fe-style appetizers, combo platters, and burgers, chicken-fried steak, and chicken dinners, served against a backdrop of live music. Tortuga Mexican Kitchen, meanwhile, fuses traditional cuisine with Caribbean and Cajun-style seafood in dishes such as 'Shrimp, Crawfish & Spinach Dip', 'Blackened Tuna Salad', and the 'Del Mar Extreme Fajitas'.
Überrito Fresh Mex (Überrito) is the most recent addition to MRI's portfolio. Formerly known as Mission Burrito, the company was rebranded in 2014 as a departure and evolution from other fast-casual concepts. As Pete says: "Since day one, we've honored our commitment to quality, fresh, fast, and flavorful food that pays tribute to traditional Mexican cooking, while also going above and beyond the burrito. Created in our own kitchens, these tastes include fresh, house-made salsas and chips, guacamole, our own special marinades for meats, and more tortilla, protein, vegetable, and topping options than our competitors, including shrimp and fish options.
"From Cuban to Cajun, Mexican to American, we have something to satisfy every appetite or portion size, whether you're a meat lover or a vegan," Pete continues. "Überrito has now established a faithful following in Houston, and is positioned as an aggressive brick-and-mortar growth vehicle."
MRI's restaurants have firmly established themselves among some of the best available throughout Texas, Oklahoma, Louisiana, and South Carolina. But Pete isn't content with the status quo. In May 2022, MRI announced the launch of a new Überrito restaurant in Huntsville, Texas, in a move that represents the company's ongoing mission to provide its guests with innovative dining opportunities.
"At each Überrito restaurant, our line and open kitchen are crucial design elements that allow guests to easily see menu options and order as they move toward final payment," Pete tells us. "Since the prep area is at the center of our restaurants, it is one of the most important design elements for both guests and team members."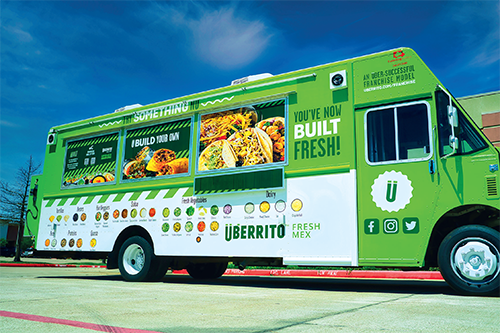 New and exciting products
The launch of the Huntsville site is testament to MRI's continued efforts to refine its operational efficiency and cost-effectively operate a restaurant – from guest flows to the positioning of grills, coolers, prep tables, steamers, and storage bins. In doing so, the company is reacting to what has been one of the most significant legacies from the Covid-19 pandemic.
"As guest preferences change to include more take-out and delivery, Überrito is working to operate its restaurants within a smaller footprint to generate stronger average sales per square foot," Pete corroborates. "This, combined with hyper-efficient operations, is enabling Überrito to enter new territories that were previously untouched. Furthermore, these smaller and more efficient restaurants lower the barrier to entry, yet still give franchisees the experience, purchasing power, training, and support that Überrito offers."
It's with these trends in mind that MRI rolled out its new Überrito food truck. Designed to test out new items and track performance, it's planned that the truck will help to create buzz for new franchise openings, serving as a catalyst to drive the brand's market growth. As Pete points out, it's a unique concept, allowing guests to "walk the line" as they build their burrito or bowl.
"We're never afraid to try new things," Pete reiterates, reflecting on MRI's experimental approach to food service. "Because appetites evolve, we continually seek innovative twists on traditional standards, embracing and adapting those things that have proven successful. Our restaurant concepts have inspired generations of intensely loyal guests. They rave and reminisce about us in blogs and on social media. They share their experiences with friends and family. And they keep coming back.
"Across all our brands, we're also going to continue introducing new and exciting products," Pete says. "Some of our most recent launches include 'Manchego & Carnitas Fundido', 'Molcajete for Two', 'Three Layer Enchiladas', 'Shrimp Sopes', and our 'Chocolate Tres Leches Cheesecake'. At Überrito, we're currently promoting 'Surf & Turf' (shrimp and fajita steak) as options for building burritos and bowls. Additionally, every Monday, guests at Überrito can enjoy a chicken or veggie burrito or bowl for just five dollars."
At the time of writing, MRI holds firm plans to grow its footprint throughout the Houston and Texas area, with long term ambitions to add a further 15-20 Überrito franchises each year. Formalized in the company's franchise-operated growth program, the company is focused on identifying franchisees whose vision and passion for the industry provide a strong match with MRI's own emphasis on authentic dining, and exceptional customer service.
"First and foremost, we plan to continue to provide great food to each of our guests during their visit to our restaurants, and to deliver a great environment in which to work for all of our team members," Pete concludes. "With that in place, we're always looking for new opportunities to grow our footprint, our team, and meet new guests." D
www.mexicanrestaurantsinc.com