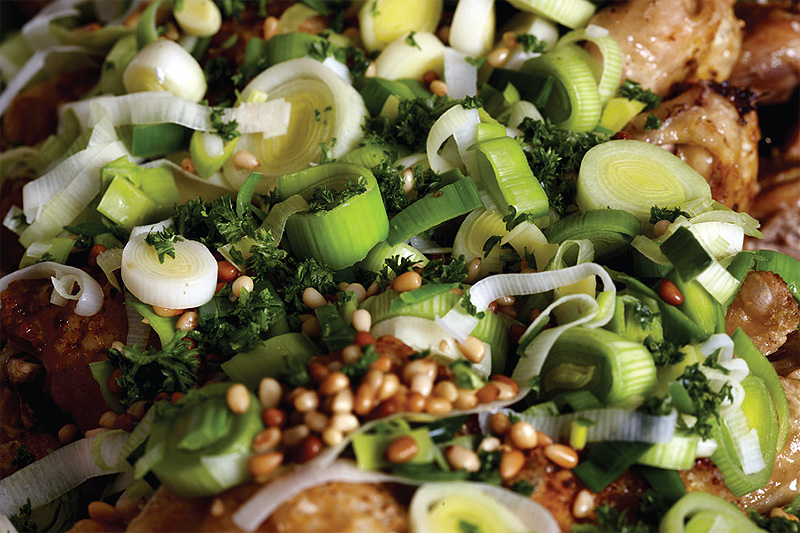 A healthy lunch
For a small company Meyer Kantiner has had incredible growth over the last two years and expects to continue into the future at this steady rate
Under the patronage of gastronomist Claus Meyer, the Meyer Group has become a leading figure in Denmark's food and beverage service industry. It is made up of five companies including Noma, Meyers Madhus, Meyers Deli and Meyer Kantiner that each specialise in different areas of the food industry. As the Group's largest sector, Meyer Kantiner has achieved numerous successes during the last two years, leading to rapid growth and a number of awards.
From Meyer Groups humble beginnings, 1999 saw the company grow with the founding of Meyer Madhus, a company dedicated to cookery education, kitchen team building, gastronomic research and client consultation. Following on its heels, Meyer Kantiner was set up in the same year to provide top quality food utilising Claus Meyer's knowledge and skills to the canteens of private companies and establishments throughout the country. Today, Meyer Kantiner runs 63 kitchens with an expected annual turnover for 2010 of 200 million Danish kroner.
Merete Holst, company director, explains that there is a strict policy guiding this staff training: "There is a company 'bible' of codes that is divided into three main areas: ingredients, food preparation and customer service. All employees are given this 'bible' on their first day and the company trains them fully in every aspect laid out in the code."
Serving up to 13,000 meals a day can be a tough task, but Merete points out, the company's staff is more than capable: "Our main focus is on personnel and educating our staff on the way we want to go forwards. There are a wide variety of staff training courses, concentrating on various themes – one main aspect is on fine-tuning the flavours as we believe that good taste forms the backbone to what we represent. Other themes covered in the courses include increasing the use of organic foods and improving the health benefits of meals."
However, the most important aspect for Meyer Kantiner is of course the taste offered by its products. This is where the experience and knowledge of Claus Meyer becomes crucial. As a professor of food science at the Royal Veterinary and Agricultural University in Copenhagen, and as a chef renowned throughout Scandinavia, Claus' method of 'New Scandinavian Cooking' excels in providing tasty regional cuisine that is also healthy for its consumers. Organic foods are becoming increasingly important for the company in this respect, with 30 per cent of its raw materials currently being comprised of organic produce, and this ratio is expected to increase in the coming years.
Another advantage Meyer Kantiner has comes from being part of the Meyer Group: because its sister companies are directly involved with the research and development of new products, Meyer Kantiner directly benefits from the findings by being able to immediately apply them to its portfolio.
This emphasis on innovation and quality has achieved the company some important contracts with corporate customers that include Carlsberg Denmark, the Ministry of Culture and Rambøll. More recently, it also attained a contract with Novo Nordisk, a pharmaceuticals company that specialises in diabetic medicines. Merete explains the details: "Today we run 16 of their canteens in Denmark and are very proud to have this contract, serving Novo Nordisk as a customer. Also, as a company that stands for promoting good health, we see a link between our two companies."
In recognition of its many good aspects, Meyer Kantiner has recently received a number of awards. The company's chef, Paw Hay, operates the canteen at Biogen Idec in Copenhagen, which on 7th September received the top Canteen Prize awarded by the Danish Agriculture & Food Council. On the same day, it also received recognition from Organic Denmark for its efforts in promoting and making use of organic produce in its service.
More than just about accolades, Meyer Kantiner has always placed sustainability at the top of its agenda as 83it continuously seeks ways to help promote a greener operation. Its purchasing policy is one such area, with the company ensuring that its suppliers provide the best quality organic produce whilst meeting its sustainability guidelines. Furthermore, Meyer Kantiner ensures that the logistics operations are also aligned with its sustainability principles. Streamlining this part of the business translates into fewer stops between the canteens, helping not only to cut down on carbon emissions, but to keep its food as fresh as possible
as well.
Over the last two years Meyer Kantiner has achieved 50 per cent growth but has remained within Denmark. Over the next five years it expects 20 per cent year-on-year growth to be a fair estimate of possibilities, whilst international expansion has very definite potential. Merete concludes with an upbeat outlook on the future: "A lot of companies operating in Denmark also operate in other Nordic countries, and we see this as a potential way of moving into the wider Scandinavian market. Nonetheless, we are first and foremost a food company so we want to concentrate our efforts into the quality of our products and services."