MGT Foods helps small innovative food companies expand.
Santo Emanuele, a World War II veteran who worked extensively in the food industry, founded Mr. Green Tea ice cream in 1968. "He recognized the rapid growth of Japanese restaurants in Brooklyn," says Michael James Emanuele, his grandson and company vice president. "He had a few friends who were Japanese restaurateurs. They said, 'Do you know anyone who can manufacture and distribute [Japanese] desserts?' He developed the recipes himself with the help of the Japanese restaurateurs and Mr. Green Tea was born."
Mr. Green Tea was initially co-manufactured in Brooklyn and consisted of three flavors: green tea, red bean and ginger. In the late 1980s, the company opened its own manufacturing facility. Today, its products can be found in restaurants, groceries and specialty food stores across the United States.
In 2013, businessman and investor Marcus Lemonis, best known as the star of CNBC show "The Profit," invested in Mr. Green Tea, allowing the company to open up a state-of-the-art manufacturing facility. "It allowed us to meet all our capacity demands and have a lot of capacity for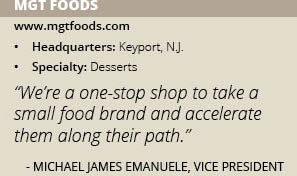 other brands and products," Emanuele says.
The company took advantage of this good fortune. Five years ago, it developed an umbrella company called MGT Foods and targeted niche food brands. "Now we're kind of a micro foods conglomerate," Emanuele says "We're a one-stop shop to take a small food brand and accelerate them along their path."
MGT Foods takes an ownership share of those niche food producers. In exchange, it handles the food science, packaging, supply chain, manufacturing, legal, accounts receivable, marketing and distribution. "The more stuff you do in-house, the cheaper it will be for the consumer," Emanuele says.
One of MGT Foods' brands is Mr. Mochi, ice cream in sweet rice dough – "like an ice cream dumpling," Emanuele says. Its other products are Sweet Nova, which is a super food "nice cream" and EatMUD, a dessert item that is certified paleo, dairy free, vegan, gluten free, soy free, non-GMO and contains no added sugars.
"We target niche brands," Emanuele says. "Sometimes these brands don't work in mainline groceries. Ultimately, we want the consumer to be able to purchase any of our products regardless of where they live geographically. Doing so in traditional grocery is costly and often doesn't make sense for smaller brands."
The idea of an online marketplace designed to rapidly and inexpensively ship perishable foods (such as ice cream) directly to the consumer was born.
Delivering quickly required setting up fulfillment centers around the country so MGT Foods can use ground shipment as opposed to costly air shipping. It also required developing a new online platform, which took one year to create. The company now ships to 92 percent of the American population for free, Emanuele says.
"None of my competitors come close in online pricing," he says. "Four pints of my ice cream sells for $39.99 shipped to your door. The [competitors] are going for $79.99. We are going to continue to expand that model."
Expansion and Innovation
The biggest challenge for MGT Foods concerns managing its various supply chains. "Ensuring these innovative ingredients are available in the quantities you need while keeping it affordable for the average consumer is a major challenge," Emanuele says. "As we continue to go down this better-for-you space in the industry: all-natural, organic, non-GMO, paleo certified, no refined sugars etc. – the ingredient supply chain becomes one of the most important aspects of the business. The companies that come to us have great ideas but often with the ingredients they are using, they are simply too expensive."
EatMUD, for example, doesn't use legumes as they are not part of the paleo diet – which is what traditional dessert stabilizers are composed of. It is sweetened with a specific type of date, which is not easily available.
MGT Foods recently invested $5 million in a major expansion of its facility, adding 5,500-square-feet of production space and 7,000 square feet of warehousing and dock space. Some of that investment went to technology that allows the company to create custom-designed packaging in-house, and also ways to stabilize products mechanically rather than chemically. To preserve products, MGT Foods can flush out oxygen using nitrogen, quick-freeze products or create a vacuum.
"People want to eat clean," Emanuele says.
The expansion is scheduled to open in late October and will require adding 25 employees. In addition, MGT Foods recently purchased land across from its facility and plans to break ground on a new factory in six months.
The company is also innovative in its product packaging, which is 100 percent recyclable and reusable. Its 2.5 gallon ice cream containers for commercial customers are of a rectangular shape instead of the traditional round shape. "Its very space efficient," Emanuele says. "It takes less space in the warehouse and a freezer. We can get 25 percent more ice cream on pallets. And it's easier for refrigerated air to flow around it, which keeps it frozen with less energy."
For the future, MGT Foods plans to continue assisting small innovative food companies.
"We really love this model we've built: a one-stop shop to take a small food brand and to make it bigger," Emanuele says. "We are continuing to find these innovative brands and seeing how rapidly we can take them from little to big."