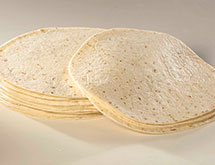 The key to the taste of a Mi Rancho tortilla lies in its modern-day implementation of the hundreds-of-years-old tradition of nixtamalization. The tortilla-making method begins by cooking whole corn kernels in lime and water for up to 10 hours and then using hand-carved lava stones to grind the cooked corn into fresh masa. The process is labor intensive and typically only used by smaller food producers.
Mi Rancho has learned how to employ nixtamalization on a large scale, enabling the Californian company to produce 4.5 million tortillas each day. "The overall process of Mi Rancho corn tortillas is what truly sets us apart from our competitors," says Alexa LaVere, sales and marketing supervisor.
"There's quite a bit of knowledge, art and skill that goes into the production of our tortillas," LaVere adds. "We feel it's definitely worth it for the product and it does stand apart." By taking the time and effort in the production process, Mi Rancho ensures its corn and flour tortillas and chips have the flavor any chef needs to properly realize a dish. "Those extra steps we take truly help them in the end," LaVere says.
Mi Rancho has been known for its artisan tortillas since its beginnings as a Mexican grocery store in Oakland, Calif., in 1939. The store's local reputation attracted interest from the Berber family, who saw an opportunity to bring the tortillas into the foodservice market. In 1954, Robert Berber Sr. and Robert Berber Jr. purchased the grocery store for $12,000 and began developing the foodservice business. By the 1990s, the foodservice segment had become the core focus. Mi Rancho closed the Oakland grocery store in 1996 and moved the operation to nearby San Leandro, Calif., a year later.
As Mi Rancho continues to celebrate 75 years in business, the Berber family is preparing its next generation of owners. President Manuel Berber and his wife, Carol Berber, director of finance, remain involved in the business but have begun the succession process to someday pass the company on to their sons, Andrew and Alex Berber. Both sons began working for the company in 2004, and in the past 11 years have filled a variety of roles to familiarize themselves with the business. Andrew Berber is now being groomed to head up operations while Alex Berber is learning to manage the sales side.
Although the company has been long known in the foodservice industry, Mi Rancho sought new avenues to expand and in 2010 entered the retail market. In six years, the retail business has proven itself, according to Vice President of Sales and Marketing Fernando Alvear, and the segment now makes up about a quarter of all of Mi Rancho's revenues.
The company's retail strategy mirrors its success in foodservice. Mi Rancho strives to provide a premium, clean label product to grocery stores. Retail tortillas go through the same nixtamalization process as their foodservice counterparts, allowing customers to bring the same high-quality products Mi Rancho is known for to their home kitchens.
Mi Rancho's business touches each region of the country, but most of its foodservice and retail customers are located in the western states. However, the company has made several investments in recent years that have primed it for growth, according to Alvear.
Preparing For Future
All of the 1.3 billion tortillas Mi Rancho produces annually are made in its 100,000-square-foot San Leandro facility. The company has been operating out of San Leandro since 1997, but only last year purchased its building and property. Alvear explains the investment will allow Mi Rancho to make the capital improvements necessary to grow the business by improving capacity and production. "We can control that better because we own the building now," he says. Further, the purchase shows the company's commitment to the Bay Area and northern California, Alvear adds.
Mi Rancho's biggest plan for its newly owned building is its desire to expand its research and development department. The company has already invested more resources into R&D and brought on more personnel, including Head of Research and Development Joe Trummer, a 20-year veteran of the food industry who joined Mi Rancho last December.
The R&D department is housed in a temporary space but already has some newer equipment, Alvear says. Mi Rancho plans to create a permanent space by remodeling part of the building to add a lab with a test room, conference rooms and dedicated office space. Alvear says that project will be completed in 2016.
As it invests in R&D, Mi Rancho must balance the release of new products with the time needed to develop those products. "We are trying to build an innovation pipeline but at the same time we have to get new products to the marketplace," Alvear explains.
The effort being put into R&D is not the only part of Mi Rancho's growth strategy. This year, the company is implementing an enterprise system design to improve traceability and tracking of every process along the production line. Alvear says the system will give Mi Rancho more detail while providing each department access to the same information. With every group using the same tools, Alvear believes the system will remove barriers and generate information faster.
Mi Rancho is also looking outward at ways to reinforce its brand with consumers. The company has developed a new marketing campaign, "Pure Tortilla Joy," that LaVere says encompasses everything Mi Rancho is trying to accomplish. The slogan invokes the purity of Mi Rancho products and how it strives to use quality ingredients to make wholesome tortillas it is confident to sell to customers.
Employees can have joy in knowing they are producing something people will take home to their families, while grocers can have joy in knowing they have a consistent product on their shelves, LaVere explains. "We really want that joy to shine through in all of the aspects of our company," she adds.
The "Pure Tortilla Joy" tagline will be included on Mi Rancho product packaging as the company makes further progress in its branding initiative, LaVere explains.
Capitalizing On Food Trends
The tagline will also play up Mi Rancho's growing line of organic products. The company already offers U.S. Department of Agriculture-certified organic corn tortillas, and in September launched a line of organic flour tortillas for retail and foodservice.
Mi Rancho is expanding into other health-minded products, as well. Mi Rancho's facility has gone through non-GMO certification. Alvear says the company's efforts to develop organic and non-GMO products for the retail sector will translate into similar offerings for the foodservice industry.
Although R&D may be front in center when developing products, Alvear says consumer understanding also plays a key role. Mi Rancho stays on top of the latest food trends using information captured from the marketplace through its customers and third-party data.
"At the end of the day, you have to be able to manufacture the product and scale it up," Alvear says. In developing a new item, it helps to have every department in the same facility.
In deciding whether to move forward with releasing a new tortilla, Mi Rancho looks not only at the market interest, but at how it will be distributed and the financial cost. "It has to be an item that has value," Alvear says. "Not just for the customer, but for the company."