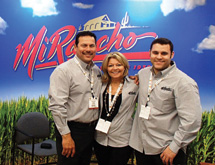 When Robert Berber Sr. and Jr. took over Mi Rancho in 1954, it was a Mexican grocery store in Oakland that had been making corn and flour tortillas by hand since its inception in 1939. Today, a third-generation Berber leads the much larger tortilla-producing facility, along with his wife and sons.
"The key to our success is being a family driven business," President Manuel Berber says. His father and grandfather – with Mexican roots – operated Mi Rancho as a local market and deli counter that supplied fresh tortillas as well as chilies and spices imported from their native country. For many years, Mi Rancho was the only local store to sell fresh corn and flour tortillas in its Oakland, Calif., vicinity.
It was in the early 1980s, under the leadership of Robert Berber Jr., that the tortilla company expanded its business to include local grocery and foodservice distribution to the greater Bay Area. Years later, as Manuel Berber took the reins, he guided the grocery store into becoming a major producer and distributer to local independent restaurants. From there, Mi Rancho expanded to deliver to larger, national restaurant chains both domestic and abroad, working with major distributors.
Taste the Difference
Mi Rancho plans to continue to drive its well-established foodservice line into the grocery retail business. "We are producing a super-premium product that nobody else is selling right now," Berber notes. "So we are doing what we've done for more than 50 years, and now we are offering a foodservice level of quality to the grocery consumer." Mi Rancho tortillas can be found in major grocery chains, as well as organic markets and independent stores throughout the West Coast.
After nearly 60 years as owners of Mi Rancho, the Berber family still feels as passionate about its tortillas as it did in the beginning. Not only are they producing a unique product; they're also excited about the quality of their tortillas, which are organic, kosher and AIB certified.
According to Berber, organic corn tortillas have become especially popular, but they're generally found in the refrigerated or freezer section. Mi Rancho's tortillas are all-natural, organic and have a long shelf life at ambient temperatures. Because they're not frozen, they're soft and taste fresh. "There is a huge niche for this product," Berber emphasizes. "Our goal is to be the leading super-premium tortilla company brand because I believe there are no other products like ours in the market place."
Most corn tortillas on the market are made from corn flour, but Mi Rancho's are made of whole grain corn that is cooked with lime for 12 to 14 hours and then stone ground to create masa. The manufacturer still uses the same old practices it did in the beginning, yet in a more modern way.
Alexa LaVere – Manuel Berber's niece – is the sales and marketing assistant. "We always say, 'Taste the difference,'" she notes.
According to LaVere, the company supplies world-renowned chefs who are exceptionally discerning of the quality and type of the product they use. "They seek Mi Rancho out."
The Family Way
The term "family" isn't reserved for just the Berbers – it's extended to everyone who works there. With a low turnover rate, some employees have been with Mi Rancho for more than 20 years. In fact, that is one of the things Carol Berber is most proud of. Manuel Berber's wife helps run the business, and oversees finances. "I'm proud that it's now in its fourth generation," she says. "The health and growth of the company in such a difficult economic time in California … it just shows the longevity of the people. My husband has run this business so that Mi Rancho is immaculate. It's a beautiful facility. It's family."
Berber's goal is to beat the odds of passing on his business from third generation to fourth generation.
"It's about a 17 percent success rate," he comments. "The key to our success is being a family driven business. There is little doubt this company will continue to stand the test of time. I believe there are endless opportunities for significant growth in this industry."