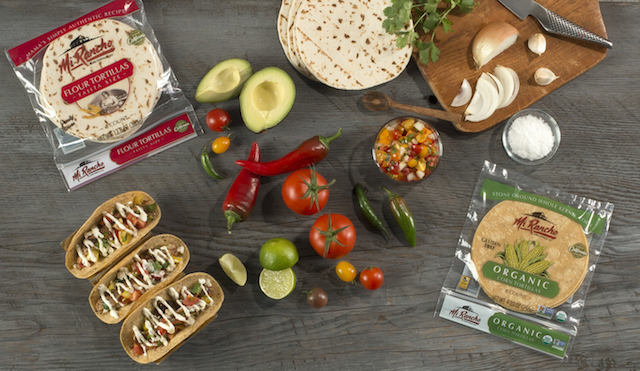 Mi Rancho is investing in itself to produce the world's best-tasting tortillas with the roll out of new products and operational improvements.
Founded in 1939 as a small Hispanic grocery store in Oakland, Calif., Mi Rancho manufactured tortillas in the back of its building and sold them to local restaurant owners. As the demand for Hispanic products continued to grow, eventually these customers asked the company to start delivering their product to them.
"That is how we ventured into the foodservice business," Vice President of Sales and Marketing Fernando Alvear says. "The Berber family purchased Mi Rancho in1954, and quickly saw a lot of growth. Sales really catapulted in the late 1980s when we partnered with Chevys restaurants here. We developed their chips, which became what they're known for. As they developed tremendously, we grew with them."
Mi Rancho then garnered an extensive route system servicing restaurants throughout northern California. Although the company scaled it back in the late 1990s, it built their distribution through third-party distributors such as Sysco and US Foods, Alvear says.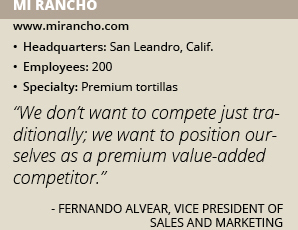 "Today, we develop and manufacture premium tortillas, producing more than 4 million per day," he says proudly. "We are not only in foodservice, but we are a growing brand within grocery stores and industrial, where we sell tortillas to companies that use our products as components to finished goods like enchiladas or burritos."
San Leandro, Calif.-based Mi Rancho celebrated its 75-year anniversary in 2014, a big accomplishment for the brand. Alvear notes not many family-owned businesses last this long in the industry. "Right now, the third generation, Manuel Berber, is running the business and the fourth generation, Andrew and Alex are working in operations and sales respectively, preparing to one day take over," he says. "Many family-owned businesses struggle from generation to generation because they either get sold or merge, so there is a lot of pride in this company with hitting that big milestone. It was certainly worth celebrating."
Keys To Success
Mi Rancho's reputation for producing an authentic, high-quality product, as well as its extensive internal knowledge, are key factors in the company's success.
"Current owner Manuel Berber has been in the industry since day one," Alvear says. "He grew up in the business and has not worked anywhere else – and it's not only him. There are a lot of people, especially on the operations side, that have been with the company 20-plus years. That level of knowledge is key to the success of the company and products that we make."
High Standards
Amid the crowded tortilla market, Mi Rancho takes pride in distinguishing itself with innovations. Alvear says this is why the company continues to roll out new products from corn and flour to organic, non-GMO and clean label tortillas.
"We don't want to compete just traditionally; we want to position ourselves as a premium value-added competitor," he says. "We may not be the cheapest, but we will provide you with the highest-quality, most consistent products every time."
Manufactured in a 90,000-square-foot certified kosher facility, Mi Rancho produces a wide range of tortillas, from traditional to ancient grain, artisan and gluten-free, and specialty wraps as well as pre-cut chips and strips that consumers can buy and fry themselves.
"Our business continues to grow and our commitment to not only food quality, but food safety continues to be a top priority," Alvear explains. "I think what really differentiates Mi Rancho from our competitors is how we make our tortillas, which is the old-fashioned way. When it comes to corn, for example, most companies make their tortillas out of corn flour. We use whole fresh corn kernels."
Mi Rancho uses California grown, non-GMO certified corn to produce its tortillas. "We cook the corn with water and lime for 10-12 hours and then grind it using hand-carved lava stones to create the masa," he says. "A lot of companies skip all those steps and use a milled corn flour. Our process is more elaborate and time-consuming, but it gives you a better tasting tortilla that performs well and looks beautiful."
Thinking Ahead
As Mi Rancho continues to grow, the company plans to not only add more capacity, but also invest in people, technology and equipment. "We just implemented a new ERP software, which will help run our operations more efficiently," Alvear notes. "In 2017 we will install a new, customized flour line to improve capacity. We've also tripled the sales teams in both the grocery and foodservice divisions and they are a dedicated bunch."
The company has invested heavily in its R&D the last couple of years, hiring a new director, Joe Trummer, in 2014. "He brings a wealth of experience to his role and also has a culinary background," Alvear says. "He is leading all of our efforts and has been a tremendous asset. I think he will play a huge part in us not only being innovative, but improving our products day in and out."
Marketing is also another area where Mi Rancho has placed major emphasis to continue building its brand. "We have a new relationship with an ad agency here in San Francisco," Alvear says. "In addition, we have developed a new website, redesigned all of our packaging and are very involved in social media. We're not only trying to build a brand, but communicate to customers and consumers who we are and what we are about. Most of them have been enjoying Mi Rancho tortillas for years—they just didn't know it."
Close Collaboration
Mi Rancho takes a collaborative partnership approach with vendors. Alvear explains the company values their relationships very much, and shares its goals and needs with them.
"Our supply chain and vendors play a critical role in what we do," he says. "On one end, we have to be competitive in the marketplace, so we do need to manage our overall operations. But, on the other side of the coin, we're not going to sacrifice quality and our positioning over price. So we only work with reputable and reliable suppliers with whom we try to build long-term partnerships."
In addition, Alvear explains that the company gets vendors involved in the development of products. "We produce the world's best-tasting tortillas," he says. "Working with the right suppliers is key because you cannot market your product as premium, and not have the ingredients and suppliers that are going to support what you're communicating to customers. We have some very longstanding relationships with some of our suppliers. We're loyal and they are, too."
"The company is positioned for growth but it has to be smart growth," Alvear adds. "We want to continue to reinvest but be positioned as a premium company. There are a lot of businesses out there that we could eventually pursue, but we have to go after the right ones with the right customers for the right type of growth."