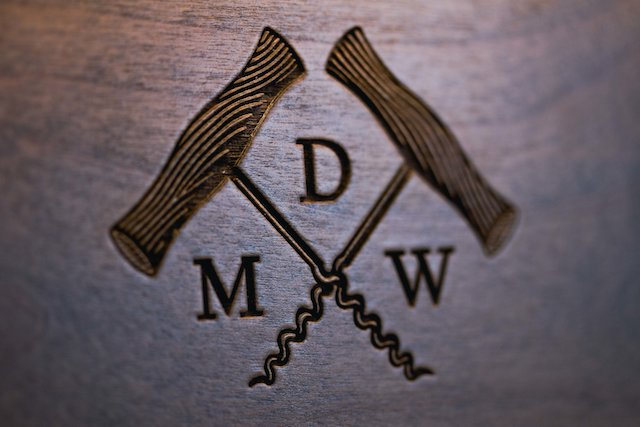 Michael David Winery is growing quickly while staying focused on sustainability, its employees and the growth of its hometown.
Lodi, Calif., is known for producing more wine grapes than any other California region. The city has 85 wineries that produce approximately 450 labels, and it has been recognized as the old vine Zinfandel capital of the world. Lodi's first major vineyard was planted in 1852, and many families have been involved with the town's wine history since then, including the Phillips family, which established Michael David Winery.
The Phillips family has been farming in Lodi since the 1850s and cultivating wine grapes since the early 20th century. Brothers Michael and David Phillips are fifth-generation grape growers and founded Michael David Winery as one of the first winery operations in Lodi. The company has now progressed to be one of the top-30 largest wineries in North America, known for its pioneering sustainability and meticulous farming practices. Michael David Winery frequently is recognized with the industry's top awards, and in fact, Director of Wine Operations Adam Mettler was just named Wine Enthusiast's 2018 Winemaker of the Year.
"We were a farming family for multiple generations, growing wine grapes and doing diversified farming," explains Kevin Phillips, vice president of operations and Michael Phillips' son. "My dad came into the business in the late 1970s and was a home winemaker while working for his dad in the farming operation. My dad started the winery almost as a hobby, and 1984 was the first year we were bonded and started selling wine."
Michael's brother, David, came into the business a few years later, and while they were still running the farming business, they continued to improve their winemaking techniques and infrastructure. By the late 1990s, the brothers were making enough wine that it was distributed out of state on a small scale. Around 2000, the Phillips brothers decided to change how the brand was marketed, and that year they created their first vintage of the company's signature offering – 7 Deadly Zins. This zinfandel brand was a huge hit, selling 12,000 cases in 2002 and last year selling more than 350,000 cases. It has been so successful that the 7 Deadly brand was just sold to The Wine Group.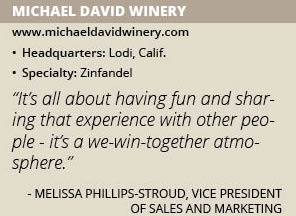 "Our marketing really sets us apart," stresses Melissa Phillips-Stroud, vice president of sales and marketing, and Michael's daughter. "We have quirky, high-quality marketing, but it's not just a pretty package. Cork dorks want all of the nitty gritty details and we still provide that with our top-quality marketing. We are very particular about all of our materials, imagery and photography, and we don't take shortcuts. This is not just cheap schwag that we offer."
Following the Rules
Seven Deadly Zins propelled Michael David Winery into where it is today, but its other brands also have found much success. These include Freakshow, Earthquake, Inkblot, Michael David Wines, Reserve Wines, and the house favorites 6th Sense, Incognito and Bare Ranch.
"Freakshow is our newest big brand, and it was launched in 2012," Phillips-Stroud says. "The Freakshow Cabernet is quickly turning into a 250,000-case brand, and we've put a lot of time, energy and focus into continuing to develop that brand. It has a higher price point than we've done before, but we've found consumers are still open to fun and new labels as long as the quality matches the price you're asking."
Michael David Winery takes great pride in its quality, and it helped establish the standards for sustainable and responsible farming in the region, known as the Lodi Rules. Kevin Phillips explains in 2007 he was on the board of a local wine commission that created a "well-versed but still flexible" program for responsible wine cultivation. The program involved more than 100 sustainability practices, and it was grower-created and peer-reviewed, passing all of the tests established by the industry at-large. Phillips liked the way the program was set up, so he applied it to all of the Michael David Winery vineyards so they could become certified to this standard.
"After a year, I realized I really like this program, and it made me a better and more conscientious farmer," Phillips says. "Next year, I opened up adoption of the program to growers who we were buying grapes from. It was voluntary for them to use the program, but I gave them a bonus if they did. We were the first winery in the country to offer a sustainable bonus to growers, and in that first year we got 75 percent participation. By 2009, we made it a mandatory requirement – if you wanted to be a Michael David grower, you had to be a part of this certification program. Most of the growers stayed with us, 100 percent of our wine is certified green, and we've maintained the bonus structure. That is on top of the very attractive contracts we offer, but the sustainability bonus is just one more incentive to grow with us."
On the Forefront
Sustainability is a key aspect of Michael David Winery's viniculture, but it's also an overall philosophy for the company. In addition to the competitive contracts the company offers growers, it also takes pride in treating its employees well. By offering benefits such as healthcare and a bonus program, Michael David Winery cultivates a sustainable operation.
"Lodi is historically a very old grape-growing area with 120,000 or so acres of grapes, so a lot of families live and work here," Phillips says. "Lodi has been growing grapes as long as Napa and Sonoma and it's bigger than both of them combined, but as a city with wineries it has a short history. It's cool to be on the forefront of that because we helped create something that was groundbreaking for this region.
"I went to college with half of the people on my team, so there's a whole generation of people growing up in this company," he continues "We're all reacting to all of these major changes happening all the time, and it makes the dynamic really interesting while keeping the people really involved. You have to be on your toes, but that attracts a certain kind of person. These people like to be busy, they like to be a part of something and they get to see the change they are making and the end result of the work they do. This makes the business really unique and dynamic."
Phillips-Stroud explains the youthful culture of the company helps to keep the business and the brand fun. "We are very casual and relaxed, and we want our employees to be very reflective of the company," she says. "We all want a work-life balance, so this is not a corporate grind and we are not riding anyone to hit numbers. It's all about having fun and sharing that experience with other people – it's a we-win-together atmosphere."
This culture and dedication to quality is driving Michael David Winery forward. Last year, it purchased a small facility in the Sonoma region, which Phillips describes as "a stepping stone" to allow the company to eventually expand and create a North Coast brand. Michael David Winery's direct-to-consumer business is already established, and involves a large tasting room, café and beverage stand that attract more than 100,000 visitors every year. Additionally, the Lodi operation is undergoing a massive expansion, adding new production offices, a breakroom, laboratory, scale house, tasting house and plan room, with space to continue hiring.
"We are growing really big really quickly, and I'm proud that this company has really put Lodi on the map as a major wine region that can create wines that can compete with anyone," Phillips says. "Having our little piece of helping grow the grape and wine culture is a tremendous sense of pride. But we're also giving jobs to people who live here – sustainable, healthy jobs – and they stay because they like the work. We're paying our growers and vendors, and we're creating our own economy and making it work for everybody. It's good for us and good for everyone around us."
The family culture and local identity are key for the Michael David Winery brand, Phillips-Stroud adds. "We really try to take care of our employees and we do a lot of good in the community," she says. "Our family foundation has donated more than $1 million to focus on young and older people in the greater Lodi community. But that's all part of being in this family – Mike and Dave are two of the most giving people I know. We also are always passionate about Lodi. We are part of that community and we try to lead the way as much as possible. Lodi has a lot to offer – especially great people who make great wine – and we want to lead the way with that messaging."