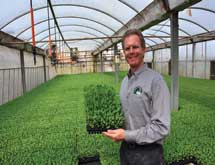 With more than 50 years of experience as a grower and packager of green beans, sweet corn, potatoes and cabbage, Michael Farms Inc. is proud of its history. Today, the second generation holds the reins, with the third generation already being groomed to take over. However, President Scott Michael says there is still a lot of work to be done. "I can't really say that we have arrived to where we want to be, but we are working toward that goal every day," he states.
Michael is referring to having to continuously meet industry challenges such as regulation compliance and sustainability. He sees these challenges in a positive light, however. "They are actually opportunities to excel and differentiate ourselves by doing the best job possible for the consumer," Michael states.
The Urbana, Ohio-based firm serves some of the biggest produce companies in Ohio, Indiana, Michigan and Pennsylvania. This includes Meijer, Kroger, Walmart, Marc's and Giant Eagle. The firm also supplies produce companies such as Caito Foods of Indianapolis, Crosset Co. of Cincinnati and Indianapolis Fruit, that serve chains and stores that may not have their own produce warehouses.
One way Michael Farms remains sustainable is by staying local. "We centralized our business so we are not traveling far from field to field with equipment and people," Michael states. "We also sell nearly all of our production to companies and customers here. Most customers can pick up from us daily and be at their own facility in less than three hours. We strive to consistently supply customers with the best quality and quantities they need.
"As long as we keep them satisfied, we will have a strong market for our products. We harvest crops on time, we wash and cool them immediately so we can maintain their freshness and ensure longer shelf life."
Because of some recent produce product recalls in the news, traceability is an emerging development in the produce industry. "The industry is moving toward taking new steps to trace products," Michael points out. "Each package would have a readable tag [that will display] the growers' name, product, lot number and the date packed. It also will have a bar code that says the same thing that you could read with an instrument. So, for any reason down the line that someone wants to find where a box of produce came from, it could be done."
Staying Competitive
Michael Farms' 2,400 acres of land sets the company apart from the competition. "We control all our land and 90 percent is contiguous with our facility," Michael says, noting that all of its land is irrigated with center-pivot systems. "That's  key for quality. We control how a crop grows by applying water as needed, which is an important factor in offering the right product, of the best size, at the right time."
By doing so, Michael Farms is able to maintain product consistently throughout the season. "Our quantities don't fluctuate very much," Michael adds. "That is something that lets us capture and serves our market  to a better degree. Only the best growers could do that. Some people partner with other growers so they share products back and forth, but can lose control of the quality, variety selection, and crop maturity."
To be even more competitive, Michael Farms engages outside third-party auditors to certify compliance with food safety programs in place. Ensuring the integrity of the product is of the upmost importance. There is more interest in food safety than ever, by Michael Farms, it customers and ultimately, the consumers. Additionally, the company made a 40,000-square-foot expansion in 2009, bringing its packing facility to 120,000 square feet. But its reason for expansion is not to be bigger, but better.
"We wanted to go above and beyond and that [the expansion] let us totally enclose all our packing areas and supplies," Michael explains. "It allows us to have container storage on the second floor above our package lines. Before, we had to shuffle bundles of containers to go into lines. That took up needed floor space. By moving it up above, there is a separate area out of the way."
This expansion also allowed Michael Farms to improve its cooling methods. "This keeps product at its most ideal condition," Michael notes. "Products … have to be kept cold to [stay fresh]."