MCE aims to grow by leveraging strategic partnerships and providing its customers with high-quality chef-inspired concepts.
Airport foodservice provider and restaurateur Midfield Concession Enterprises (MCE) provides world-class, quality food, management and customer service for its clients. The Romulus, Mich.-based company is female-owned and has a hands-on approach, which allows it to bring freshness and innovative design to any client's foodservice needs.
Andrea Hachem founded MCE after being awarded the company's first casual-dining restaurant at Detroit Metropolitan Wayne County International Airport in 2002. That same year, the company opened its first restaurant, the Mediterranean Grill. Under Hachem's leadership, MCE has since expanded to more than 50 restaurants in nine of the most highly trafficked airports in the United States.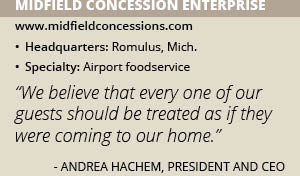 Keys To Success
MCE's primary focus is to provide world-class customer service, CEO & President Andrea Hachem says. "We believe that every one of our guests should be treated as if they were coming to our home," she says, adding that the company wants to "wow" all of its customers.
"We want to wow them with a variety of things, including our facilities," Hachem explains. "Our facilities are state-of-the-art with all-new technologies, and are very clean and welcoming. We also want to wow them with our staff and our menu by providing cutting-edge design and technologies, and on trend chef inspired food options."
MCE has a diverse portfolio of local, national, international and chef-inspired brands, including celebrity chefs such as Michael Simon.
"We just opened up a 4,000-square-foot restaurant in Philadelphia International Airport," says Dean Hachem, COO and husband of Andrea Hachem. "We also represent celebrity chef Wolfgang Puck. We are working to open up a restaurant of his in one of our airports."
MCE also represents brands like Cantina Laredo, a gourmet Mexican restaurant. In addition, one of MCE's latest developments includes a coffee concept called The Roasting Plant. Over the past year-and-a-half MCE has opened three of them in Minneapolis, Denver and San Francisco.
"With this concept, green beans are roasted onsite to the customer's specification," Dean Hachem explains. "We provide the perfect cup of coffee in less than 40 seconds. It's an amazing process developed through a machine called the Java Bot. Each cup of coffee will have crema on top of it because it is that fresh."
Samir Mashni, vice president of business development notes that food and concept innovation has also been key to MCE's success. "We're excited about a development we rolled out in Minneapolis International Airport called the Food Truck Alley," he says. "We took three local brands and created a food truck façade in an alley design. So, we took old vintage trucks and restored them.
"It's pretty cool and the first of its kind," he adds, noting MCE prides itself on being a "company of firsts" within the airport foodservice industry.
"For example, we were the first company to introduce a sit-down Middle Eastern as well as a full-service sushi restaurant in an airport," Mashni explains. "We also recently won an award for our design for the Eastern Market, which is a 20,000-square-feet development. We took the eastern market in Detroit and replicated it into a modern market and Bar serving a variety of chef inspired food and beverage options."
Innovation On Purpose
In addition, MCE's culinary team is key in the company's innovation. The team assists with ongoing menu development and adds to the creative profile of each restaurant MCE operates, according to Mashni.
"This culinary team is well versed in making certain that the chef-inspired concepts we bring flourish, generating sales?and growing in strength and reputation with each passing year," he says.
He adds that MCE's Corporate Chef Brian Henson has also been key. "He's helped us immensely in developing our menus for the Eastern Market and Food Truck Alley as well," Mashni says. "He executes on our vision of providing really great food for our customers."
Henson brings more than 20 years of restaurant management and entrée development knowledge to his role at MCE. Not only is Henson involved in the Detroit culinary community where he also resides, but he has also garnered statewide attention and gathered a devoted customer following because of his tasty food.
"Brian is a master of his craft and as such was even awarded 'chef of the year' by the American Federation of Michigan Chefs de Cuisine Association (MCCA) in 2012," Mashni says. "Brian's role at MCE is to develop and execute new, fabulous menu offerings that ensure our chef-inspired restaurants remain as contemporary and relevant in the future as they are on the day they open."
As MCE prepares to celebrate its 15-year anniversary this year, Andrea Hachem notes that she is most proud of the company's key leadership, including its culinary team. "Our core leadership group has remained intact and kept the focus first and foremost on providing our world-class customer service," she explains.
Working Together
MCE employs more than 700 people. According to Dean Hachem, the company's employees are its ambassadors for the world-class service it provides customers.
He adds that training, which is ongoing, is very important in its operation. "Our employees go through a stringent company training process, as well as the brands training," he explains. "Each brand we partner with has their own customer service and kitchen training that we strictly adhere to.
"So when we evaluate our employees, the first thing we do is look at their customer service record," he continues. "In addition, we also have mystery shoppers go to our facilities – whether it's a brand partner, airport partner or our company – to see how our ambassadors are doing. When one of our ambassadors does really well, we reward them. When they don't do well we coach them."
MCE also values its partner relationships. "We value them tremendously," Mashni notes. "Whether it's a brand or airport partner, we are extremely flexible and aim to meet their needs. That is why our leadership reacts to their requests immediately, which is also one of the advantages of being a smaller company. However, we're also large enough to develop a 20,000-square-feet development or a Food Truck Alley operation."
As MCE looks ahead, it aims to grow strategically. "We'd not only like to grow within the current airports we're in, but also tap new airports as well," Mashni concludes. "For example, Chicago, Salt Lake City, Florida, California and New York are all markets we're interested in. As long as it is good business sense, we're always looking to grow and expand."