Mille Lacs Corporate Ventures is reinventing the food and beverage options in its casino properties.
When it comes to dining options, hotel/casino properties are typically known for two things: buffets and steakhouses. For more than 25 years, the two Minnesota casinos owned by the Mille Lacs Band of Ojibwe Indians and overseen by its business arm – Mille Lacs Corporate Ventures – fit this mold.
Starting this year, however, "everything's changing," says Michael Engel, corporate vice president of food, beverage and innovation for the organization. "Only a few of our restaurant and bar venues will remain the same. We're retiring some restaurant brands and evolving our service style so we can take care of our existing guests while attracting new ones."
Formerly known as the Corporate Commission of Mille Lacs Band of Ojibwe, Mille Lacs Corporate Ventures was formed after the 1991 opening of Grand Casino Mille Lacs in Onamia, Minn. The Mille Lacs Band opened a second property, Grand Casino Hinckley in Hinckley, Minn., a year later. "At the time, gaming was in its infancy in the state, and we were one of three big casino operators," Engel says.
Both casino gaming in Minnesota and the Mille Lacs Band's business holdings have significantly grown since. The two casinos today employ close to 3,000 people and welcome millions of visitors annually.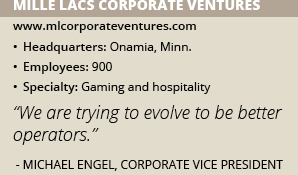 In addition to the gaming operations, Mille Lacs Corporate Ventures oversees four hotels and two resort properties, as well as retail and commercial businesses.
Changing Dynamics
For the past 20 years, both Grand Casino Mille Lacs and Grand Casino Hinckley offered similar dining experiences. Each featured their version of the Grand Grill, a casual-dining restaurant, and large buffets aptly named Grand Buffet. In addition, the casino's food and beverage offerings include steakhouses, quick-service restaurants and bars at Grand Casino Hinckley.
"The Grand Grill and Grand Buffet concepts had been around a long time, and we haven't done much with reinventing those brands," Engel says. Much of Mille Lacs Corporate Ventures' investment in its properties in recent years has been related to the gaming experience for its guests. "We reinvest in our gaming product on a regular basis, however we have not made the same investment in our food and beverage brands.
"We've made slight remodels to our food venues, but haven't done anything to attract a different segment of the market, and that's what we're looking to do," Engel adds. "The casino business in general operates differently than it did 25 years ago; we are trying to evolve to be better operators within the current dynamics of the industry."
At the Hall
The Grand Buffets at each casino property are evolving. Grand Casino Hinckley retired its Grand Buffet in October of 2016 and Grand Casino Mille Lacs will do the same in October of this year. The Grand Buffets will be replaced by a new food hall concept called Grand Provisions. Grand Provisions will include multiple kitchens operating within a shared dining area, with each kitchen offering a different menu. The food halls will include community tables in addition to traditional booths and tables to encourage group conversations.
Concepts within Grand Provisions will include Asada, a Mexican-style taqueria; Creare, a modern pizza kitchen; and Well-Dressed, a made-to- order salad venue. In addition each casino will offer different concepts befitting the clientele of each location. Grand Casino Mille Lacs is located in a more rural area and will offer Wok Hei, an Asian inspired stir-fry concept. Grand Casino Hinckley, which draws much of its clientele from the Minneapolis/St. Paul metropolitan area, will offer Twisted Noodle, an Asian noodle concept.
Grand Provisions will differ from many food halls elsewhere in the country by not completely abandoning one of the most notable aspects of the buffet experience. Two nights a week, both locations will offer an "all-you-can-enjoy" night, where diners can visit and pick food from its various kitchens at a single price. One of those nights the kitchens will offer seafood-based dishes. "Our most popular buffet was the seafood buffet, so we didn't want to do away with that entirely, we just wanted to re-invent what that experience could look like," Engel said. Saturday nights will feature a carvery theme, where guests will be able to experience everything from traditional roast turkey and prime rib, to porchetta and leg of lamb.
Grand Provisions will open at the Grand Casino Hinckley in July. Construction of the food hall in Grand Casino Mille Lacs will begin in October.
Grand Changes
The Grand Grill restaurants in both casinos will soon be rebranded as well. The Grand Northern Grill in Grand Casino Mille Lacs was recently closed, and will be replaced this fall with 1991 Kitchen, a full-service casual restaurant named for the year the casino opened.
The Grand Grill Americana in Grand Casino Hinckley will close this fall and be rebranded as Lola's Tap House, a beer and cocktail focused restaurant with a smokehouse inspired menu. Forty tap handles will offer local and regional craft beers and a mixologist will stir and shake up cocktails at the bar and a tucked-away speakeasy. The restaurant will include large garage-style doors that can be opened to the outside during favorable weather.
Other recent changes to the food offerings at Mille Lacs Corporate Ventures' casinos include two restaurants that opened in December – Brand Burger Bar, a burger-focused restaurant that opened at Grand Casino Mille Lacs; and Stories Diner, a 24-hour casual dining restaurant, opened just steps away from the hotel lobby at Grand Casino Hinckley. "Here, we are focused on serving hotel guests as well as guests looking for a classic comfort food experience," Engel says.
Rival House, a sports parlor-themed restaurant and bar that also offers social games such as Skee Ball and Jenga, will soon be engaged with the casino floor at Grand Casino Hinckley. An existing Rival House Sporting Parlour is located at the DoubleTree by Hilton hotel in St. Paul, Minn., one of Mille Lacs Corporate Ventures' hotel properties.
Becoming a Leader
The Grand Provisions food halls will help Mille Lacs Corporate Ventures regain its position as a food and beverage property leader in its region.
"For years, we felt we led the casino industry in terms of what we did in food and drink. We did things in our buffets that no one else did," Engel says, noting the company was one of the first to introduce a scatter station concept to its buffets.
"Within the past eight to 10 years, our focus was more on operations and how we can deliver the best guest service," he adds. "Now we are trying to re-establish ourselves as leaders in Indian gaming as well as in food and drink operations across the region."