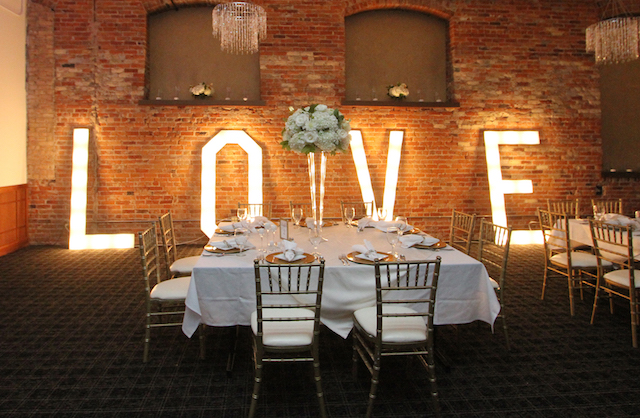 Millennium Restaurant Group
Millennium thrives by providing top service and variety, while giving to its communities.
Millennium Restaurant Group has a portfolio of eateries that differ in style and menu, but all are consistent when it comes to providing a positive guest experience. When loyal customers go from one concept to the other, "They know they're going to get what they received from the last one," Director of Sales and Marketing Vicky Thinnes says.
Kalamazoo, Mich.-based Millennium operates 11 a la carte restaurants, as well as an event center and Millennium Events, its catering operation. President and CEO Ken Miller and Operating Partner Shelly Pastor founded the company in 1999.
After working for another management firm, the two decided to start their own venture, which began with a single restaurant, The Black Swan. Miller notes that it would later become Martell's, an eatery that specializes in quality, scratch-made foods.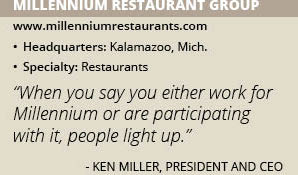 Since then, its concepts have grown to include The Union, which serves cuisine from Texas, Kansas and the Carolinas; Tap House, which offers a menu of pub food, whiskeys and bourbons; and Cove Lakeside Bistro, which serves seafood alongside pasta and risottos. Millennium also has The Wine Loft and Fieldstone Grill concepts.
The company backs its restaurants with strong management expertise. Miller, Pastor and Operating Partner Bob Lewis each carry 30 years in the restaurant business, while its management teams have been with Millennium more than 15 years. "It's a culture that seems to work," Miller says.
Paying Tribute
Millennium's latest additions have included two Tap House locations, as well as 600 Kitchen & Bar, which is its "most striking location," Pastor says. The restaurant is located in Kalamazoo, on a site that was formerly a gray-iron foundry and steel fabrication facility.
The company paid tribute to the location's past by incorporating exposed girders, clerestory windows, and an artful meeting and breakout area. These helped make 600 Kitchen & Bar "our most forward in terms of architecture," she says.
It also reflects Millennium's philosophy of basing a restaurant's concept on the neighborhood in which it is located. "When the opportunity is presented to us, we try to look at the geography, physical plan and neighborhood, and decide what fits," Miller says.
600 Kitchen & Bar also features a menu with locally sourced produce from Michigan farmers. "We balance that with the other regional heritage foods," Pastor adds, noting that the restaurant also employs a chef that is well trained in classical cooking, as well as other regional cuisines. "We want to showcase regional and world cuisine and pay homage to it," she says.
Enriching Communities
Millennium takes part in its local communities and gives to local organizations and charities. "It is part of our creed and culture," Miller says, noting that this has strengthened the brand.
This includes supporting local colleges, United Way, Planned Parenthood, The Urban Alliance Foundation, Big Brothers Big Sisters of America and the American Cancer Society. "A list of who we don't support would be much shorter than the list of who we do support," Thinnes says.
Miller also serves on local boards, including the Michigan Restaurant Association. "We try super hard to be involved with organizations designed to build and enrich our communities," Pastor says.
Millennium Pride
Miller takes pride in Millennium and the reputation it has earned. "When you say you either work for Millennium or are participating with it, people light up," he says.
Thinnes agrees. "Our reputation within the community is top notch and stellar," she says, praising its team. "They do an amazing job with the servicing and detail when it counts."
Key members of its staff include Corporate Executive Chef Eric Gillis. "He's someone who has been with us over 15 years," Pastor says. "He's as hardworking and dedicated as anyone you will find."
Tap House Brand Manager Brett Gulley also has done exceptional work for the company. "He's a pure entrepreneur with his mindset," Pastor says. "He's been able to help grow the business in terms of marketing and energy and has a lot of passion for the industry."
She predicts continued success for Millennium. "The goal for the future is to be as relevant and sustainable as we can for our community," she says, adding that the company will solidify its systems. "Our creative thinking is going into as much in the operation structure as it is going into the menu and services concept."