Miller Poultry thrives by keeping a strong focus on quality and integrity.
For more than 70 years, Miller Poultry has thrived by operating with a family-oriented culture. "We try to maintain and build on family values," owner Galen Miller says. "That means putting others first and having integrity."
Based in Orland, Ind., the company specializes in naturally grown, great-tasting poultry. Founder Annas Miller started it with his wife, Ursula, in 1942 when they moved to Orland from Iowa.
After raising free-range turkey for many years, the company switched to broiler chickens in 1974. Over the years, Miller Poultry grew through the acquisitions of Booth Poultry and Martin's Feed Mill, allowing it to increase its capacity to processing 145,000 chickens daily.
Sales and Marketing Associate Clayton Miller, the son of Galen Miller, notes that the company took further steps forward when it earned Whole Foods Market as a customer in 1994. The retailer encouraged Miller Poultry to begin selling antibiotic-free and vegetarian-fed chickens.
Since then, the company has transitioned its production to non-GMO, grain-fed products. "We've rolled that out with great success," Miller says, adding that this has had positive effects on the chickens' health.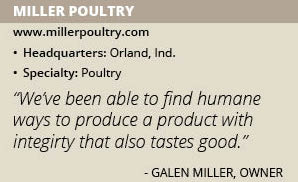 Miller Poultry operates its own breeder production facility and has grown to be more than 75 percent self-sufficient in fertile egg supply. It also just completed a 1,500-square-foot addition and renovation to its hatchery.
"We changed out a lot of equipment and put in the latest technology," Galen Miller recalls, explaining that the company converted to a single-stage incubator that provides "better hatchability because you keep the eggs and the embryos at optimum humidity all the way through the hatching cycle."
Champions of Welfare
Animal welfare is an important area of focus for Miller Poultry. "It's something we champion within our live production department," Clayton Miller says, adding that the company continuously focuses on better and more humane ways to raise chickens.
Miller Poultry regularly works with third-party auditing firms that implement animal welfare standards, and employs a full-time manager of its animal welfare arm. This focus also drove the company to implement its controlled atmosphere stun process, which is an industry first, Miller says.
Through the process, the company uses a carbon and oxygen mix to calm chickens and put them to sleep. "We believe it's the best system out there," Miller says, noting that it has earned the acclaim of the renowned Dr. Temple Grandin, a designer of livestock-handling facilities.
"She was very adamant that it was the standard by which the industry needs to be trained by," he recalls, noting that Miller Poultry researched many systems before implementing it. "[We spent] multiple years making sure that this was the right way to go."
Culture of Community
Miller Poultry not only makes sure it is humane in its treatment of animals, but also cares for its employees. The company, Miller says, takes pride in operating with a positive work environment.
"It's a great community where people truly care about each other," he says, noting that one testament to the company's culture is that it has had multiple generations of families on its staff, including husbands and wives and fathers and sons.
"There's many reasons for people to find their calling in the company, whether it's analyst or accounting positions," he says. "We truly help people find their niche and their area where they'll succeed."
One way that the company has earned this loyalty is through its values. "We've implemented a lot of management practices that allow employees opportunities and routines where they're not in one position for an unreasonable length of time," Miller says. This helps workers maintain their physical health and abilities for many years.
Miller Poultry also offers strong benefits. In addition to providing healthcare and dental insurance and 401(k) programs, the company recently increased its starting wage to $14.25 per hour. "We believe that's the right thing," he says.
After 90 days, employees can see their pay increase to $14.75 hourly. Miller Poultry also tries to keep their schedules to five days a week "so families have time at home," he says. "It's important for us to give people time so they can rest."
Miller Poultry maintains a more open environment for its employees than some of its competitors. For example, "If they want to talk to Galen, they can talk to Galen," Miller says. "It is truly a culture of community here, not just a corporate culture."
The Best Direction
Miller Poultry values its close relationships with its customers. "There's a reason why last year, we were given the Whole Foods 'Perishable Vendor of the Year' award," Clayton Miller says. "It goes back to our working relationship with them."
Additionally, "We have a number of long-term customers that we're grateful for," Galen Miller says, noting that these include retailers such as SUPERVALU INC. and Kroger.
Miller Poultry maintains strong relationships with its vendors, as well. "We continue to work with them because we truly believe that it is a partnership," Clayton Miller says. "We try to steer everyone in the best direction that we know possible."
Growth with Integrity
Miller Poultry plans to continue to grow in its role as a premium producer of naturally grown chicken, Clayton Miller says. This will allow the company to continue serving customers that appreciate "wholesome, great tasting food," he says.
Its growth also will include the addition of a new water-handling facility at its location in Orland. This will allow the company to treat the water with organic compounds before it is used for the crops in its feed supply. "We're also approved for a hatchery expansion, but we have not broken ground on it yet," he notes.
The firm wants to bring even more benefits to the environment. "We can continue to be a successful business while also being a contributor to rectifying some of our ills as an industry," he says.
This includes looking at sources of alternative energy and ways to reduce reliance on finite inputs. "That's probably one area where we have the most opportunity," he says.
Miller Poultry also will stay focused on maintaining its integrity, Galen Miller says. "We want to be able to put people first and still be financially viable," he asserts.