Health in mind
Set up in 2015 by three school friends, Mindful Chef was founded to fulfil a decidedly simple mission statement: make healthy eating easy. "We thought it was something lots of people struggled with – and there wasn't a clear solution available," explains Robert Grieg-Gran, one of those three school friends and now COO at Mindful Chef. "We sought to provide one. Making healthy eating easy has always been central to the company. It's our North Star, so to speak; it leads us to sell the products that we do."
For Mindful Chef, healthy eating begins with great ingredients. By positioning itself at the premium end of the recipe box market, the UK-based company has garnered a reputation for quality. "We set out to source the absolute best ingredients available," says Robert. "That's where the mindful part of Mindful Chef comes in; we've always, for example, used free-range chicken and grass-fed British beef in our recipes. Our customers eat wild Alaskan sockeye salmon and line-caught cod. Whereas, with a competitor, they could be eating frozen Tilapia farmed in Thailand.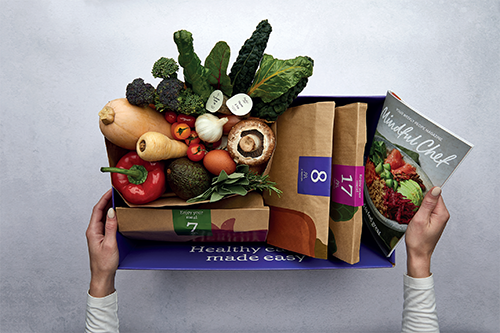 "All our food is gluten- and dairy-free, offering more options to those with dietary requirements," he adds. "We're also now 100 percent accredited by LEAF Marque (Linking Environment and Farming) across all our fresh produce lines, rewarding farmers for their stewardship of land and their support of the company's vision."
Though it initially focused solely on recipe boxes, Mindful Chef has since developed a wide-ranging collection of products, including a ready-to-go range consisting of ready meals, smoothies, soups, broths, and cereals. In doing so, the company wants to further establish itself as a leading player in the online groceries market. It's already come a long way in a short space of time.
Mindful Chef completed two rounds of crowdfunding in 2016 and 2017, with its first (and only) private equity investment coming in 2018. By 2019, the company was turning over £16 million with a total staff of about 30. However, as Robert explains, since the pandemic, sales have skyrocketed.
"Covid-19 was an incredibly challenging time," he says. "Mindful Chef experienced a period of enormous growth between February and April of 2020 jumping from 30,000 meals per week to over 100,000 across a period of a few weeks. Instead of closing our doors, like all major online grocery retailers did, we made the decision to keep accepting new customers. It was the right thing to do. We were honest with our existing customer base that their service would likely suffer as a result of that decision, but we knew that a significant proportion of customers, new and old, would be relying on our services.
"To facilitate that commitment, we extended lead times by 24 hours and cut our range dramatically, removing items that were proving troublesome for suppliers," elaborates Robert. "We had to explain to our customers that there would inevitably be lots of substitutions. Yet we're still seeing that same customer base stick with us now, remaining highly engaged and loyal to the brand post-Covid. At the same time, we wanted to offer a 30 percent discount for NHS staff, which has now cost the business over £1m to date, but for us it was simply the right thing to do. Throughout the pandemic, our volume has remained high. Last year, we turned over £74 million, increased our staff to over 100, and offered a larger array of products than we had before." Mindful Chef won Specialty Online Retailer of the Year at this year's Grocer Gold Awards for the third time – the only brand to ever do so.
To ensure maximum customer satisfaction, Mindful Chef constantly tweaks its dishes through an in-house team of chefs. "We employ six chefs to develop our 60 weekly recipes," Robert reveals. "About 50 of those will be drawn from our recipe library, having previously been developed by our team. The best recipes will be featured approximately four times a year, and the ones that aren't such a hit will be quickly retired. Our chefs are intent on continuous improvement, whether that means adjusting a recipe to make it more seasonal or responding to customer feedback and are constantly on the lookout for new ingredients to bring excitement to the weekly menu.
"Data drives our decision-making process," he continues. "We've collected recipe feedback over the past seven years, and from that vast database we've been able to observe both recipe appeal when customers choose and the reviews after they've prepared and eaten it. Those two points provide us with a metric for gauging how desirable a dish is to our customers – both initially, via our website, and then later, when we find out if we've delivered on our taste promise. Doing this means we can fine-tune recipes accordingly."
Successful partnerships
Recently, Mindful Chef has fostered numerous successful partnerships with familiar names such as Waitrose, Vitality, and David Lloyd Clubs. "Partnerships have always been key to our business and part of our core strategy," says Tim Lee, who joined Mindful Chef as CEO in 2018 following myriad successes in the food and beverage industry. "From the beginning, we've had high profile investors, including Sir Andy Murray, which offers us both publicity and a presence.
"We've since evolved that from a branding perspective, with Fearne Cotton and Ben Fogle joining as Mindful Chef ambassadors," he explains. "These are people that we believe exist in the same likeminded space as our customers. Furthermore, we also proudly sponsor the English Institute of Sport and are partnered with the British Heart Foundation, Diabetes.co.uk and Vitality. By fostering successful partnerships with organizations such as these, we not only gain credibility within the health space, but also provide a platform for ideologically compatible brands to achieve their own goals. All in all, partnerships drive awareness and access in the wider health space, making it easier for people to make informed and beneficial lifestyle choices."
Empowering customers
Mindful Chef has also cultivated a key partnership with Soil Heroes, a carbon offsetting organization that works with companies to support regenerative agriculture and other climate positive activities. "We're a carbon neutral business, offsetting carbon levels one and two," notes Robert. "Though we don't yet offset our food, that's something we are looking to achieve soon. Right now, we're working with Soil Heroes, improving sustainability throughout our supply chain. Instead of offsetting our carbon around the world, we're doing it right here in the UK with our own suppliers.
"We're approaching them with Soil Heroes and saying, 'The root vegetables you're growing are quite carbon intensive, maybe we can add a year of fallow in between crops to create a net carbon deficit and offer you some incentivization.' We've got offset money to spend, so we want to spend it with our own suppliers, making it not only more economically viable for them but also driving change that improves the environment. It's really a win-win for us," he adds.
As Tim makes clear, that's an industry first. "Other companies use Soil Heroes to offset carbon, but not within their own supply chain," he reveals. "We were the first to do it because we believe it's the future way of doing things. Another aspect of reducing our carbon footprint that we considered to be important was the empowerment it offers to our customers. Indeed, we're the first recipe box company to offer a low carbon range of meals. We went through all our recipes and measured how carbon intensive they were and signposted this on our website for customers. Nearly half of our recipes are vegan, meaning they're naturally less carbon intensive than alternative recipes, so customers can make the choice themselves and improve their own individual carbon footprints.
Culinary journey
"As a B Corp, we pledged several years ago that for every meal sold, we will donate a school meal to a child living in poverty – and we've just passed the 13 million meal mark on that. Our customers often talk about the fantastic quality of our produce, but the fact that they are buying from a mindful company that cares about the community and the planet is also a key selling point."
In terms of the future, Mindful Chef is building a more expansive and personalized range of products to remain relevant across multiple meal occasions throughout the week. "To make healthy eating even easier, we're looking more closely at the personalization of our weekly deliveries," Robert says. "For some people, healthy eating means losing weight; but for others, it means lowering cholesterol, or managing diabetes, or reducing salt, or improving gut health. By adding this element of personalization to our services, we will be better positioned to take our customers on their own healthy eating culinary journey.
"That's a unique selling point, and it's really exciting for us," he concludes. "In fact, that's the type of business we can see having international appeal, one which we could expand into the US, Australia, or any of the other major health-focused territories out there."
www.mindfulchef.com