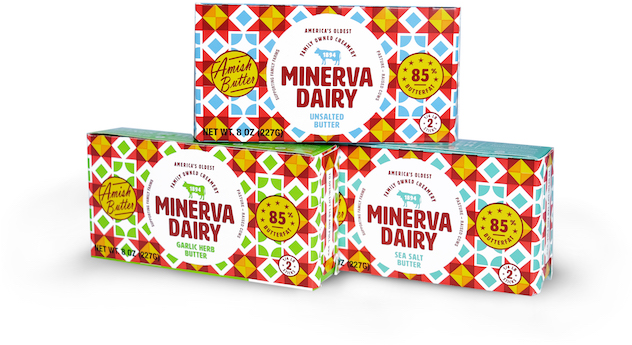 For Minerva Dairy, delivering quality butter to consumers is not just a job, but "a way of life."
When the owners of Minerva Dairy walk through the doors of its location in Minerva, Ohio, they do not view it as the act of going to work. "We view it as family business," co-owner Venae Watts declares. "We view it as a way of life."
She and her brother, co-owner Adam Mueller, took roles in the business at a young age, following in the footsteps in their father. "Butter making is part of who we are. We have two passions: family and butter. Most of the time, family is first," Watts states.
Both represent the fifth generation of their families to take part in the business, which began in 1894 when Max P. Radloff established Radloff Cheese in Hustiford, Wis. Although his parents were furniture makers, Radloff followed his own path and entered the dairy industry.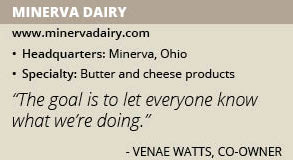 At the time, cheese facilities were small due to the restrictions of transporting milk. But Radloff got the idea to have his suppliers bring the milk to one site, where he converted it to cheese.
Instead of moving milk long distances, Radloff transported cheese, which allowed him to move more weight at a time. "That dynamic of his business model allowed him to grow quickly in the early 1900s," Mueller says.
In 1935, Radloff purchased Minerva Dairy's current location. During World War II, the government mandated butter rations, "We started producing butter into handmade rolls to accommodate," Watts says, noting that butter was previously manufactured in large blocks. "That was the foundation of the rolled butter format you see today."
Premium Products
This year, Minerva Dairy is celebrating its 125th anniversary, which it marked with the rebranding of its products. Although it still produces cheese as an ingredient for foodservice clients, it is primarily known today for its 85 percent butterfat butter.
The company still makes the product by slow churning milk from pasture-raised cows, producing it a creamier and better tasting butter. "We're making butter the same way that we've made it since 1894," Mueller says, noting that its use of sea salt also sets it apart.
Today, he says, Minerva Dairy's butter is the highest premium product on retail shelves, and its rolled butter stands as its flagship product. But this August, the company will expand its lines with a new one-pound roll.
"We're really excited to see that product come out," Mueller says. "People are familiar with our two-pound roll, but we want to be able to offer them smaller portions of the same premium product and roll format."
Families in Food
Minerva Dairy develops long relationships with its vendors, which include dairy farms in northeast Ohio. "For generations, we've been buying milk from a lot of the same family farms that my father bought from and his father did as well," Mueller says.
"That's been a key part of our success," he says. "The small dairy communities don't necessarily exist anymore in other parts of the country."
According to Mueller, this is largely due to land and operating costs and the price of milk itself.  "The rise of large corporate factory farms have created a pricing problem that make it impossible for many small family dairy farms to stay in business," he says.
Spreading the Word
A major focus for Minerva Dairy is not just how it markets itself to its customers but also internally to its employees. "It's important for all of our staff to understand the history and what that means to the people that buy [our product]," Mueller says.
The company reinforces its legacy and values through training. "In return, they take pride in what they do," he says. "They're more than going through a daily routine. Our butter makers are giving people across the country an amazing butter that will make everything they put it on taste better. Our butter is a far cry from a commodity. They understand that."
Watts sees a strong future for Minerva Dairy, which aims to become a household name. As fifth-generation butter makers, "We know something about making butter," she says. "The goal is to share our passion and our better butter with butter lovers everywhere!"