Minerva Dairy Inc. launches a new line of spiced and smoked Amish Roll Butter from its more than 100-year-old buttermaking recipe.
Minerva Dairy Inc. is America's oldest family owned dairy producer, perfecting the art of butter making since 1894. "We have been using the same butter recipe since our inception," President Adam Mueller says. "One of our distinct qualities – that you won't find elsewhere – is that we make butter in batch churns that has higher texture and more complex flavors. We make it the same way it was made more than 100 years ago."
Max P. Radloff founded the Minerva, Ohio-based company in 1894 when he established Hustiford, Wis.-based Radloff Cheese. Radloff built multiple cheesemaking locations in the early 1900s, culminating with Minerva Dairy in 1935 that began producing bottled milk, ice cream, butter and cheese in Ohio.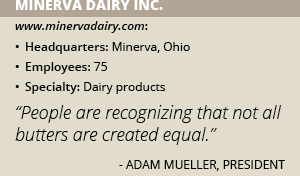 Today, in its fifth and sixth generations of family ownership, Minerva Dairy still produces 84 percent batch churned Amish butter, as well as a variety of cheeses. "The two-pound roll butter is our flagship item and our two-pound rolls became a staple product during World War II when butter was rationed," Mueller says. "We now have a line of butters ranging from our two-pound rolls, quarter sticks and eight-ounce rolls that are unsalted, salted and flavor-infused to be distributed nationwide."
Minerva Dairy still operates from its single location in northeast Ohio and distributes direct to retailers and distributors. Its products can be found in the deli and dairy cases, as well as the artisan section. "Consumers know us from our butter products and our target audience is dairy case shoppers and artisan buyers," Mueller adds.
Artisan Butter
"We are excited about the artisanal butter industry," Mueller says. "We saw an explosion of artisanal cheeses during the '90s and 2000s, and we are starting to see that on the butter side. People are recognizing that not all butters are created equal. There is a flavor that comes out of the butter, depending on where it's made and how it's made, which are important."
In May, Minerva Dairy is launching eight-ounce artisan butter in Garlic Herb, Pumpkin Spice, Maple Syrup and Maplewood Smoked butter varieties. The new flavors can be found in stores mostly on the East Coast and additional flavors will be available seasonally. "We will still stay with our original product and the two-pound roll that was developed during World War II, but we are looking forward to the eight-ounce size," Mueller notes.
The artisan butter is made using Minerva Dairy's same recipe, and the company says its butter production is a slow process because it takes time to churn cream into butter. Butter artisans go through about six months of internal training in addition to attending classes at the local universities. "The main thing with the artisan products is they have to make decisions on a per-batch basis," Mueller explains. "For example, the size of the curd and the amount of buttermilk that's present. It's a labor of love that takes true skill and passion for the work. It's a work of art."
New butter artisans are typically promoted from within to preserve the tradition and authenticity that is needed to continue to make each of Minerva Dairy's quality products. "It's not possible to recruit someone who is making commodity butter and retrain them to learn how to make authentic butter," he says. "It's a very, very different process."
Pasture-Raised Cows
Minerva Dairy prides itself on the relationships it has with local family farms. The company works with about 60 farms in the area and all the cows are pasture-raised. "It is very important for the customer to realize we have been working with farms for multiple generations," Mueller says. "All our decisions are done on a handshake. We don't do contracts because the farms have to be as happy as we are. We don't want to lock anyone in to sell their products to us."
The cows are pasture-raised on every family farm Minerva Dairy works with, meaning the cows have a choice and lifestyle often not found in other parts of the country or in large operations, Mueller says. "Cows can spend their time in the barn or in the pasture, but year-round they have that decision to make," he explains. "The cow has freedom and can make decisions throughout the day."
Minerva Dairy has seen incremental growth on family farms over the past few years. Cows per farm used to be around 50 but have grown to 75 today. When the company decides to work with a new farm, it must meet a number of requirements, but it is essential the farm has pasture-raised cows and be a family farm. "We work closely with 4-H to continue to educate and grow these family farms," Muller says. "My next generations could have a problem if there are not enough family farms in the area. We live and die together."