Not afraid to take risks, Minhas Craft Brewery has increased its output and become the 10th-largest brewery in the United States.
For a day, Gary Olson was a gangster. Olson was cast in a short film about the 1931 kidnapping of Fred Blumer, then owner of Blumer Brewing Co. in Monroe, Wis.The story goes that after realizing they wouldn't get much ransom money, the mob members released Blumer, charging him a week's worth of room and board. Al Capone and Baby Face Nelson were believed to have been involved.
The short episode is just another piece of the 171-year-old brewery's history. For Olson, it was a way to connect the past to the modern legacy he is helping to create as the president of brewery operations for that same facility, now known as Minhas Craft Brewery.
Monroe Brewing Co. opened in 1845 in a town just a few miles from the Illinois border. It remains one of the oldest breweries in the nation. The building has been expanded multiple times throughout the years, with newer sections and equipment blending with the original structure. "If you walk through this place and go from room to room you're probably in a different decade," Olson says.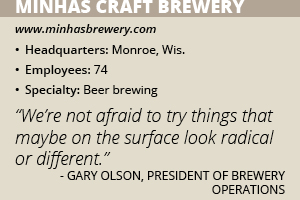 The company has always been privately owned, changing hands 16 times since its founding. At various points the facility has been known as the Blumer Brewing Co. and Joseph Huber Brewing Co.
The Minhas family owned a chain of liquor stores in Calgary, Canada. The family realized the potential of going from selling to making alcohol and eventually developed its own label, Mountain Crest, but needed someone to actually do the brewing. "They were known up there for good-tasting beer that was considerably cheaper than the big boys," Olson says.
The Monroe brewery mostly manufactured its own brands but also did private label and contract brewing. By 2003, Ravinder and Manjit Minhas had become the brewery's largest customer and the siblings purchased the facility two years later. "That's when we really started putting millions of dollars into improvements and capacity," Olson says.
The Minhas family retained the brewery's staff but changed the company's name. Their willingness to invest in the business propelled Minhas Craft Brewery to become the 10th-largest brewery in the United States. Within 13 years, the company went from making 40,000 barrels a year to 300,000. The company's success and rapid growth demonstrated the family's business acumen and raised their profile. Manjit Minhas is now one of the panelists on "Dragon's Den," the Canadian version of "Shark Tank."
Improving Capability
Minhas Craft Brewery believes in versatility. The company manufactures virtually every style of beer, from American lagers and Indian pale ales to a seasonal Oktoberfest and malt liquors. Minhas Craft Brewery is even getting into hard sodas with its Rhinelander and Boxer hard root beers. "We do everything; that makes us different," Olson says.
In addition to the brewery, the company has a distillery for spirits and does its own bottling and packaging. It also sells its clear malt base to other brewers and provides bulk beer to flavor houses. That capability enabled Minhas Craft Brewery to be involved in every phase of beer production, attracting interest for contract brewing from both craft beers starting out and major retailers such as Costco that have their own private label. "We're not trying to be the world's greatest contract brewer, but we'll entertain business that's going to make money for us," Olson explains.
Since taking over the company, the Minhas family has encouraged the brewery to be bold. "We're not afraid to try things that maybe on the surface look radical or different," Olson says. "We've had some failures. The good news is we succeed more than we fail." One such risk was an energy drink called iEnergy. Olson says many energy drinkers preferred it to Red Bull, but the beverage never took off. Olson says the crowded energy drink market proved tough to break into. "We made a great product," he says. "We ran a bunch of it, and none of it sold."
Blending Old and New
Since opening in 1845, the Monroe brewery has been an integral part of the town itself, a relationship the Minhas family and Olson continue to foster today. The brewery is located in the city's downtown area. The 20,000 visitors who take the brewery tour each year are a key part of the city's tourism. "People like it because our tour guides know a lot of history about the town and brewery," Olson says.
After finishing the tour, visitors can enjoy the onsite beer memorabilia museum, featuring three rooms of beer merchandise collected by a Wisconsin couple during their world travels. Locals even get to help develop the beers by participating in tastings every Friday afternoon.
Although Minhas Craft Brewery is firmly rooted in its past, the company is planning out its future. The brewery recently introduced its products to British Columbia and Olson says it is working on even more markets. Minhas Craft Brewery now ships products to Malaysia, Korea, Guam, Panama, Taiwan and the United Kingdom. Exported beers are often geared toward a specific market, such as a mango beer that is popular in Guam.
Growth requires more capacity, so becoming efficient and boosting output is one of Olson's priorities. "We've always found a way to make more even when the day before we were maxed out," he says.