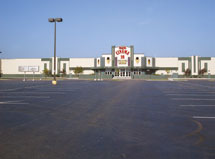 Sight and sound aren't the only senses engaged in a movie theater. Yes, the big screen and even bigger sound are the draw, but the items engaging the moviegoer's sense of taste and smell are just as key to the experience and play a major role in a theater's success. Dennis Redmer, vice president of operations at MJR Digital Cinema, explains that even though the movie is what brings people through the doors, the concession stand plays a large part in keeping the doors open.
"We could never survive without concessions," Redmer says. "But our product is still sound and picture and there is no doubt about that."
With nine Michigan-based theaters, the locally owned and operated MJR has been providing family fun weekends through sight and sound for the past 30 years. Its current oldest location, Adrian Digital Cinema 10 in Adrian, Mich., opened in 1990. Its second-oldest theater opened in 1995, and since then MJR has opened one new theater every two to four years.
The entertainment company opened its newest theater, Westland Grand Digital Cinema 16 in Westland, Mich., last November. The 16-screen theater is a state-of-the-art cinema using DLP technology, the standard in digitized movies and the format used in all MJR theaters. Redmer says the standalone facility brings a new entertainment option to an overlooked area.
"There are a lot of people living in Westland, but there are not a lot of theaters here," Redmer says. "We felt that this was an underserved area and the theater so far is doing very well. We are happy with the progress."
Supporting Roles
Like all of MJR's theaters, the Westland location will offer the total moviegoing experience with sight, sound, taste and smell all rolled into one. For popcorn, which Redmer says is the staple movie theater food, the company works with Indiana-based Weaver Popcorn Co. The 84-year-old company has spent the last eight decades continuously perfecting its popcorn kernel-producing process to come up with the industry standard that results in higher yields and less breakage.
Part and parcel to the savory popcorn, Redmer says, is the sweet pop that washes it down, which is why MJR offers discounted combinations of the two and free refills on both. Its longstanding beverage vendor, PepsiCo, has supplied MJR with drinks and sodas since MJR screened its first movie. Redmer explains the company's quality and consistency has led to more of a partnership rather than a typical vendor/customer relationship.
"We have been with Pepsi for as long as I've been here," says Redmer, who has been with MJR for 22 years. "They are like our partners and a huge part of our business. We are always looking for good quality and someone who is willing to work with us and continue to provide us with good service. We definitely have that with them."
The reason that MJR seeks quality food vendors is because that's what they're customers are looking for, as well. Whether it's pizza from Chicago-based Connie's, hotdogs from Eisenberg Sausage Co., nachos from Rico Cheese, candy from Nestle Kraft and MM Mars, and pretzels and frozen snacks from J&J Snack Foods Corp., MJR seeks top-notch vendors at fair prices. Because it operates in the hard-hit auto industry area, Redmer explains that it's even more important that their customers receive a good value for their money.
"We are really conveying a message that we want people to feel they are getting great value for their money," Redmer says.
"There is nothing like that movie popcorn, but we also have drinks and candy and food items such as pizza, pretzels, hotdogs and nachos. You can get a light lunch or appetizers. We offer free refills on all pop and popcorn. You can refill it for while you are at the theater or take it home. We really project that you are getting the best bang for your buck when you come to MJR."