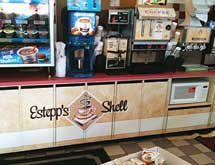 Modern Distributors Inc.'s customers shouldn't worry if a machine maintained by the company breaks down, as it won't be long before it's fixed. An experienced and responsive maintenance department on call 24 hours a day is just one of the pieces of what the Somerset, Ky.-based company calls "The Modern Advantage."
"We realize that if the machines are down and not making money, neither are we," co-owner Mickey Ray explains. "We want to be the one stop for everything our customers need."
Mickey Ray's father, Bill, founded the company, now in its third generation of ownership. It operates three business units: vending; coffee and frozen drink machines and products; and wholesale distribution to convenience stores and clients such as factories and offices in Ken­tucky, Tennessee and surrounding states.
Modern's wholesale distribution busi­ness offers more than 5,500 cigarette, tobacco and grocery SKUs. The company serves more than 1,300 accounts across all three of its business units. All of the company's machines are the newest and latest available in the industry, says Michael Ray, Mickey's son and another co-owner of the company.
"We have top-of-the-line equipment to meet our customers' needs and frequently swap out machines," he adds. "We don't use second-rate equipment."
Customer Focus
Quality machines and the eight-person maintenance department are just a few elements of the company's advantage to customers. "We're intensely customer-driven," Michael Ray says. "There are certainly larger operators our custo­mers can use, but they're not going to offer the service that we can provide."
Modern offers personalized service and competitive prices, and regularly meets with customers in quarterly meet­ings to discuss their needs. "We can pro­vide a direct line of communication to the very top of the company if that's what our customers want," he adds. "I think we're big enough that we can meet any need our customers have, but small enough where they can have a personal relationship with anyone in the company."
Many of its employees have been with the company for 25 or more years.
Market Changes
The company was founded in 1964 as a jukebox and pinball machine operator, later entering the vending business. In recent years, the vending segment of Modern's business has seen the effects of layoffs in manufacturing, which has affected sales, but that is beginning to rebound, Michael Ray says. The wholesale and coffee business remained resilient during the recession, he adds.
Modern's vending machines offer a variety of products including fresh sand­wiches and salads produced in its in-house commissary. "There's a perception of the vending industry that we're trying to change about the quality of the food you find in vending machines," he adds. "The quality you'll get out of our machines is very fresh and very good."
Heading the company's vending operations is Ulanda Price, who has more than 40 years of experience in the ind­ustry. One of the company's newest de­velopments in vending is the implementation of machines accepting debit and credit cards. Modern started roll­ing such machines out earlier this year, Price says.
Modern Distributors also has seen a number of changes in its convenience store distribution business over the years. The company first offered whole­sale service to convenience stores during the 1980s with tobacco and candy being its primary products; today, the product lines offered by the company have expanded, Michael Ray says.
"Convenience store operators realize they need to have a presence in food, and we fill that need," he adds. To address an increase in demand for food products, Modern recently expanded the freezer and refrigeration systems in both its warehouse and on its trucks. Popular food products include hambur­gers, hot dogs, sandwiches and frozen foods, Ray says.
"We're continually picking up products and turning into a small food service distributor," he adds.