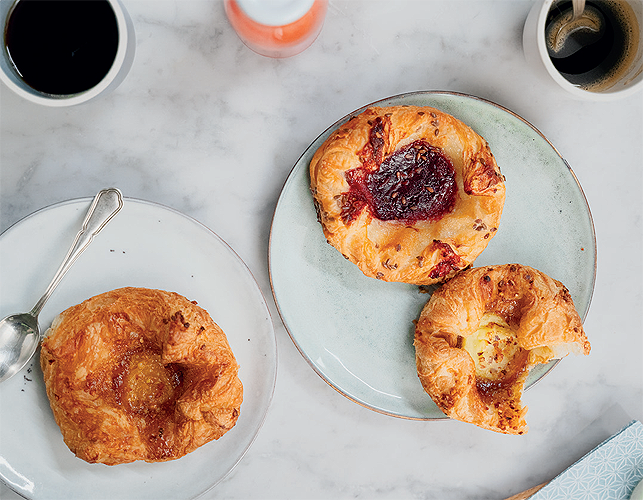 For its latest new product development offer, Bridor is staying true to its mission to 'share the bakery cultures of the world' by revisiting the traditional Danish pastry. The French bakery manufacturer has added modernity and originality to the Nordic classic by developing even more indulgent Danish Crowns.
Bridor's new and improved Danish Crown is the second Scandinavian-inspired pastry it has launched this year after its Ultra Kanel Swirl with Swedish origins. The pastry retains its iconic shape, laminated look, and light, crispy texture thanks to a unique lamination technique that alternates up to 27 thin layers of margarine and pastry. It is then left to rest for a long period of time to allow the topping flavours to deepen.
The Danish Crown is available in three versions, all of which are suitable for vegans:
Cherry and Flax Seed Crown 90g: The delicious cherry centre gives a very fruity taste that is topped with a crunchy brown flax seed for a very colourful and indulgent crown.
Vanilla and chopped hazelnut Crown 90g: An indulgent crown with a unique texture that is comprised of creamy vanilla flavour, brown sugar and a hazelnut topping.
Orange and chopped hazelnut Crown 90g: An orange-flavoured crown with brown sugar giving a subtle caramelised taste to accompany the crunchy hazelnut topping.