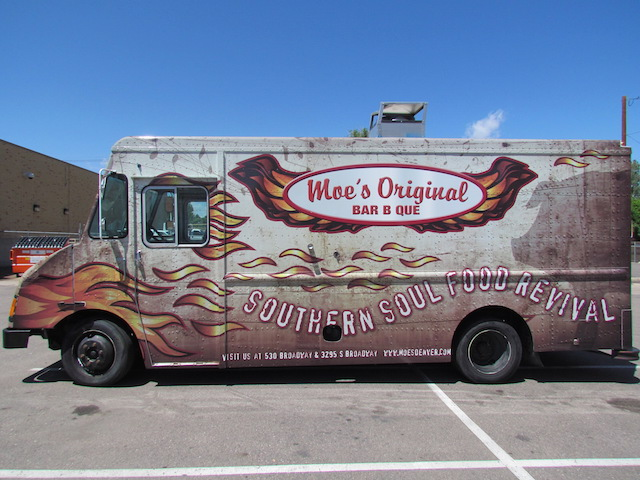 Moe's Original Bar B Que takes a unique approach to growing its franchise and inspiring its employees.
In 1988, brothers Mike and Gabo Fernandez learned from Moses Day how to fire-roast meats. The duo eventually started Moe's Original Bar B Que & Steaks, which was reborn as Moe's Original Bar B Que in 2001 when Mike became friends with Jeff Kennedy and Ben Gilbert at the University of Alabama in Tuscaloosa. But to this day, Moses Day's distinct style continues to make up Moe's original flavor of barbecue.
The trio moved to Vail, Colo., and started serving barbecue to skiers. "We moved to pursue our love of the outdoors and saw there was no barbecue – the kind that we grew up on," Kennedy says. "So we bought a 40-foot horse trailer and turned it into a health department-legal kitchen. Using hay bales and random scraps of wood we put together an outdoor dining room, pulled the trailer up on the side of the road and started selling barbecue. The first summer we were open 100 days and sold out every single day."
At that point, Kennedy says they realized Moe's was a business worth pursuing—and as the saying goes, the rest is history.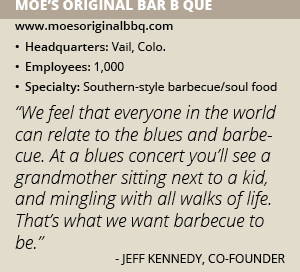 The franchise is now an award-winning chain – with 49 locations across the country in 14 states – and serves up a combination of their two favorite genres of food: barbecue and soul food. "We cook traditional fare from the South, including pulled pork, ribs and chicken smoked over hardwood with two unique sauces," Kennedy says. "We cook an assortment of soul food side dishes to accompany our fire-roasted meats. All of our food is made from scratch daily."
Seeing Growth
In anticipation of its 15th anniversary, Moe's currently has eight restaurants under construction, with several leases on the table,, Kennedy says. "We're also working on expanding into Mexico City and Australia," he notes. "We've finished our training with Australia, we're just waiting to sign a lease and Mexico City has their crew training right now. So, hopefully, we'll be international in 2017."
"It seems hard to believe to that we've been doing this for 15 years," Gilbert adds. "We feel very fortunate to have had the success we've experienced in the restaurant business. It's been fun watching the concept grow as it has to this point; we'll see where the next 15 years take us."
The trio of founders agreed that they believe part of their growth is thanks to being in Vail, which is a huge destination for travelers from around the world. "We're on this worldwide platform where we see and are seen by world travelers," Kennedy observes. "That's how we're growing into these international markets – people who come here to ski, see our concept, grow fond of it and believe it will work in other countries."
The majority of the company's growth has come from within the system organically, Kennedy says, adding that Moe's has employees that become passionate about the franchise and want to own their own restaurants. "They want to take Moe's to their hometown, college town or favorite resort town," he says. "The few that are not growing within the system are required [to have] a minimum of six months' training with us in Vail. Eighty percent growth is from within the system and the remaining 20 percent is from outside of it."
On average, Moe's has opened seven stores per year and will open 10 units in 2016. "I think we can open 12 annually, which would put us at 100 stores by the end of 2020," Kennedy says. "We just want to continue to grow at an aggressive but manageable pace. We want to push the Southern roots that we grew up with around the country and world, too."
The trio truly believes that barbecue is a soulful type of cooking, so as the franchise grows, they are being careful to not lose the soul of the concept. "That's what it's really all about," Kennedy says. "We're not going with a cookie cutter franchise per se, but we want every unit to have its heart and soul in the owner and local community. That is why each unit is a little bit different, but holds true to Moe's and conforms to the individual owner and its market."
There are several key aspects that contribute to the company's success, according to Gilbert. "The quality and consistency of our food; the friendly, hospitable staff; camaraderie of employees; unique locations; controlled chaos; cult-like following; cold beer; whiskey and of course the party – that is what drives folks into our locations," he says.
Team Spirit
Kennedy says he and his partners have also been key players in the franchises success by being very visible and hands-on with their employees. "We're all in the restaurants working everyday," he says. "We attend every opening and work with the employees on the line showing them it's not a one-way street but a team effort. We let them know we are here for them if they need anything as well. The culture we have been able to create has been done through hard work. So we work hard and have a good time, which is primarily responsible for our continued growth at this point."
A significant part of that culture involves the founders being humble, communicating effectively and relating to the younger generation through hard work, according to Kennedy.
"It's about working hand in hand," he says. "I recently attended an opening in Carrollton, Ga., a college town. Ninety percent of staff there is college kids and they did not even know who I was until I was leaving because I didn't go in acting like the owner. I washed dishes with them, cooked with them and cleaned the bathrooms alongside them. We talked as we worked about being a team. I let them know I'll do anything they do and I expect the same from them."
"It's great working with this younger generation," he added. "Whether they stay with Moe's or not, hopefully our impact on them will be life lasting."
The trio of founders wants that same life-lasting impact for its customers as well. "We believe that our customers are just about everyone," Kennedy says. We want to create Customers For Life by offering a unique, all welcoming experience. "When we think of barbecue and blues we feel that everyone in the world can relate to those. At a blues concert you'll see a grandmother sitting next to a kid, and mingling with all walks of life. That's what we want barbecue to be: a comfortable atmosphere, with awesome food at a very reasonable price. That is the environment of Moe's Original Bar-B-Que."