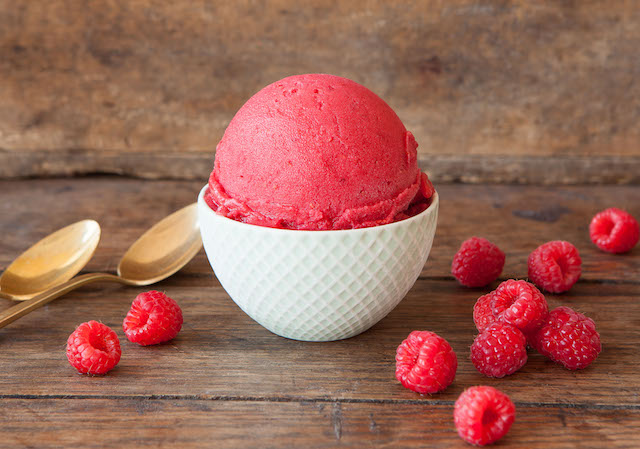 MORA provides strong support to its franchisees with proven products and training.
When customers visit a MORA Ice Creamery location, they enjoy flavors and an experience that is distinctly different than the usual ice cream parlor, CEO Jerry Perez says. "We are providing an environment that is more thoughtful and tailored to the adult for their enjoyment," he says.
Perez got the idea for the Poulsbo, Wash.-based company after he and his wife, Ana Orselli CBO, emigrated from Argentina to the United States. While the two found that many brands stateside provided a good industrial product, "We didn't experience a great quality artisanal ice cream," he recalls.
Artisanal ice cream, he explains, uses natural ingredients instead of flavorings. "[This is] done in the same way that our mothers would have done it, with fresh and real ingredients," he says. When he and his wife started working on the MORA concept, they centered it around three main areas of focus.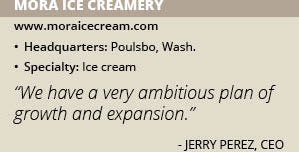 Not only did the company need to provide ice cream made from scratch, but also an in-store experience with clean, luxurious locations. "What we saw was that most ice cream was consumed in a fast food type of environment," he says. "Our store has to be at the same level that our product is."
Its service also had to be at a high level, with well-trained employees who are knowledgeable about its 50 flavors. "With these three pillars supporting our brand, we realized we could fulfill a vision of elevating the ice cream experience in the United States," Perez says.
His goal was for MORA to do for ice cream what Starbucks Corp. did for coffee. Before the famed coffee brand emerged in the market, "Most people would drink instant coffee or coffee that was made at 7 a.m. in the morning," he recalls.
"Today, Americans are very sophisticated about the overall experience of coffee," he says. "Hopefully, people will say there is a before and after around MORA with ice cream."
MORA opened its first shops in 2004 and began franchising eight years later. It also began construction of a production facility that meets many food regulations, including SQF and certified organic guidelines, Perez says.
"It's a state-of-the-art facility where we can produce all of our flavors," he says, noting that the company manufactures ice cream for other brands, and provides MORA flavors to Starbucks. "Because of the quality and the characteristics of our product, we were honored and lucky to be selected by Starbucks as their sole ice cream producer."
MORA currently has four stores open, with another 14 in development. "We are looking to grow aggressively," Perez says. "We have a very ambitious plan of growth and expansion."
Careful Growth
Now is a good time for MORA to be in business. "The economy is doing fairly well," Perez says. "We received a lot of interest from people that are exploring avenues to start a franchising program."
The company has been fortunate to grow quickly, but "we want to make sure we are not trying to do [more] than we can handle," Perez says, noting that MORA prefers to be conservative in awarding franchise locations.
Jim Rowell, director of franchisee development of MORA LLC, agrees. "Some of the brands over the years have cannibalized the markets with too many locations," he says, adding that MORA is more judicious about how it targets marketplaces. "I'd rather see eight or 10 successful shops instead of 30 that are struggling to stay profitable."
The company also is cautious when selecting franchisees. Not only does it look for people with experience in business ownership and management, but also those with a history of ethical behavior. MORA wants those "who have a good standing in the community," he says.
"The type of people we want are those who have strong leadership skills, a common sense of values and the wherewithal to think [beyond] the limitations of a single shop," Rowell says. "Ideally, we're looking for people with the capacity to help us grow our brand in a new market."
The ability to grow the brand also is very important. "I've watched a lot of franchisors go into a new state with one location and it doesn't have any benefit for the franchisee or the franchisor," he says. "A big part of it is the person themselves and their vision. We want people to vision beyond the small-time limitations of the single shop."
A Wise Investment
A MORA franchise represents a wise investment for future franchisees, since the company has a proven product, Perez asserts. "One of the things that we hear repeatedly from every person we talk to is we have a product that truly surpasses our competition," he says.
The company also provides franchisees with strong support. "We want to put our franchisees first and foremost in everything we do," Rowell says, noting that this includes extensive training before they open their locations.
While the franchisees are expected to study the owner and operations manuals, "There's a lot of training on the point-of-sale software system," he says, noting that its managers will travel to Poulsbo for corporate training. "It's very intense."
Much of it covers customer service, the opening of a store, shift changing and cleaning services. "The last component is prior to opening, when we fly a corporate trainer to their location to do a walk through and assist the manager in training their new employees," Rowell says.
"We want the responsibility of the training because once we leave, it's on their shoulders," he says, noting that the corporate trainer will stay at the new location for its first 10 days. "We'll go back, sometimes unannounced."
Going South
By March 2019, MORA plans to have eight stores in operation. "We are going to double in four months," Perez says. "On-top of this, we should be opening another five locations."
The vision for MORA, Perez says, is to reach approximately 250 locations in the next eight to 10 years. "The areas of development are the states on the coasts and the Southern States," he says, noting that the company has its eye on California, Texas, Arizona, North and South Carolina, and Florida.
These states have the best opportunities for MORA, including such factors as weather. During cold seasons, Rowell says, ice cream sales tend to plunge for parlors in Washington or other areas in the Pacific Northwest.
"People are not as willing to park their car and walk a block or two to get an ice cream cone in the rain," he says. "We're looking at states that are much dryer and have much more sunshine."