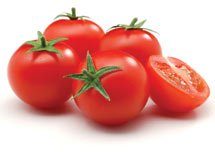 Founded in 1970 with a single truck, Morning Star Co. has come a long way since the company began its days hauling tomatoes to other canneries. Morning Star has grown to account for more than 25 percent of California's processing tomato production. The company supplies 40 percent of the U.S. ingredient tomato paste and diced tomato markets.
With industrial sales of approximately $350 million, Morning Star Co. strives to produce tomato products and services that achieve the quality and service expectations of its customers using cost-effective, environmentally responsible methods.
Dealing with Change
A great deal of change has taken place within Morning Star over the years. Those changes have allowed the company to become a leading player in the American tomato paste and diced tomato markets.
In 1982, the company founded a tomato paste processing plant with three grower investors. It was then that the company originated and implemented two innovations in the tomato industry. One of those innovations was the dedicated production and marketing of industrial tomato paste. The other was marketing of tomato paste in a 300 gallon bag-in-box.
These innovations spurred growth for the company's tomato paste requirements, so it founded and built The Morning Star Packing Company-Los Banos in 1990. The facility processes approximately 530 tons of tomatoes, equaling 180,000 pounds of tomato paste per hour.
Further expansion came in 1995 when the company built The Morning Star Packing Company-Williams.
The Morning Star Packing Company-Williams facility is known for combining state-of-the-art technology with economies of scale, processing approximately 630 tons of tomatoes, or 200,000 pounds of tomato paste per hour. This plant is the largest tomato processing facility in California.
In addition, Morning Star established the California Sun Harvesting Company (Cal-Sun). It is a partnership with a number of well-known tomato growers.
The partnership reduces the cost of tomato harvesting, and it also creates efficiencies in the harvesting, trucking and processing of tomatoes.
Several years later, Morning Star founded Liberty Packing Company, Santa Nella in 2002. Morning Star made use of an original plant that was built in 1975, completely revamping the facility.
Liberty Packing is responsible for all of the diced processing for Morning Star, which has been doing bulk diced products since 1993.
Prime Locations
Having a presence in both Northern and Southern California helps Morning Star to be more than just a manufacturer of bulk tomato products.
Since it is based in the world's most prolific tomato-growing region, the company can maintain a commitment to provide customers with the specific product quality, high level of service and prices that help them to compete.
At each of Morning Star's facilities, the company focuses on innovation and tries to optimize its use of resources and technology. This helps it continuously strive to improve quality, productivity and service.
Innovation Matters
The emphasis on being innovative allows the company to maintain its position as the leader in developing and implementing new and improved technology in its industry.
The company offers a full line of tomato ingredients in 55-gallon drums and 300-gallon bins. Its operation has become sophisticated enough to meet the exacting performance standards of customers looking for paste that is more than just a commodity.
Morning Star has a tube-in-tube line that makes diced, purees, ketchup and crushed products. Through flexible operations, the company strives to surpass all others in the industry and meet specifications for all products.
As part of its staff, Morning Star employs engineers and technicians who are responsible for analyzing customer processes and recommending ways that its products will work best within them. Its shipping and customer service staff also work to meet customer needs and solve customer problems.
Only the Best
Morning Star also uses only the best technologies so it can make its manufacturing processes as reliable and streamlined as possible. Thanks to its large factories, Morning Star can spread the overhead costs over the volume of paste.
In addition, the company uses only one line for its products so it can ensure consistency in the batches of products its produces.
Having begun its existence as a trucking company in 1970, Morning Star still hauls all of its own tomatoes. As part of an effort to improve the efficiency of the logistics of bringing tomatoes from the field, it harvests and hauls them itself.
This effort allows the company to bring in the freshest tomatoes and lower the cost of having them delivered. Beyond that, the company strives to use bigger trailers to enable it to use fewer trucks.
Continued Development
Having become a leading performer in the tomato products industry, Morning Star will continue to look for ways to develop and implement superior systems of organizing its people so it can achieve superior productivity.
As the company works to develop and implement superior technology and production systems, it will be able to increase the effective use of its resources. Most importantly, it will continue to meet and exceed customer requirements.