As the leader in ventless deep-frying solutions with its AutoFry line, MTI is expanding its presence within the foodservice industry.
Nearly 30 years ago, Motion Technology Inc. (MTI) Products developed the first AutoFry model, a one-of-a-kind, fully enclosed, fully automated, ventless deep-frying system upon which it has built a solid reputation in the foodservice industry. Today, the Northborough, Mass.-based company has become the leader in the designing and manufacturing of ventless kitchen equipment and solutions.
"AutoFry is a plug-and-play machine," Director of Sales and Marketing Kathy Smith says. "Anyone who is new to foodservice or runs out of hood and vent space can plug it in and start frying. It's that easy to use. The key is that it's ventless, so any location like movie theaters, convenience stores and family entertainment centers that don't have hoods or vents and can't punch a hole in the ceiling can use AutoFry and start frying products for as little as $7,000."
MTI Products' first AutoFry model FFG-10 was a single basket deep fryer that sparked the interest of Anchor – McCain Foodservice three decades ago when it discovered how it could expand its food sales. "Partnering with them really helped grow the company and we have a rebate program with them, so we were able to help some of their customers who wanted to get into fried food and didn't have the capacity to do that,"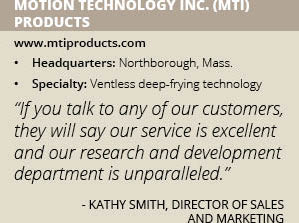 Smith remembers. "We started out with the single model, three-pound basket and have now expanded to five different models that will fit anywhere from a small tavern to the large stadiums of the world."
AutoFry takes the hard work out of frying and ensuring a quality product output every day. Being a self-contained fryer, employers never have to worry about their employees getting burnt with hot oil and each model is equipped with a built in ANSUL fire-suppression system, making it one of the safest commercial deep fryers on the market. "Products are dumped into the chamber in the front, employees press a couple buttons and the cook time and then it automatically dispenses on the side," Marketing Manager Meagan Gregoire explains. "It's extremely safe."
AutoFry is available in five models: AutoFry Mini-C, AutoFry MTI-5, AutoFry MTI-10X, AutoFry MTI-40C and AutoFry MTI-40E. "Prior to last year we had four models," Smith says. "We had a customer come to us who was using our competitor's product. We asked him what his ideal fryer would be and he told us exactly what he wanted and we asked him to give us three months. It took us five months after some additional changes, but that's how fast our research and development team can turn a product around. The customer was completely shocked and has worked heavily in foodservice and said he'd never seen anything like it."
The company also worked closely with special theaters to develop the "dream oil filtration system" within six months. To keep deep fryer maintenance as easy as possible, MTI Products introduced two products that can assist in the filtration of fry oil. The easiest solution is the AutoFilter fully-automatic filtration system that extends fry oil life by up to 50 percent. "If you talk to any of our customers, they will say our service is excellent and our research and development department is unparalleled," Smith says.
"Since I've been with the company, we have had many customers come back and say the ROI on the AutoFry is incredible and their profits have doubled or tripled since they added a food program to their business," Gregoire adds.
Expanding its Reach
MTI Products' ventless deep-frying technology spans different segments within the food service industry and every year the company targets a new market to introduce its products. In addition to cinemas, the company expanded a few years ago into amusement parks, family entertainment centers and convenience stores, and is targeting microbreweries this year. The company is also focusing on international expansion. "We have not focused in on one particular market segment only and we don't have one customer that accounts for more than 10 percent of our total business," Smith notes. "We are optimistic about MTI Products' future."
One of the challenges MTI Products faces is educating new markets on ventless kitchen solutions. "It rolls off the tongue for us, but people don't fully understand what it is and the benefits it has," Gregoire explains. "We help them understand how effective ventless technology is by showing them videos, customer testimonials and let them demo it themselves so they can see firsthand how very simple it is to use."
In addition to its AutoFry family of products, MTI Products in 1998 expanded its product line to include the MultiChef, a high-speed oven line. Six months ago, MTI Products launched MultiChef XL that cuts cook times by more than 80 percent and delivers superior results.
This year, MTI Products will launch a new ventless griddle line in response to customer demands. The product is in the early stages of research and development, but Smith says it should be available later this year.