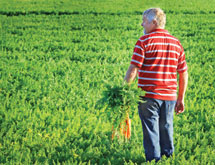 Many organizations across the United States are promoting local produce. In the Asheville, N.C., area, one of those organizations is the Appalachian Sustainable Agriculture Project (ASAP). Some of the reasons why ASAP recommends getting your tomatoes, potatoes and turnips from local farmers include great-tasting food that is also better for your health, since the shorter travel time results in higher nutrient retention; local food supports local families which in turn build up the communities; and local farms promote farm preservation, environmental preservation and protect local wildlife.
These are some of the reasons why Ron Ainspan started Mountain Food Products in 1985. The owner of the company went from farmer to wholesale produce distributor, participating and learning the entire food production and distribution spectrum in the Asheville area. The one-man operation he started almost 27 years ago counts today with 25 employees, seven trucks and an average of 125 deliveries a day.
Ainspan's focus is community development. "What is really important about this company is its community building role," he says. "That commitment to me has three equal parts: a commitment to the company's employees, to our local farmers and to the community-at-large."
Community Building
Looking to promote local farming, Mountain Food started working in a variety of different projects. "We have a CSA (Community Supported Agriculture) seasonal program where people sign up and pay a small fee for local produce, Ainspan explains. "We take a sampling of fruits and vegetables and send them to the subscribers," he says. "Each box weighs about 10 pounds and you can buy different quantities, depending on whether you are buying for one person or for a whole family."
These boxes are available from May until November and the contents vary by season. "We try to put seven or eight different things in each box," Ainspan says. "In the fall, the buyers will receive butternut and acorn squash, a variety of greens and apples."
Another initiative Mountain Foods undertook as a community building program was to open a produce stand in the Asheville downtown area. The fresh produce stand is open every day and offers a variety of local fresh produce.
"This stand was part of a project to renovate and reinvigorate the historical downtown area," Ainspan says. "We got involved in that as a way to help out the community, not so much as a profit making venture."
Raising from the Ashes
Ainspan's commitment to his customers became evident when his warehouse burned down in April 1995.
"Despite the fire, we never missed a day of work," Ainspan says. "We were able to buy produce from our local competitors and replenished our stock that way."
The company didn't look back, it moved to a different warehouse location and continued growing and focusing on promoting local farming and community well-being.
The push toward local products and companies has benefited Mountain Food. "We have seen a tendency to buy local produce particularly in the last five years," Ainspan says. "There is also an interest in buying from local based companies, so we have reaped the rewards, because we are a local business."
Local farming also has experienced a shift. "The area of North Carolina where we are located has seen an increase in small scale farming in the last five to 10 years," Ainspan explains.
Variety of Customers
Mountain Food has a wide variety of customers. "Our primary customers are local restaurants who want to offer fresh produce to their customers."
Ainspan does not have any plans to grow out of the geographic area where he operates. "We stick to a 30-to-40-mile radius of Asheville," he explains.
The main marketing tool for the company is word-to-mouth. "We see so many people on a regular basis, we have a relationship established with them," he says.