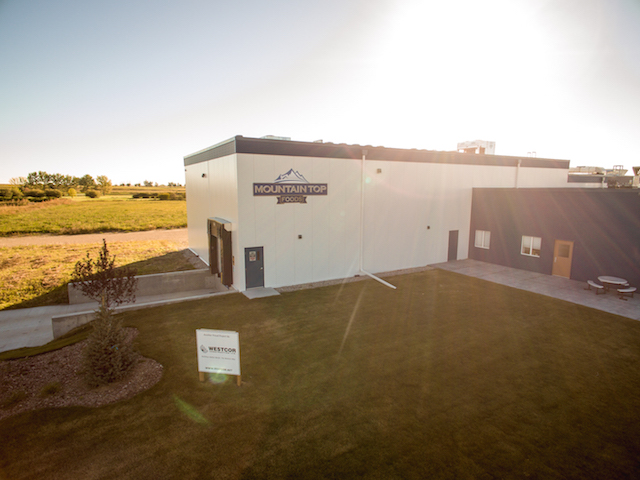 Mountain Top Foods backs its service and products with efficient technology.
Mountain Top Foods manufactures products at affordable prices, but that does not mean it skimps when it comes to ingredients. Instead, the company makes sure it uses only the best, co-owner and Plant Manager Jason Calvert says.
Based in Nanton, Alberta, Canada, Mountain Top is a family owned and operated food-processing company that manufactures products for the retail and foodservice markets. Calvert's in-laws, Kin and Sylvia Leong, started the company in 1994, as a producer of beef jerky.
"In late 2001, we opened up a federally inspected facility that was for appetizers," Calvert recalls. In 2003, Mountain Top entered the retail market and expanded its line to include sauces and Asian ready-to-eat products.
In 2016, the company added a new facility in Nanton that is federally inspected, GFSI certified and HACCP recognized. "Basically, we built a production line and put a building around it," Calvert says, adding that the facility utilizes computerized, efficient technology.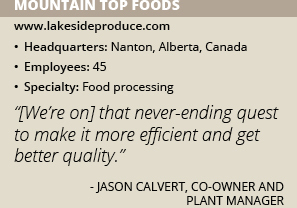 This includes its conveyor fryer and oven. Thanks to the facility's wireless Internet connection, "We can monitor the high-speed equipment on the production floor," Calvert says.
Tasty Products
Today, Mountain Top still produces beef jerky, but for a niche market. "In 2001, beef jerky was probably 90 percent of our business," Calvert recalls, noting that it represents less than five percent today.
Mountain Top now primarily focuses on its ready-to-eat foods, appetizers and sauces. For example, "We do a lot of raw, marinated meats," he says. "They are very authentic and flavorful, mostly with an Asian flair to them."
The company offers its products through two retail brands. Its Asian Inspiration line includes its sweet sriracha tempura style chicken, sweet and sour pork, Vietnamese style beef, ginger beef, pineapple chicken, Thai chicken, mango chili chicken.
Mountain Top also has its Muldoon's Pub Classics line, which offers all of its appetizers, Calvert says. These include boneless dry pork bites, buffalo chicken bites and dry pork ribs.
The company has established a significant presence in western Canada. "[But we also have] a desire to expand outward from that to eastern Canada and the United States," Calvert says.
He adds that Mountain Top benefits from the consumer shift towards Asian food. "People want to be trying other things," Calvert says, noting that there is still a demand for typical North American cuisine. "That's the market we want to service."
Stepping Up
Calvert's family is still heavily involved in Mountain Top's business. "My father-in-law is more or less retired, but he's still part of it," Calvert says, adding that Sylvia Leong still works at the company, part time in research and development of new products.
Calvert's wife is its office manager, his brother-in-law is the production manager and his sister-in-law works in purchasing. "We have a lot of the key areas covered," he says.
The family participation allows Mountain Top to react more quickly to customers' needs than its competitors. "When you need to get something done for a customer, bigger companies may be slower to react," he says.
But Mountain Top is willing to work odd hours to meet its clients' needs. "We've been able to step up to the plate and get it done," Calvert says.
Exceeding Expectations
Mountain Top maintains rigorous quality standards in its facilities. "We do go a little bit over what's expected of us in monitoring our GMPs, sanitation and quality control checks through all phases of production," Calvert says.
"It's quite the process, but we make sure we're happy with the product that we're putting out," he says. "One of the things we said right in the beginning was we wanted to make a premium product at an affordable price."
Mountain Top also sets itself apart in the industry by manufacturing and packing its own sauces. "It does give us a bit of a competitive edge, but it also gives us control over the taste in product development," Calvert says. "Also, by producing it here, we're able to keep the cost down."
One Big Family
Mountain Top's staff largely consists of locals from the town of Nanton. "I like to think that the staff is pretty close with our family," Calvert says, noting that the company employs many longtime associates.
Its key people include Sales Manager James Ducs, who goes the extra mile for Mountain Top's customers. "He does what it takes to make sure the customer is satisfied," Calvert states. "If something needs to be done on a Saturday, he'll be there."
Mountain Top plans to grow its reach throughout the rest of Canada, as well as optimize its operations, Calvert says. "I hate giving price increases, so I'd rather look internally," he says. "[We're on] that never-ending quest to make it more efficient and get better quality."
Custom Quality
Mountain Top Foods not only offers its customers quality foods, but also strong service. "That's because our family cares about getting [the clients] the products and service they deserve," it says. "We are able to work with many of our customers to achieve an end product tailored to their needs."
The company works with its clients on custom items for their private labels. "We can help [them] with every step of the process, with expertise covering every aspect of production," Mountain Top says. "We also source premium, quality ingredients from our numerous suppliers to ensure [them] a truly special product."