Mrs. Winner's Chicken & Biscuits
Entrepreneur revives Mrs. Winner's Chicken & Biscuits and returns the brand as a franchise model.
When it comes down to southern-fried chicken, Mrs. Winner's Chicken & Biscuits has long been a staple in markets throughout the southeastern region of the United States.
But the restaurant chain, which once sprouted almost 200 locations in the southeast, almost vanished. The chain was bought and sold multiple times and eventually all of the company stores closed. But John Buttolph, an entrepreneur and a huge fan of the brand, recognized that there was something unique about Mrs. Winner's.
"In 2012, I acquired the recipes, trademarks, and other intellectual property and began building a franchising platform from scratch," Buttolph says. "We put together our franchise disclosure document, operating standards manual, training program, marketing manuals and we rolled it out."
Today, Mrs. Winner's has eight licensed restaurants, five franchised locations and one corporate-owned location spread out throughout Georgia, North Carolina and Tennessee.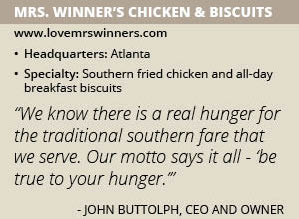 But the Atlanta-based franchise chain plans for further expansion in the next three years. Buttolph is currently in discussions with a group of investors interested in opening several franchise locations in the Memphis area.
"Memphis has been an extremely successful market for Mrs. Winner's with 15 stores in the past," Buttolph says. "And this transaction could return up to 10 new stores to the Memphis market."
Additionally, he's pursuing strategic relationships with well-capitalized investors and plans to bring the brand back to its former glory.
"We would like to expand by 10 to 15 stores per year and eventually return to 200 stores on a franchised model," Buttolph says. "We're on track to move in that direction."
Furthermore, Buttolph is looking for innovative ways to revive the brand. He's in the process of developing a new concept store to add to the traditional franchise model.
"We are looking at a new layout which would be focused on mobile ordering and takeout," he says. "It wouldn't have a drive-thru or a lot of seating and would cost less to develop than a traditional location. We're really excited about it."
This streamlined model is designed for metropolitan areas and will be suitable for strip malls, big box stores and town centers. "We're in the early planning stages," Buttolph adds. "We still need to strategize a perfect footprint for the store. But we already have interested individuals waiting for us to present it."
Mouthwateringly Delicious
Aside from southern-fried chicken, Mrs. Winner's is famous for its hot buttery biscuits made fresh daily, chicken and dumplings, chicken pot pie, big yeasty Super Cinnamon Swirls, peach cobbler, sweet tea, green beans, potato wedges and a host of traditional southern sides.
"And we are adding new menu items such as roasted chicken nuggets for a healthier option," Buttolph says. "And we're also looking at introducing a broccoli and cheese casserole that is mouthwateringly delicious."
The company has tested garden salads at some of its locations, but they have not proved popular. So, the brand is planning on introducing a chicken salad for its more health conscious customers.
"You always want to have something to give folks a choice," he says. "At the same time, we know there is a real hunger for the traditional southern fare that we serve. Our motto says it all – 'be true to your hunger.'"
Mrs. Winner's is currently awarding new franchises in major metropolitan areas across the South and seeking investors with a passion for owning their own business and serving great food with Southern hospitality.
The company was originally founded in 1970 by Jack Massey, who opened the first location in Atlanta, Ga.
"I'm an enthusiastic advocate for the brand," he says. "I receive almost daily emails from customers who love the Mrs. Winner's brand and what it stands for. We encourage them to continue to support us because we're working hard to bring Mrs. Winner's to their communities."