The wake-up-call for hustle culture
Nearing four years since launching in 2018, MUD\WTR is re-writing our relationship with coffee thanks to its organic, low-caffeine alternatives
I used to be addicted to coffee," admits MUD\WTR CEO and Co-founder Shane Heath. "I was deep in the hustle culture, a true believer in the 'sleep-when-you're-dead' mentality. At that time, I thought coffee would allow me to do more and to do it faster. The reality? I became jittery, anxious and my creativity suffered because of it."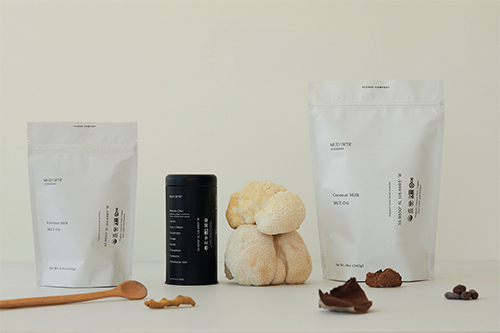 As it turns out, those jitters were the start of Shane's journey: from addict to alternative pioneer. Yet, the draw of coffee is hard to ignore, and although his transformation proved successful, it wasn't without its challenges. "Despite how bad coffee made me feel, it wasn't easy to quit," Shane continues. "My withdrawals were severe, and the next hit was always right there: in every office, on nearly every street corner. Finally, in 2014 I stepped away from a well-paying job in Silicon Valley and travelled for eight months. Away from the mindset of 'but first coffee,' I remembered what normal felt like. When I returned home, I was empowered to rethink many areas of my life. I began to wonder, what if my morning ritual could be more than just a vessel for caffeine?
"I started drinking a combination of masala chai and cacao with an all-star list of ingredients: lion's mane to support memory and focus, chaga for immune support, reishi for calm, cordyceps for physical performance, and turmeric for recovery. There was no intention to start a business. I just felt calm and alert during the day, and at night I was actually able to sleep again."
But great ideas want to be heard. After moving to LA, Shane realized that although nine out of ten people drank coffee, the majority either wanted to drink less, or switch up their routine altogether. So, in May 2018, he launched MUD\ WTR, with an aim of sharing his routine with the world. He says: "It began with an Instagram post saying "I'm not mad at coffee, just disappointed. So, I made something better."
Alternative approach
MUD\WTR's first order came on May 16th. A week later, it had thousands. Shane brought on COO and Co-founder Paul DeJoe, moving into an office space from which they could begin to grow the team. A successful seed round in 2019 was followed by a series A in 2021. Now nearing four years from launch, the company has sold well over one million orders, and serves 150,000 regular subscribers.
With a message grounded in honesty and transparency, MUD\WTR believes it can help to fix some of our broken habits. "The truth is, we're living in a health epidemic," Shane continues. "Fifty-one percent of the population has at least one chronic disease, 27 percent have two or more. Forty-two percent of the population is obese. Thirty-three percent of the population is sleep deprived, and 50 percent of the population will be diagnosed with a mental illness in their lifetime. We can't solve these issues with a beverage or brand, but we can improve people's wellbeing – by challenging the status quo and by being a bridge to better alternatives.
"Our name is a good example," he explains. "Why would we call ourselves mud? Well, our shelves are full of bad-for-you products, full of sugar and suspect ingredients, with good-for-you sounding names. But at the end of the day, it's what's on the inside that counts. So, why not associate ourselves with the truth about where most of our food should be coming from: the dirt."
It's an ethos that MUD\WTR has applied across its brand: in the simplicity of its copywriting, its marketing ads, and most significantly, in its team. "We're building a company that supports the life we want to live, not orienting our whole life around the work," Shane continues. "We don't gather to have pizza parties and tap kegs. We offer breathwork, yoga, meditation, and pay for your gym membership. When you join, we give you an Oura ring and track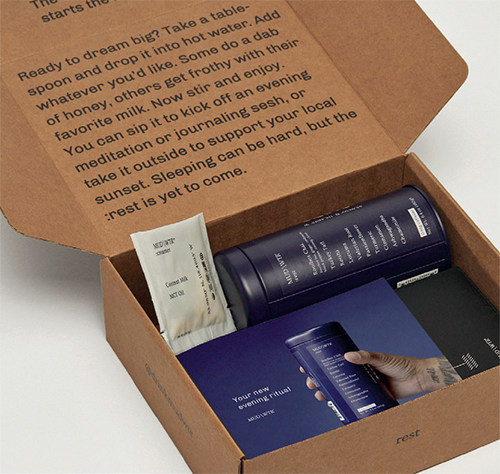 unanimous sleep scores as a company KPI. Everyone has access to a functional medicine doctor who does a blood and cortisol panel and a coach who can help you progress in your career and personal life. These benefits aren't cheap, but we want to discover and expand our individual potential.
"Too often, companies perceive investments in their team in the same way that society views investment in what they consume," he goes on. "They opt for less nutritious food in the short term because it is less expensive, or more indulgent. What people fail to see is the long-term expense of medical bills and the opportunity cost of employees operating at a fraction of their potential. On average, it costs a company one-and-a-half to two-times an employee's annual salary to replace them. Likewise, losing an exceptional A-player can make or break a company's success."
The vast majority of that success is thanks to the company's flagship coffee alternative. One-hundred percent organic, it contains no additional sweeteners or binders, and only a seventh of the caffeine in coffee. But the team at MUD\WTR hasn't stopped there. "After launching our first product, we followed up with two product categories that people commonly use to personalize their morning ritual: a creamer and a sweetener," Shane says. "Our creamer is a blend of coconut milk and MCT oil which completely changes the body of mud, making it creamy and even adding a little sweetness despite being sugar-free. Our sweetener is a blend of lucuma and coconut sugar, making for a unique texture and flavor profile with some added minerals and vitamins."
New blends
MUD\WTR's newest product launched in November 2021. Known as the ':rest' blend, it is designed for the evening ritual, combining rooibos masala chai, turmeric, cinnamon, valerian root, ashwagandha, passion flower, turkey tail, reishi, and chamomile in order to evolve how people relax, recover, and sleep. "It's a reminder to treat your evening ritual like an athlete warming up for a game," Shane explains. "That time is sacred. It's the sliver of existence when you can disconnect from the chaos, reset and start breathing deeply again. Our society is terrified of the dark, but without the dark there is no light, and without rest, there is no rise. With no caffeine, :rest combines unique flavors to support a calm and relaxed mind with immune and stress support."
To perfect its blends, MUD\WTR has forged close partnerships with experienced manufacturers. "Our product is only as efficacious as the ingredients we put in it," says COO and Co-founder Paul DeJoe. "For many of the crucial ingredients, we keep very close relationships with our suppliers, sampling lots and testing before mixing the product. Our mushroom powders are produced in the US and are brought to life by tireless scientific research and testing, ensuring that the growth parameters for each species is ideal.
"We're proud to be able to pass these high standards on to our customers, to the team, and to our families as avid MUD\ WTR drinkers," he continues. "Many of our suppliers are starting to bring MUD\ WTR into their offices and personal lives, creating a bond between us that's far greater than any monetary transaction. We're all working together to put out the best of the best. Looking ahead, we're working on a ':decaf' blend which is identical to mud, except we swapped black tea for rooibos tea extract, which is caffeine-free. The product isn't entirely caffeine-free, however, as there's a tiny bit of the stuff in cacao. We call it a micro dose."
In the years ahead, MUD\WTR is focused on bringing its philosophy to an even broader audience. "We aim to become an international brand that is playing a role in changing the conversation around how we rise, create, and rest," Shane says. "We're in the process of developing a product roadmap that accommodates different ritual occasions and taste palates, which we can't wait to unveil. We'll have scaled partnerships with some of the biggest retailers, allowing us to meet consumers where they are, and we'll have our own locations that will serve as hubs, guiding our product and experiential expansion, and building lifelong relationships within our community. All of this will be tied together by a commitment to our team, where we hope to play a part in evolving what it can feel like to work for a company."