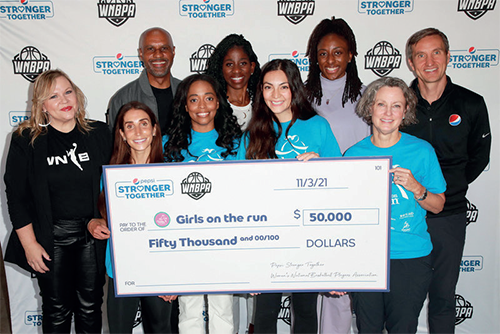 Pepsi Stronger Together – PepsiCo's series of grassroots initiatives bringing tailored programming and support to communities across the country – is proud to announce a multi-year partnership with the Women's National Basketball Players Association (WNBPA) to create curated, giveback initiatives supporting causes important to the players in each of the 12 team markets. The partnership kicks off in Los Angeles with Girls on the Run LA and LA Sparks six-time All Star and union president, Nneka Ogwumike.
. Girls on the Run is dedicated to helping girls build self-confidence and boldly pursue their dreams to become community leaders – like Nneka. From physical activity and character development, to brainstorming programs that impact the community, the organization's range of programming results in life-changing positive effects for its participants.
As part of the donation, Pepsi Stronger Together will fund multiple participant-led community impact programs designed to make a difference for a locally relevant cause, decided upon by an advisory panel including Nneka, Terri Carmichael Jackson (Executive Director, WNBPA) and Derek Lewis (President, South Division, PepsiCo Beverages North America (PBNA)). In addition, Pepsi Stronger Together is also supporting Girls on the Run LA's upcoming 5k races, providing hydration and equipment packs for the more than 340 girls taking part.
Following the kickoff in Los Angeles with Girls on the Run LA, Pepsi Stronger Together will work with the WNBPA to identify needs in the other 11 WNBA cities across the country to continue to give back and invest in these communities where it counts.
www.pepsistrongertogether.com