Muscle Maker Grill has started a 'healthy food revolution.'
Muscle Maker Grill not only serves healthy foods, but ones that people look forward to eating. "One of the things about living a healthy lifestyle is that you have to eat foods that you want to eat," founder Rod Silva says.
Silva set out to change this when he created the menu for the Houston-based chain. "I went out and found the best recipes you could find and the best ingredients for you," he declares.
Silva started the company as Muscle Maker Nutrition Center in Colonia, N.J., in 1995 when he saw a need for a restaurant chain that served healthy foods. Although many places sold fruit smoothies and protein shakes, "I realized that there was a void in the marketplace," he recalls.
In 2007, Silva began to franchise his brand. "One of my goals was to bring on the ability to raise capital to take this from a regional brand to ultimately an international brand," he recalls. "We went out looking for the right strategic partner.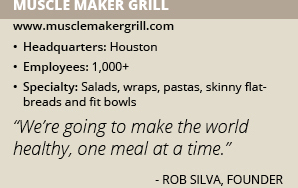 "If someone was going to care for my baby alongside me, they would have the same values I had," he says, noting that he found that partner with American Restaurant Holdings (ARH) Inc. "With ARH, we had people who had the same vision. The strategic acquisition allowed us to offer additional support to franchisees, increase the number of our corporate-owned stores and expand in new and existing markets."
Today, Muscle Maker Grill has more than 50 franchise and corporate stores, which include locations in military bases, stadiums and universities. "It has been pretty exciting to watch the growth," Silva says.
The company's menu features "salads, wraps, pastas, skinny flatbreads and fit bowls," Silva says. Its popular items include its Arizona bowl, which features grilled chicken breast and turkey bacon over brown rice with tomatoes, scallions and the company's gluten-free signature sauce.
Items like this have made Muscle Maker Grill successful, he asserts. "We solved the problem in the marketplace where our customers – the American people – were getting deep-fried everything," he describes. "People were looking for traditional, good cuisine without the additives and without the guilt."
This has made Muscle Maker Grill a leader in its industry. "We are one of the only brands that is focused on great food first with the customer's health in mind," he says. "We have something that is better than our competition that's going to taste great for you."
Muscle Maker Grill also has been featured on television shows, including "Undercover BOSS," Silva adds. Its current owner went undercover and "was able to see the operations of all his franchises so we can better serve our customers and to assist employees and franchisees," he explains.
A Better Way
Muscle Maker Grill serves a diverse customer base that ranges from student athletes to young professionals to the middle-aged and elderly, Silva says. While mothers want their kids to have healthy food, young men and women entering their first careers "want to stay in shape," he says. "As millennials and baby boomers get older, we're all focused on doing what's best for ourselves."
But getting people to come to Muscle Maker Grill can still be challenging, as many still rely on diet fads and quick-fix solutions. "Everyone wants to lose 50 pounds in an hour," Silva says. "We have the opportunity to let people know it can be done by eating great foods.
"Once they see there's a better way to do it, our customer base keeps growing," he says. "People are awakened to the healthy food revolution, and not fads."
True Believers
Silva is proud of Muscle Maker Grill's team. "I've been fortunate to have great people all these years," he says, noting that this includes CEO Robert Morgan. "He was my COO when I owned the company completely."
Morgan, whose background includes Pizza Hut Inc. and Pepsi Co, had confidence in the Muscle Maker Grill concept. "He said, 'I'm going to make this a household name,'" Silva recalls.
Another key member is Chairman Tim Betts. "He really believes in our team, our vision to continue the company and our growth," he says. "He's made great strides and put everybody in the position to succeed."
Silva sees more growth for Muscle Maker Grill. "We're going to be a worldwide leader," he predicts, noting that Betts has the goal of operating over 300 restaurants by 2020. "We're going to make the world healthy, one meal at a time."