The National Park Service aims to continue serving healthy food and educating its visitors for hundred of more years.
The National Park Service (NPS) is an agency of the United States federal government that manages all national parks, many national monuments, and other conservation and historical properties, including battlefields and homesteads.
Celebrating its 101st anniversary this year, the agency continues to fulfill its responsibility to preserve the natural resources and values of the National Park System for the enjoyment and education of future generations.
One of the agency's programs is Healthy Parks, Healthy People. The program involves national, local and state parks, as well as business innovators, healthcare leaders, scientists, foundations and advocacy organizations. It was established in 2011 to reframe the role of parks and public lands as health resources, and to promote the health of people and the environment.
Kurt Rausch, branch chief for contract management within NPS' commercial services program, helped foster the program's six healthy and sustainable standards – healthy foods, healthy recreation, healthy habits, healthy people, healthy partnerships and healthy science – with the NPS's more than 400 concession contracts.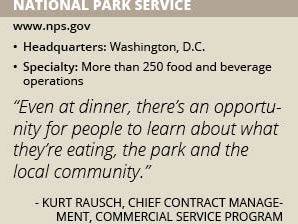 These businesses are contracted to provide visitor services from lodging and food and beverage to mountain climbing and rafting guides across the service. One part of this effort was the NPS Healthy and Sustainable Food Program. "We realized that we were not doing a good job of providing healthy options to visitors who desired them," Rausch says. "So we added low-calorie, low-fat and low-sodium options to our menus."
Although the agency effort ensures visitors will find healthy options, it has remained true to visitors who enjoy its "iconic and unique" and sought-out menu items from classic fried chicken at the entrance to Mammoth Cave in Kentucky to the "Caldera" chocolate truffle tort at Yellowstone National Park. A goal, Rausch notes, is to also provide locally sourced fare that not only has a connection to its parks, but its visitors, too.
"For example, if you're at Shenandoah National Park, which extends along the Blue Ridge Mountains on the East Coast, their signature dish is a blackberry ice cream pie made using local berries," he explains. "If you're at Grand Teton National Park, you'll see locally grown bison on the menu."
The Healthy and Sustainable Food Program has been "very exciting" for the agency, Rausch adds, because it is yet another place to make the connection for visitors to the park and region. "With many signature menu items, there is an information box next to it on the menu about what farm it was sourced from and its local connection," he says. "Even at dinner, there's an opportunity for people to learn about what they're eating, the park and the local community."
The agency has worked closely with its food and beverage operators since the program's inception. "The program has been successful because concessioners were engaged when we were developing the program," Rausch says. "Many concessioners adopted its standards voluntarily once they were rolled out, even when they were not yet contract requirements."
Valuing Partnerships
With more than 275 million visitors each year, the National Park Service has more than 400 concession contracts with private entities providing a variety of services from lodging, food and beverage and retail to boat tours, mountaineering and rafting guides. When it comes to dining in the parks, there are more than 250 food and beverage operations ranging from snack bars to sit-down restaurants, which together serve more than 20 million park visitors annually.
As the overseer of these food and beverage operations, the National Park Service ensures that concessioners are providing a great dining experience no matter what park one visits. "We have evaluation standards in terms of quality and service," Rausch says. "We also have a longstanding relationship with the U.S. Public Health Service, which helps us with food safety inspections."
NPS dining not only provides healthy and sustainable menus, but also some very unique restaurant settings. Many of the agency's concessionaires operate in historic national park buildings, such as Old Faithful Inn and the Majestic Yosemite Hotel (formerly the Ahwahnee Hotel) at Yosemite National Park, which sits at the base of Half Dome and Glacier Point.
"We also have locations that are not necessarily drivable, but you can hike to reach them," Rausch says. "For example, you can day-hike and dine at a chalet in Glacier National Park, or enjoy delicious food prepared by expert rafting guides who are also great cooks on a 10- or 20-day trip down the Grand Canyon."
Healthy Parks, Healthy People and its connection to concessioners in parks does not stop with food service. Additionally, the agency's concessioners operate many recreational activities – including white water rafting, fishing, hiking and photo tours so visitors can be healthier by experiencing nature up close. "With the help of our concessionaires, visitors can climb Denali, kayak along islands in the Great Lakes, bike through historic areas, and have a campfire," Rausch says.
Ultimately, it all goes back to the National Park Service's mission to protect, conserve and preserve its resources for the enjoyment of future generations, Rausch notes. He adds that the agency is excited to continue providing such opportunities for hundreds of more years.
"During our Centennial last year, we launched a program called 'Find Your Park,' and we hope people are inspired to visit our parks and take advantage of the many other opportunities they offer," he concludes. "We want them to establish a connection to the environment and culture that makes the most sense to them, and have a good healthy and sustainable meal while they are there."