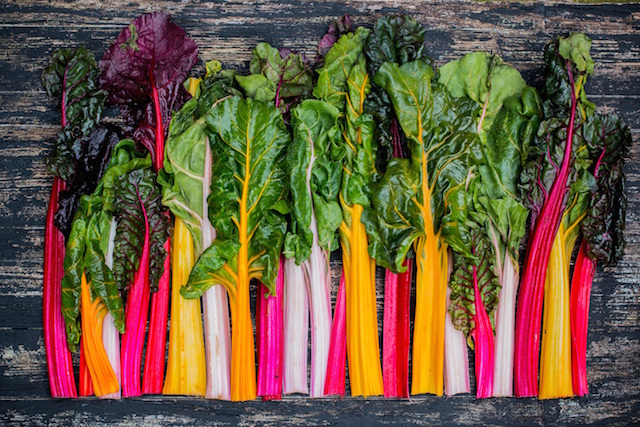 National Produce Consultants LLC
National Produce Consultants LLC continues to promote transparency and give its clients more control by providing tailored supply chain solutions.
National Produce Consultants (NPC) LLC is in the process of rebranding, which will be in the place by the end of July and giving its clients more control with tailored, sustainable supply chain solutions. The company plans to achieve its mission with proven talent, technology and a commitment to integrity, President Tony Forsythe says.
"Our business continues to grow by about 20 percent annually. To support this growth, we have added numerous new associates to every department," Forsythe adds. "The faith-based philosophy we have is to have a personal relationship with each and every one of our clients as we consistently continue to grow."
"Maintaining that personal touch – that's what sets us apart from competitors," adds Desiree Forsythe, Forsythe's daughter and procurement commodity manager/food safety/ national account manager.
The Plano, Texas-based company firmly planted its roots in the industry by developing deep relationships with its clientele, grower and supplier base and distribution partners, which has enabled it to maintain partnerships for decades. The ongoing partnerships are also a testament to the company's more than 30 associates, Tony Forsythe adds.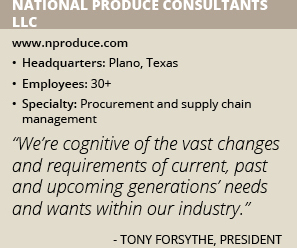 Tony Forsythe founded the company in 1991 with Dr. William Hermann, bringing more than 25 years of industry experience. He knew opportunities existed in the fresh produce industry for a customized supply chain management program that easily integrates within the corporate framework of any foodservice organization and developed a strategy to achieve this goal.
NPC's philosophy involves developing programs specific to the end-user's needs. "The ability to provide tailored programs from the end-users expectations is what sets us apart," Desiree Forsythe adds.
Always looking outside the box, NPC implements innovations to reduce its end-users' produce spend without jeopardizing quality and shelf life at the store level. Today, NPC assists in the management of the delivery of safe, high-quality produce to national and regional restaurant chains, schools, healthcare organizations and contract food-feeding organizations.
"Changes in the industry are happening every day and we are staying ahead of the trends," Tony Forsythe says. "We want to be the leaders."
Transparency and Traceability
NPC knows the key to success today is to remain transparent and provide its clients with user-friendly software that allows them to trace their products "From Farm to Fork™." The company developed two proprietary software systems – PCMS in 1991 and OES in 2008 – to enable fresh produce cost stability through consistent supplies while maintaining food safety standards. The systems also provide end-users with total web-based access to their costs, contract and industry trend reports.
The company is about to release a mobile OES app for a user-friendly online ordering experience for all parties. This is expected to be released in July at the Produce Marketing Association Foodservice Conference & Expo in Monterey, Calif. "We are keeping up with the millennials," Tony Forsythe says. "From my generation to my daughter's, everything has changed. Millennials want everything at their fingertips and they utilize their cell phones and tablets more than computers. We recognize that and continue to put systems in place which support the growth of the company."
NPC continues to invest heavily in research and development to continually enhance and develop new proprietary software. A third proprietary software platform is currently in development with expected release and implementation by the end of the year.
Universal Challenges
NPC is dedicated to communicating with its customers on an ongoing basis. As the produce industry continues to change, local and organic have not only become frequent topics of conversation but also new requirements. "We adapt to all the segments of our industry," Tony Forsythe says. "Numerous clients are a lot more organic- and local-focused. It's often asked, 'What is the definition of local?' Everyone is different in his or her definition – is it 50 miles or 200 miles away? Local is a big deal and our clients want to support local economics."
NPC ensures its clients have and maintain a personal connection to their entire supply chain. "They know who farmed their potatoes in Idaho and we provide details about their suppliers down to the restaurant level," Forsythe adds. "We work with about 135 distributors across the U.S. today and are doing more purchasing out of Mexico and internationally, as well as getting ready to extend our services to Canada."
For the produce industry, this past year was the most difficult in terms of supply gaps, shortages and price spikes, Forsythe says. "Quality was affected due to the excessive rain in California," he adds. "They went from a drought to six major storms in one year."
NPC communicates these issues well in advance to ensure its clients stay ahead of Mother Nature. The company likes to think outside the box for solutions, such as sourcing from different countries, as well as managing LTOs. "We put those options in front of our clients so they can make sound business decisions," Tony Forsythe says. "This real-time information really wasn't available five to 10 years ago and is the mainstay of our business."
Maintaining food safety is also critical to NPC and its clients. The company's software platform features a Produce Alert Safety System with the ability to automatically contact thousands of restaurants within 30 seconds of a government-issued food safety recall. "Time is crucial when dealing with food safety, so the faster we get the message to the restaurants the faster they can take the necessary action to protect their brand," the company says.
Continuous Development
NPC trains its associates to be flexible and will continue to cross-train and further educate its staff, Tony Forsythe says. "We promote continued education and require it for a lot of our associates," he adds. "Our industry is becoming more specialized, therefore the more educated our associates are the greater their impact for our clientele."
Looking to the future, Courtney Dyess-Mam was recently promoted to vice president and will be taking over more of the day-to-day operations. Desiree Forsythe is being prepped as a visionary to take NPC into the future.