Growing good-will
Community-driven food distributor Native Maine see's renewed success after supporting local businesses and food banks through the turmoil of Covid-19
Specialty food distributor Native Maine has been in operation across Maine, Massachusetts and New Hampshire since 1999. The company's unique model means it can deliver fresh goods to all its customers on a daily basis, whilst keeping its supply chain simple. Aiming to increase the availability of fresh, organic, and ethically sourced produce, Native Maine works closely with local communities to provide the best quality food to those who need it.
For Native Maine, community is of absolute importance. As the company President, Vinnie Caliendo, explains: "We are a locally driven business, and Maine is a small place, with a small community. There are 1.3 million people who live here and roughly half of them are either children or senior citizens, so there are only around 600,000 to 700,000 working adults in the area. This keeps production transparent, as
everyone is only ever one step removed from the community of consumers or buyers. "Transparency is really important to the people round here; you have to do a good job because people will quickly discover if you have been unfair, and then you are at risk of losing your reputation as well as your business."
Being aligned with the values of its customers means that Native Maine has been able to extend its reach and serve an increasingly diverse customer base. "From independently owned restaurants and small local chains of three or four restaurants, nursing homes, hospitals, jails, universities, nearly 500 public and private schools as well as a myriad of non-conventional food services for bakeries, candy manufacturers, amusement parks, and music venues," he adds, illustrating the malleability of Native Maine's service portfolio. Vinnie summarizes. "Our main goal at Native Maine is to promote seasonal eating, encourage healthy diets, support the local economy, and give kids the best our community has to offer! If you're a New Englander, especially a Mainer, you know the Native Maine truck and you know we are as local as it gets."
Highest standards
As a community-driven company that employs 120-plus full time local Maine employees, Native Maine invests heavily in customer care and are focused on exceptional customer service, food safety, food security and the environmental impact of their business. "We pretty much bend over backwards to make our customers' lives as easy as possible," says Vinnie. "The intent is to make our customers lives easier, as frequently as possible. From a food safety standpoint, we have the highest certification possible, due to the contracts we have with large buying groups. We are also meeting the highest standards of food safety, and constantly get rated well above 97 percent on our audits."
The smooth operation of these services was, however, threatened by the outbreak of Covid-19 last year. During these uncertain times, Native Maine proudly supported local people any way it could. "Prior to the outbreak of Covid-19, we had a long-term relationship with the community because of our school business, we especially feel so lucky we get to service schools across Maine and New Hampshire, the work these folks do is essential to the growth and minds of future generations and they really were the unsung heroes of the pandemic we were involved in any kind of charity support for feeding children, and that helped us get into long term relationships with the state's largest food banks," explains Vinnie.
"When Covid-19 hit, in terms of the regular business, it was almost a deathblow. For about three months, the company ran at less than half of what it should have been, and we had to cut our workforce in half.
"Around this time, we did win the USDA's Farmers to Families Food Box program, which meant that for the summer of 2020 we were awarded fresh produce food boxes, which we delivered to 20 of the major food banks throughout Maine and New Hampshire. This worked for a few months, and then the government changed the rules, and started handing out combination boxes instead. These new boxes mixed frozen food with refrigerated and dry food, which created a severe logistical challenge. Not only were we moving four truckloads of food per day, but we were assembling it as well. We ended up going to over 120 locations instead of the large outlets, just so the food reached people while it was still good," he continues.
These extraordinary efforts played an important role in keeping the company and its people afloat, as Native Maine was able to provide much-needed resources to countless families, whilst also keeping its infrastructure up-and-running. "This helped us keep some jobs within the company, and whilst we didn't make any money, we certainly did everything we could to help our neighbors and community," asserts Vinnie.
Good will and loyalty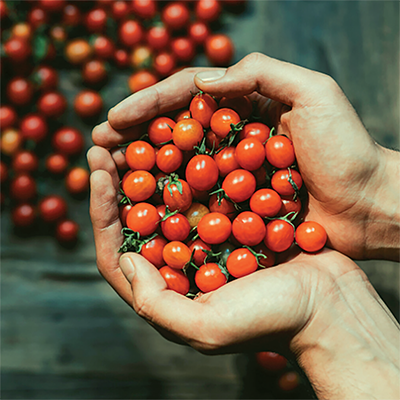 The consequent problems with combined food boxes even had a silver lining, as they exposed trends within the market that called for an increase in locally sourced goods, and transparent industry. "These trends are consistent across the country; the supply chain can become too convoluted, and you need local people, with an understanding of the local communities and networks, to do the distribution in order to avoid food waste," Vinnie explains.
Whilst the communitarian efforts of Native Maine may not have been profitable in the short-term, they did build an incredible amount of trust between the company and its customers. "During the pandemic, there were a lot of customers who ran out of money right away; they couldn't pay their bills, but we didn't shut them off. Instead, we acted like neighbors and asked what they could do; a lot of people paid us in smaller weekly installments," says Vinnie.
"There were tens of thousands of dollars that were way past due, but our business values its communities very highly, and so we worked with them, rather than against them. That created a tremendous amount of good will and loyalty, even as inflation began," he adds.
The company also safeguarded the wellbeing of its staff by increasing wages in alignment with inflation. "To retain our own people, we had to recognize that hyperinflation and wages were not going up at the same rate," discusses Vinnie. "In response to this, we made some significant changes, and took a big hit on profitability, so that we could make sure our employees didn't suffer."
Despite what must have been unimaginably difficult conditions, Native Maine is now being rewarded for its sacrifices. "Today we are somewhat drowning in our own success," Vinnie announces. "We want to have our prices reflect the hyperinflation that we have experienced, in order to pay our bills, and the customers understand it because they also directly experienced the effects of the great labor shortage. It's been well accepted in terms of increased pricing.
"Once things opened again, our volume has increased monthly from June through to October, and right now we are experiencing a volume increase of up to ten percent, depending on the month. We were fair with our customers, and they respected that, and therefore we were able to sustain them, and we have kept a good thing going. Normally, we would be slowing down a little bit by this point in the year, as tourist season comes to a close, but this year that decrease is very minor," he adds.
For Native Maine, getting back to business involves an exciting new partnership with the hydroponic farm supplier, Vertical Harvest. "Vertical Harvest are in cooperation with our town, and we have agreed to be their preferred distributor. The structure will be an environmentally controlled growing environment that is perfect for growing leaf lettuce, herbs and micro-greens year-round," reveals Vinnie.
"They are trying to get the plans done so that they can complete the building and begin growing produce. We are really excited about this partnership because the quality and shelf life of the product they allowed us to sample from their Jackson, Wyoming, facility was incredibly impressive," he continues.
Looking forward to next year, Vinnie discusses the company's latest technological investments: "We have been assessing brand new, state-of-the-art computer systems, and I believe we have found the right one to help us streamline our business processes and improve our customer service.
"We expect that it will be live for next summer before things get busy again. It is a big deal for the company, and we expect our customers will see the improvement in our services which will deepen our mutual loyalty further."
www.nativeme.com