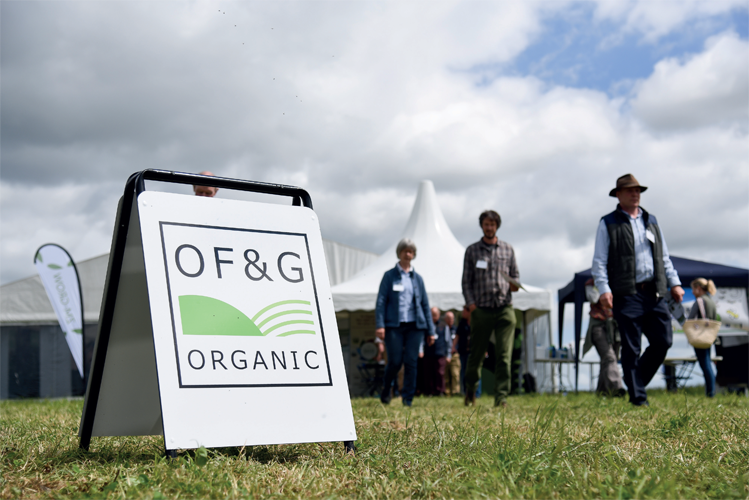 As a keen supporter of an organic systems approach for the past 40 years, I believe organic can coherently ensure the delivery of public goods.
Based on rigorous standards that require positive action for animal welfare, and prohibit the use of pesticides and fertilizers, organic improves biodiversity, builds healthier soils, reduces greenhouse gas emissions and protects us from pollution. These metrics are all clearly evidenced.
An organic system can feed the world, safely and nutritiously. It is critical now that we simultaneously address both the monumental wastefulness of our food system, and the crisis in food related ill-health, as highlighted by Henry Dimbleby's eagerly anticipated National Food Strategy (NFS) in the UK. We all know we need to bring our consumption in line with planetary boundaries: less but better meat, less ultra-processed food, more fruit and veg, more simply processed food.
To effectively tackle the complex crises in consumption that our current food systems inflict on our planet and our people, we desperately need transformative, innovative initiatives that are fully integrated into every area of policy-making – health, trade, environment, and agriculture.
Thankfully, the NFS outlines opportunities for systematic reform, while promoting a holistic approach to addressing the challenges we face. OF&G believes that better representation of organic agriculture in a life cycle assessment must be incorporated into future policy developments. Our European counterparts have made significant headway in this regard.
The UK risks being left behind, despite growing consumer demand and market share for organic food. At the same time, we should not overlook the fact that consumers are actively seeking products with green credentials which is something everyone working in the food supply chain should be seeking to embrace.
Organic consumer market
Numerous factors have influenced the market over the past 18-months. Firstly, Covid-19, has had a positive impact on the organic sector. We've seen a correlation between the rising trend of consumers opting for a healthier diet and purchasing organic produce.
Organic food and drink volumes in Great Britain rose by 12.9 percent in the year ending 1 November 2020, ahead of the non-organic market growth at 8.9 percent (Kantar).
One third of millennials are now more likely to buy organic. Pre-lockdown one, 31 percent of consumers were looking to offset their environmental impacts and, by April 2020, this rose to 49 percent.
Now in its 27th year, Organic September 2021 will again promote the message 'Nature has the answer…and the answer is organic'. Backed by the Organic Trade Board, last year's month-long awareness campaign resulted in a 13 percent growth during this period alone.
Brexit – EU investment in promoting organic
Earlier this year, the EU announced a new €182.9 million fund allocated to the promotion of EU agri-food products in and outside the EU in 2021. Of this, almost half the budget (€86 million) is funding campaigns in line with the European Green Deal ambitions, and, in particular, the Farm to Fork strategy. This includes informing EU and global consumers about organic farming, EU sustainable agriculture and the role of the agri-food sector in terms of climate action and the environment.
In the new world of 'global' Britain, where is the UK Government's response to this development? Where, within the new Agricultural Transition Plan and Environmental Land Management Scheme (ELMS), is there a recognition of the value of organic food and farming, both in terms of UK domestic demand and international market opportunities? The widening gap between European and English policy developments for the organic sector has been highlighted by the publication of the European Commission's Organic Action Plan.
Setting out clear objectives, this document showcases a coherent approach to policy making, which starkly contrasts with our own government's drip-fed responses.
To compete with our neighbors, we need a detailed plan for organic that encompasses food, farming and the environment. An approach previously recommended by the Government's own advisors in a Treasury commissioned report, The Dasgupta Review.
Agricultural policy reforms represent a huge opportunity, if only government had the appetite to grasp it. Were organic to be recognized in the same way that it has in Europe, as the only internationally recognized and legally defined agroecological approach, our nation would be in a much more resilient position over the coming decades.
Latest Defra stats
More positively, 2020's organic farming statistics released by Defra at the end of May revealed the overall UK land currently in conversion to organic had increased significantly by 12 percent.
As the first organic control body (OCB) approved by Government, certifying over 50 percent of the UK organic land area, OF&G contributes to Defra's annual organic farming data collection along with other OCBs. During 2020, OF&G itself saw a slight increase in producers during the period against what appears to be an overall sector decline of five percent.
OF&G also recorded a six percent increase in producer enquiries compared with the same period 12 months ago, with enquiries across all schemes up around 70 percent. This data clearly indicates a growing interest in the environmental benefits and commercial opportunities provided by converting to organic.
Looking ahead
At OF&G, we believe there's an urgent need to support domestic production to supply market demand both domestically and internationally so we can secure a diverse and resilient future for UK food markets. This can only be achieved by recognizing the evidence that shows the value of organic systems and through a process of co-design.
Before the autumn, we are calling for colleagues across the farming, conservation and environment community to meet with Defra, the RPA, Natural England and colleagues from the devolved nations, with ministerial approval, to review the progress being made.
Only by embracing diverse farming approaches will we see UK farming's potential clearly demonstrated. By building on the current robust organic pipeline, as shown by these latest statistics, policy makers can truly deliver on their aspirations.
If Mr Dimbleby is setting out his foodtopia in the NFS – then organic, as he has previously stated needs to be part of it.
OF&G
OF&G is one of the largest control bodies in the UK, certifying over 50 percent of UK organic land and operating across Great Britain and Northern Ireland, including the Channel Islands and Isle of Man.
OF&G has more than 40 years' experience in the organic sector and is the longest established Defra-approved organic control body. The company's headquarters are in Shrewsbury, Shropshire.
For information on organic certification visit: www.ofgorganic.org
For advice on organic conversion visit: www.organicinfo.org.uk