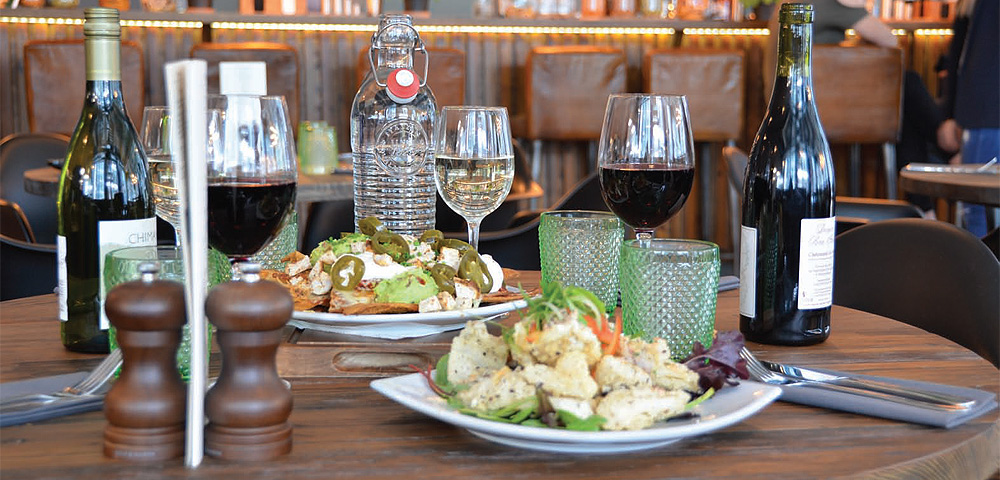 Feeding London
Serving freshly prepared food & drink in a relaxed and friendly environment, Natural Kitchen has proven a hit for hungry Londoners and visitors alike
Natural Kitchen started life on Marylebone High Street as an artisan supermarket. Since that time the business has transformed into a provider of delicious freshly made healthy food & drink choices all in a relaxed and friendly environment. Over the last nine years Natural Kitchen has expanded throughout the capital and today has eight locations in London that are based in New
Street Square, Trinity Square, Baker Street, Tudor Street, Waterloo Station, Aldersgate & the latest at Angel Court near Bank.
At its flagship unit on Marylebone High Street the Natural Kitchen offers an extensive selection of delicious healthy food prepared on site & drink choices at its extensive salad deli, coffee & juice bar. On the first floor there is The Green Café offering full table service. The menu includes breakfast/brunch offerings such as dairy free organic jumbo oat & quinoa porridge with banana and honey, vegan sweet potato, lentil, oat and pumpkin cake, eggs Florentine, and natural Greek yogurt and granola. Served until midday except on weekends an NK English breakfast and NK vegetarian breakfast, while starters & lite bites include NK's soup of the day, 100 per cent natural Manuka smoked salmon, halloumi cheese wedges and homemade vegan nachos. Also on offer are healthy salads, handmade burgers using only the best cuts and ingredients, and puddings such as gluten free warm chocolate & salted caramel brownie, apple, mixed berry & granola crumble and red velvet cake.
Meanwhile, the other London locations offer casual à la Carte dining & bars. Here customers can either relax and enjoy the delicious food and beverages on offer, or, if in a rush, they can take advantage of Natural Kitchens well-reputed and popular food-to-go deli, coffee & juice & smoothie bars. All options are available from early in the morning until late in the day. Additionally, Trinity Square, Baker Street, Waterloo Station and Aldersgate offer draught beers and refreshing mojitos as well as the company's staple juice bar for customers wanting to enjoy a classic cocktail or a delicious smoothie in the city. For those seeking a drink after work, Natural Kitchen's locations at Baker Street, Barbican, Trinity Square & Angel Court have a happy hour, which takes place weekdays from five pm to seven pm or four to six pm depending on where you are.
Food provenance
The most recent location to be added to Natural Kitchen's portfolio is at the new 24-storey Angel Court development in London. Taking a 6000 square feet site in the Copthall Avenue unit, Natural Kitchen's new site features a downstairs gin bar with 32 gins complete with wooden floors, chairs and tables that are mixed with ceilings hanging with green foliage, soft blue walls and dim lighting. Upstairs, meanwhile offers a similar décor but in a more open space that takes advantage of five metre high ceilings and expansive natural light with double height glass all around.
Passionate about good food, from fresh fruit and vegetables, to fish or meat, Natural Kitchen uses a handful of trusted suppliers that deliver the best possible taste and quality. With the
provenance of its food paramount, they take the time to ensure ingredients are from sustainable and ethical sources, which in turn results in Natural Kitchen's menus bursting with the freshest, tastiest and environmentally friendly ingredients. To maintain this strong reputation for using traceable food of the highest quality, Natural Kitchen works only with suppliers who share its philosophy. Suppliers include Debono, Celtic Bakers, Real Good Ketchup, Miko, Skandel Boathouse, Smith & Brock and Alliance Foods. Inc and Hush Hush Chefs.
Furthermore Marylebone High Street features a butchers shop, which was established in 2008 by Andy Jordan a long time friend of Justin Green the MD of Natural Kitchen. Andy was a chef for over 20 years with experience in high-class restaurants and hotels – including six years with Marco Pierre White – and John Bartlett, a highly skilled master butcher with more than 30 years in the trade. Offering expert advice on both the selection and cooking of the company's quality meats, the butchers sells a wide range of high quality free range and organic meats. Because these have been sourced directly from small traditional farms, the butcher has full provenance and traceability.
To further strengthen customer loyalty from locals and visitors alike, Natural Kitchen has set up a loyalty app, the NK Club. Offering rewards with every single purchase at Natural Kitchen, whether it is from the food-to-go deli, restaurant or bar, the app also means that customers will be offered great deals straight to their phone.
Further sites
Alongside serving 2000+ customers per day at its restaurants and delis, Natural Kitchen also provides outside catering services and events, offering a wide variety of food & drink that can be collected, delivered or enjoyed at one of the Natural kitchen venues. Natural Kitchen is flexible in offering dinner party for ten or drinks & canapes for many hundreds. Menus include canapes, a hot & cold buffet, finger food and drinks.
Having achieved immense success in less than a decade, Natural Kitchen was recently listed in the London Stock Exchange Group's 1000 Companies to Inspire Europe 2017 report. With the report a celebration of some of the fastest-growing SMEs in the UK and Europe, Natural Kitchen is in good company thanks to its commitment to high quality food, innovative offerings and focus on expansion.
As Natural Kitchen continues to grow its brand, the company's focus will be on securing further sites in high-profile locations throughout London that have a diverse mix of visitors and local residents. The aim is to stay good at what it does, not just get big. With a proven recipe for success in place, it is certain that more Londoners and travellers will be enjoying Natural Kitchen's exceptional quality food in the future