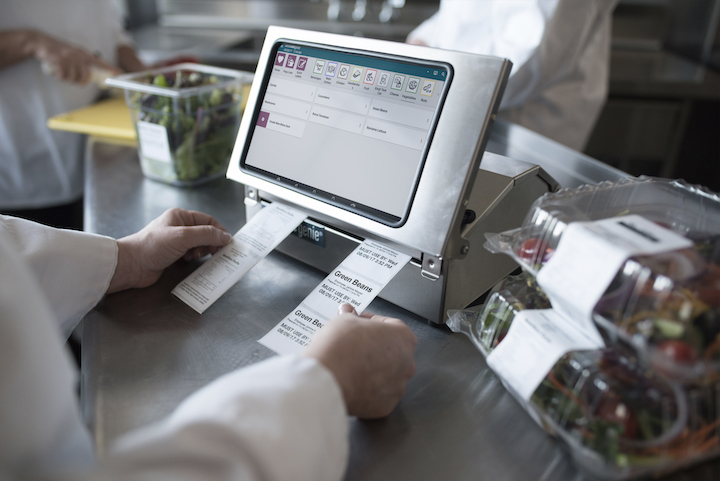 NCCO uses its more than 110 years of expertise to improve business for foodservice operators.
National Checking Company (NCCO) aims to drive success for the foodservice industry. By maintaining this focus for more than 110 years since its inception, NCCO develops solutions that meet the evolving trends in the market. It's a good bet that almost everyone who has worked as a server at a restaurant has used the company's iconic green GuestChecks™, but NCCO's solutions continue to innovate the market and provide answers to managers' and operators' challenges.
Based in St. Paul, Minn., NCCO develops and produces products designed to help foodservice operations run more efficiently. This includes POS system essentials like guest checks, register rolls and ribbons, as well as disposable food safety products, smart labeling solutions and online food safety training. Serving the market from foodservice distributors to restaurants, NCCO is dedicated to making business easier for its customers with the highest-quality products.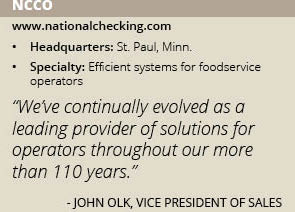 The company's DateIt™ food safety labeling system, for example, offers several different adhesives, styles, colors, sizes and shape options to ensure each business has appropriate labels for its operational needs. The label adhesive can be dissolving, removable or permanent to help keep kitchens organized and safe.
"Food safety has become a large focus in the last 15 years, especially because of increased visibility of health code violations for operators," Vice President of Sales John Olk explains. "If an operator uses our 2-inch x 3-inch dissolving food safety labels, the primary cost is the labor it takes to write each label. With the Date Code Genie, operators can control, manage and create menu item information in the cloud and then the label can be efficiently printed at the operational level."
Olk notes that industry standards for expiration dates are usually much stricter than the FDA's guidelines, so it's important the Date Code Genie allows the operator to control those dates on the labels. The Date Code Genie helps to increase consistency and accuracy, simplifies food preparation, addresses food safety issues and maximizes labor efficiencies. The cloud-based system is customizable for each kitchen. Each device has a full-color touchscreen, thermal printer and kitchen-grade stainless steel housing. The tablets are Wi-Fi enabled and automatically update to ensure the system is as advanced as possible. "The system can be used universally, which is important to many operators," Olk says. "It can help with back-of-house prep labeling, front-of-house catering or grab-and-go labeling, meaning you won't have to buy multiple label types for different areas of your operation." The Date Code Genie can print branded labels, nutrients, allergens and pricing and more.
"Operators don't have to worry about how employees are labeling and it makes the scaling-up process simple in terms of food safety labels," he adds. "They don't have to spend hours training workers on how to label properly. The system is great for fast casual, convenience stores, multi-unit operators and high-volume scratch kitchens."
Provider of Solutions
NCCO emphasizes restaurant operators don't have to worry about the safety of their to-go menu items with third-party delivery services because of its SecureIt™ labels. Delivery customers have peace of mind that their food was not tampered with because the labels have special cuts that will break if tampered. These permanent SecureIt labels will adhere to a variety of packaging – paper, plastic, foil, foam or whatever a restaurant uses.
"We thought about how operators could better deliver their food via third-party companies," Olk explains. "We could provide a label that indicates if someone tampers with a delivery. The SecureIt labels adhere to any and all packaging, allowing the operator to continue using the same takeout packaging, with an added level of security."
SecureIt labels are also manufactured for use with the Date Code Genie – available in multiple sizes and customizable to an operation's colors and logo. For grab-and-go or third-party delivery items, this advancement provides customers peace of mind that their food is safe to consume upon delivery.
The goal of NCCO, Olk says, is for its products to be used in every foodservice operation in North America by 2023. Its products are already used in many restaurants and foodservice operations, and by helping operators achieve a more transparent and consistent food safety protocol it will continue to gain favor in the market.
"We have had a continued evolution as a provider of solutions for operators throughout our more than 110 years," Olk says. "During our history, we have provided basic solutions that help operators become more efficient and profitable, and we continue to do that today."
Visit www.NationalChecking.com to learn more about company history and products as well as explore the Date Code Genie benefits and models available. NCCO also operates internationally; visit www.ncco.eu for more information about this.