Neiman's Family Market is the go-to grocery store in four Michigan cities for convenience and local products.
Neiman's Family Market prides itself on being a place where community and food come together. Its strong sense of community and support of local producers has kept it the go-to grocery store in four Michigan cities, despite being up against three of the largest big-box retailers. "We hang our hat on being the community store," President Bryan Neiman says. "It's all about being involved in the community."
The Alpena, Mich.-based grocer has been family owned since 1983, but the grocery industry had been in Neiman's family more than 30 years before that. His maternal grandfather, John Schmidt, got started in the business more than 50 years ago. "He started in high school at a meat market and was trained as a meat cutter. During World War II, he was stationed in Australia as a butcher. When he got home, he continued his work in a local meat market until 1953 when he and a friend opened their first store in Richmond, Mich."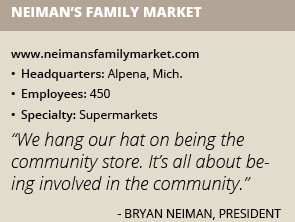 Neiman's father, Hal Neiman, was an educator in Ann Arbor, Mich., and worked in a local grocery store in the evenings and on weekends. When the Alpena store went up for sale in 1983, Hal Neiman and four partners bought the first location."He fell in love with the grocery business," Bryan Neiman says of his father. "My dad is a really hard worker."
When the store first opened it was named Alpena IGA, but Hal Neiman renamed it Neiman's Family Market around the time he and his wife bought out his remaining partners. "He said, 'If it's going to be run by family our name has to be on the building so people know it's who we are,'" Bryan Neiman says. "Once Neiman's Family Market was up and running, the market became even more involved in the community.
"Ever since I was a little kid we have been in every parade, supported the 4H club, hosted a cart brigade, held Easter egg hunts in the store and often brought reindeer or Santa into the store," he remembers. "You name it we are a part of it. That's the biggest thing we can bring to the community. When we look at a new site, we look at the community because it has to have a small town feel and people who want a local grocery store that they can call their own. Customers want to know their store director, all the department managers and the family that owns it."
Today, Neiman's Family Market is located in the Michigan towns of Alpena, Tawas, St. Clair and Clarkston. The markets offer bakery, grocery, frozen food, seafood, deli, health and beauty, pharmacy and floral departments. It has many unique store items including store-made bratwursts and bagels.
Local and Convenient
Neiman's Family Market is deeply rooted in all of its communities and supports Michigan producers. Craft beer has been a major focus for the markets and all of its liquor department endcaps are dedicated to Michigan-made spirits, wine and beer. "We hope to soon sell beer growlers in our stores," Neiman says.
Neiman's Family Market created a large display in its St. Clair, Mich., store to promote Danny Boy Beer Works over Memorial Day weekend. Although the company is based in Carmel, Ind., its founders are from St. Clair – and they do brew some of the beer locally – allowing the market to promote local brewers. "I took everything they had and made a big local display of it," Neiman says. "Craft beer is getting bigger and our 'Pick 6' is a customer favorite because people can try different flavors of local craft beers."
Craft beer is not the only consumer trend Neiman's Family Market is focused on. The market is expanding ready-made meal solutions in its delis and added Corner Cafés in all of its locations for added convenience. "We are expanding with our ready-made meals, salad bars and exclusive-to-Neiman's sandwiches to the Corner Cafés. The result has been significant increases in those departments," Neiman says.
Neiman's Family Market makes its own bagels daily in Alpena and ships them to every store. Its signature Hal's Breakfast Bagel is its No. 1 seller because it's convenient and healthier than what consumers can get at a fast food chain. "We are driving convenience," Neiman says. "Our three main competitors, Kroger, Meijer and Walmart, are growing bigger in Michigan – they are very strong competitors in our area. So we are up against the giants, but we are smaller, more convenient, and that's our job."
This summer, the market will begin offering online shopping to its Clarkston store customers so they can pick up their groceries and be on their way. "That's a new avenue for people to shop," Neiman says. "They fill out their grocery list and we bring it out to the car. It's great for people traveling up to their cottages because they can pull up to Neiman's and be on their way. We will offer this in Clarkston and then St. Clair. Our plan is to eventually add this service to all our stores."
Growing Strong
Neiman's Family Market plans to open more locations throughout Michigan over the next five years. "We would certainly like to add more stores and hope to do that in the next four to five years," Neiman says. "One of the biggest things is to grow and expand from strength. That's important to us."
Growing from strength means building upon a strong foundation to prevent the business from expanding too quickly. "For example, one of our employees lives and works in Alpena. He started working here in 1983," Neiman says. "When we grow, it's important to us to expand from strength because we know he and many others have bills to pay and mortgages to make. It's important for us to expand slowly and smartly."
Neiman's Family Market employs 450 associates throughout its four locations. By looking out for the best interests of its employees, they are empowered and take pride in the business. For example, employees are told in training that if they notice someone is having a bad shopping experience to give them a half-gallon of ice cream, and they don't have to ask management first. "If you feel someone is not happy, fix it," Neiman says. "It's amazing. When you give them the power they are almost more protective of the store than you want them to be. They own their department and look to grow from within."
Empowered employees lead their departments to greater success. Department heads, store directors and assistant store directors set daily sales goals and psych employees up to make those sales. "That's the fun part of retail and we get really excited about selling," Neiman says. "When they can say, 'Wow, look at how much we sold today!' It's a lot of fun."
To continue motivating its employees and stay relevant in the industry, the Neiman family reinvests regularly in every location. Clarkston is its newest location – built in 2013 – and by 2018 will be the oldest location. "We go back and remodel every eight years because we reinvest in every store," Neiman says. "Too often you go into an independent grocer and see them not reinvesting. We continue to invest in our employees and training, but also in our buildings to be competitive with the big guys on the block."
Retail may not be for everyone, but the Neiman family sees it as an exciting and fulfilling vocation. "It allows those involved to have an impact on not just their customers but the entire community," Neiman says.