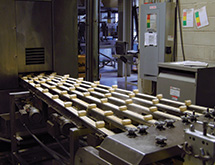 Neri's Bakery Products Inc.
Neri's Bakery Products Inc. has established a solid reputation over the past 100 years by consistently improving and upgrading its operation to produce the finest bread, bagel and pastry products. "We invest a tremendous amount of money annually in new technology," says Brett Neri, safe quality food practitioner. "We don't wait for it to be broken or aged. We upgrade constantly from our fleet and boilers to the latest technology in packing and mixing. That sets us apart from a lot of other companies."
Neri's great-grandfather, Paul Neri, started the Port Chester, N.Y.-based business in 1910 and the company maintains the "old world" method of baking it was founded on, using as many natural ingredients in its products as possible. "We pledge to all our loyal customers that the old-world level of quality and service will always remain the same," President and CEO Dominick Neri says.
Dominick and Paul Neri took over the leadership roles at Neri's Bakery Products in 1987 when their father, Anthony Neri, passed away. The pair oversaw the first large expansion of the company in 1989 when it moved from a 14,000-square-foot to 64,000-square-foot facility. In 2009, the company settled at its current 65,000-square-foot location where it employs 360 people and operates 24 hours a day, seven days a week.
Brett Neri and her brother, Anthony, are the fourth generation of Neri's to join the company and are being groomed to take over the leadership roles. "The long-term goal is for my brother and I to learn the ropes inside and out and run the facility the same way my Uncle Paul and dad have been running it for a while," Brett Neri says. "We will continue to give our customers the best-quality products we can."
Top-Notch Technology
Neri's Bakery Products prides itself on using the best machines and state-of-the-art technology to get top-quality products to its customers. "We electronically monitor dough temperature and every bagel is photographed for symmetry, hole size and toppings," Brett Neri explains. "If one of those things is outside the parameters we can make real-time changes."
The supplier approval program at Neri's Bakery Products is quite extensive and required before a new partnership can begin. The company demands proper documentation and visits the potential suppliers' facilities to ensure they are regularly cleaned, the proper ingredients are used and annual audits are conducted.
Neri's Bakery Products recently formed a new partnership with G&F Systems, a Roosevelt, N.Y.-based cooling systems supplier, for its cooling conveyor system. "We brought in two of their spiral coolers and they came in with their own engineers, planned it and tested it out," Neri says. "They had the coolers up and running in an expedited amount of time – less than two weeks. It was the quickest turnkey operation and they were nice people to work with. I see our relationship growing."
American Refrigeration Co., an Andover, Mass.-based design/build industrial refrigeration contractor, has been supplying Neri's Bakery Products with its refrigeration systems for seven years. Recently, Neri's Bakery Products worked with the company to upgrade to an ammonia-driven refrigeration system. "We had old R22 compressors and there is a lot of science around those that isn't good so we upgraded to ammonia," Neri explains. "It's quite a large system with walk-in refrigerators, precise ingredient delivery to our dough mixers and climate-controlled packing rooms. They came in as a small army and they were onsite for about a year. We were a family by the end of the year."
Director of Operations Domenick Cicatelli says the state-of-the-art refrigeration system was installed properly and the company never had any doubts in terms of changing over its system. "We have asked American Refrigeration to do other upgrades since then and they maintain our systems on a monthly basis," he adds. "We set it up so they can remotely monitor our systems from their offices and it is all password protected. They check our parameters to make sure nothing is overheating. If they log on and see something out of the norm, they call us to see if something unique is happening to figure out why the numbers are skewed."
Quality Production
Neri's Bakery Products constantly strives to deliver the finest and most consistent products to its customers. To do so, the company three years ago completed a multi-million-dollar improvement to its factory. "Dominick Neri is a very results-driven CEO; he demands results and gets them," Cicatelli says. "We know the way he wants things to operate and that is with a large focus on customer satisfaction with no questions asked. If the customer is not happy, go ahead and satisfy that complaint. Those are few and far between, but it does happen. We are all about customer service and a good, clean, safe and quality product."
The facility was upgraded with state-of-the-art equipment and the improvements provide exacting quality-control measures to assure that every product meets Neri's Bakery Product's unparalleled standards. "We had a safe quality food inspection that is basically a five-day audit where an inspector comes in and drills through every part of the bakery," Neri explains. "It's a test and 100 percent means the best, but anything that's wrong is minus one point. It was really big for us to pass this and our biggest customer needed this certification for us to keep producing for them."
Neri worked tirelessly for three years to get the facility to the SQF Level 3 status, passing with a 97 percent. "It's the most prestigious level in the food industry and the best you can get," she notes. "It's the Rolls-Royce of food certification and we passed on the first try. We have been audited every year since then and had an unannounced audit this year and passed with a 96 percent. That's really important to me and my team that we passed. The result is we have a lot more people wanting product from us."