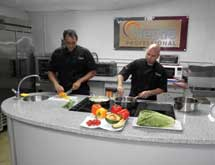 Nestle Professional Caribbean
For many people, the brand name Nestle immediately invokes thoughts of chocolate. While the company remains a major force in the sweet stuff, confections are just a small part of its overall global operations.
One of the beverage and food provider's newest business units is making strides to increase its presence within the 29 nations that make up the Caribbean islands. Nestle Professional Caribbean, headquartered in San Juan, Puerto Rico, is the regional arm of Nestle Professional, a globally managed business division of the company that was formed three years ago.
"We're finding that most people are consuming products outside of the home, and that number is growing by double digits each year," says Nelson Peña, business manager for the Caribbean. "We wanted to develop a strategy to address that growth and establish a dedicated team to address foodservice and out-of-home consumption."
The division offers all of Nestle's foods and beverage products including Nescafe, Chef-Mate, Coffee-Mate, Maggi's, Hot Pockets, Stouffer's Lean Cuisine, Nestea and Trio. Products are offered through both a network of distributors and direct sellers, Peña says.
An affiliate company, SWIRL Corp., also located in Puerto Rico, sells and services Nescafe coffee vending machines. Nescafe is one of the company's most popular products, with more than 20 million cups sold in Puerto Rico alone each year.
"In terms of hot beverages dispensed from a machine, we are the number one company in Puerto Rico and a leading company in all other areas," he adds.
Nestle has a strong presence in the Caribbean, with production plants in the Dominican Republic, Cuba, Trinidad and Jamaica and sales offices and markets in Curacao, Aruba, Barbados and Saint Martin.
With a population of more than 42 million people in the region, there is plenty of room for the company to grow, Peña believes.
"One of the biggest ambitions I have is to double our business in the next five years, and one of the ways I'm looking at doing that is geographic expansion," he says. "There are countries we're not currently providing solutions to where we would like to be."
Peña joined the company in 2010 after previously working in sales, marketing and financial management roles for PepsiCo and the Quaker Oats Co. He earned a bachelor's degree in civil engineering from Universidad Politécnica de Puerto Rico and an MBA from the University of Phoenix. "My training may be as a civil engineer, but I have a passion for food," he adds.
International Expertise
Nestle Professional has three primary goals for its operation:
To deliver new business ideas to customers using its insight into the global market;
To build long-term, close working relationships with its food service partners; and
To help customers drive growth and guest satisfaction through the strength of its brands.
Much of the company's work in the Puerto Rico market is on developing recipes and product solutions for back-of-the-house restaurant and foodservice operations.
"We provide better response times, better quality machines and better solutions than our competitors," Peña says. "When we develop products, we don't think about how much it's going to cost and how we can make it cheaper to produce. We are very consistent in quality and performance of our products, and that's what our customer is expecting.
"Instead of reducing the quality of our products, which is how most of the market is coping with economic change, we look more to how we can improve our delivery and production costs and take inefficiencies out of our operations."
The company draws on its strength as a global company and industry leader to support distributors in a number of ways, including having chefs work directly with them to develop recipes and share their knowledge.
"We help take their sales people up to a point where they can go directly into kitchens and speak to chefs," Peña says. "We want to help them understand chefs' needs and how to use our products."
Nestle's chefs and other staff bolster their skills in part through training in the company's Customer Innovation Cam­pus in Solon, Ohio, to which the Puerto Rico operation regularly sends employees. The 67,000-square-foot facility houses kitchens and other company functions, and serves as a way for the company and customers to collaborate on food and business solutions. Foodservice operators work with chefs, food technologists, product developers, culinary managers and marketing professionals within the facility.
A similar facility in Switzerland pairs staff with customers to develop beverage-related solutions. "The knowledge people can get in these facilities isn't available anywhere else," Peña says.
80 Years on the Island
Founded in 1861, Nestle Group first established a presence in the Carib­bean in 1899 with the opening of an office in Cuba. The company this year is marking its 80th anniversary of business in Puerto Rico, where it first opened an office in 1931.
Today, Nestle's connections to Puerto Rico go beyond professional ties, as it works with many schools, universities and culinary schools on training and nutrition education programs. The company also supports a variety of charities including autism and cancer research organizations. "We have a strong sense of social responsibility and try to give back as much as we can to the community," Peña says.