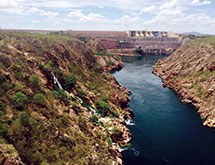 Becoming known for quality does not take a day, a week or a month. A strong reputation must be earned over the course of years and after hundreds of interactions with customers. For more than two decades, importer Netuno USA has prided itself on delivering quality products in the seafood market and maintaining that reputation has fueled its success. "Within the industry, it gives people a lot of comfort when doing business with us," co-founder and President Luciano Bonaldo says.
Bonaldo and Guilherme Colaferri founded Netuno in 1993 as an importer and wholesaler that fills the niche between inexpensive, mass-market seafood products and the premier items served at high-end restaurants. "We've been around for 20 years so we have a very well-recognized brand," Bonaldo says. Annually, Netuno brings approximately 20 million pounds of seafood into the United States. Most products come from suppliers in India, Vietnam, Indonesia, Mexico, Guyana and Brazil. Netuno also imports lobster from Hondorus, Brazil, the Bahamas and Belize and squid from China.
Once imported, Netuno sells to seafood distributors across the country, but its market is predominately on the Eastern Seaboard between Florida and New Jersey. Many of its product lines end up on cruise ships and a few head to retail customers. "We try to diversify as much as we can," Bonaldo says. Although the United States is Netuno's largest market, the company also does business in Canada, Central and South America, the Caribbean and the Middle East.
Unlike some importers, Netuno sticks to a small and manageable line of products. The company offers calamari, conch, crab, fish fillets and octopus, among other items, but its core focus is lobster, snapper and grouper. Netuno is careful about what products it adds to its lineup and works to ensure it can deliver a steady supply of quality fish. The company has added only one new item this year, a tilapia filet from Brazil.
Tilapia can be a difficult product for importers. The fish is often raised in man-man ponds where stagnant water encourages algae growth, giving tilapia a muddy, off-putting taste. To solve the flavor conundrum, Netuno worked with a source that raises tilapia in a dammed river where the supplier can control the water flow to prevent algae growth. Netuno received its first shipments this summer and the early reception has been encouraging. "We haven't had one person who ate it and hasn't been amazed with the flavor of the product," Bonaldo says.
Supplier Relations
Netuno strives to be an active participant in quality at the source – even though its suppliers are located thousands of miles form its Florida headquarters. The company has purchasing offices in all of its markets that visit suppliers and oversee quality control. When working with frozen fish, standards and consistency become even more critical to ensure every piece of seafood retains its taste during transportation. Bonaldo says there have been times when Netuno had to reject a container holding 30,000 pounds of seafood because it did not meet the company's standards. "[Suppliers] need to understand our seriousness when it comes to what we're putting into our boxes," Bonaldo adds.
When inspecting each shipment, Netuno looks beyond the food itself and considers the cut of each fillet and how the seafood is packed. The company is involved in processing and works closely with the supplier to better implement its quality standards. "It eliminates a lot of problems and corrects problems where they need to be corrected, which is at the source, not [in the United States]," Bonaldo says.
Improving Practices
Helping its suppliers achieve success is about more than coming to a fair purchase price. Netuno is aiding its sources in developing the sustainable fishing practices necessary to maintain a healthy supply population. The move toward sustainability has been difficult, Bonaldo says, because some suppliers take a shorter-term view of the industry and have different priorities.
Despite the challenge, the company continues to push for change because it has a sense of responsibility for making a living off the sea. Netuno has instituted several programs and is working with local government agencies to encourage better practices. In Brazil, the company is collaborating with the Fisheries and Aquaculture Ministry of Brazil, universities, fishermen, non-governmental organizations and the Environmental Ministry of Brazil on a $600,000 fishery improvement project for Brazilian red snapper. The project is in the beginning stages, according to Bonaldo.
As the company strengthens its conscience abroad, Netuno is also considering how to expand its presence at home. Netuno already has some business on the West Coast, and it is mulling a West Coast office to drive more activity. "Any growth that we have is going to be slow but steady and focused on the lines we have right now," Bonaldo says.