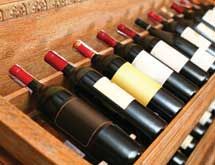 New England Wine & Spirtis Inc.
When a company is doing something well in one or several aspects of its business, it doesn't take long for customers, suppliers and its market as a whole to notice. New England Wine & Spirits Inc. – an importer and distributor of wines, beers and other beverages based in Connecticut – is a great example of this, based on the number of awards the company has won throughout its 25-year tenure in the industry. In recent years, New England Wine & Spirits has been recognized as the Best New Distributor and received the Wine Adventure Hero Award from California-based Wente Family Vineyards; Seghesio Winery of California selected four of New England Wine & Spirits' salespeople to enter is Ambassador Club; and the entire company was chosen to entire the Ambassador Club of Shingleback Wines in Australia.
New England Wine & Spirits attributes this recognition to its ability to form strong partnerships with the brands it represents and maintain a high level of customer service, all while continuously growing its business.
Richard Ericksen and Michael O'Hara founded New England Wine & Spirits in 1983 in Connecticut with an emphasis on importing. The two industry veterans began the business by exclusively importing and distributing many wines locally and nationally. In the 1990s, the company expanded its portfolio to include many world-renown wines such as Bogle, Barefoot, Wente, Seghesio and Southwest Wines. This increase in sales and brands allowed the company to double the size of its warehouse and office space in 2004 with a location in New Haven, Conn.
In 2006, New England Wine & Spirits was purchased by Anthony and Elizabeth Gallo. "With the infusion of capital, technology and management, the company experienced great growth in both the distribution and import sides of the business," the company says. "With a more focused management style, the company outgrew its original facility and was relocated to a temperature-controlled, 48,000-square-foot warehouse. Today, New England Wine & Spirits is one of the largest of the independent wholesalers of fine wine in Connecticut."
Devoted to Quality
New England Wine & Spirits distributes to customers in the entire state of Connecticut and imports its wine from throughout the United States, as well as from Australia, New Zealand, Argentina, Chile, South Africa, Spain, Portugal, Italy, France, Germany, Belarus, Greece, Hungary and Mexico.
New England Wine & Spirits' affiliate companies include:
Distributors Inc. – One of the premier beer wholesalers in Connecticut, Star Distributors serves Fairfield and New Haven counties. Star Distributors represents several prominent suppliers such as MillerCoors, Crown Imports, the Boston Beer Company and Diageo USA.
Scrapco Inc. – Star Container Recycling and Processing Company (Scrapco) is the receiving center for Star Distributors. Scrapco processes empty kegs and pallets to be returned to the breweries, as well as empty cans and bottles to be sent to Thames River Recycling for further processing.
Thames River Recycling Inc. – Thames River Recycling is a full-service recycling plant that works with Star Distributors and its affiliate companies, as well as nearly all of the other beer wholesalers in Connecticut. Empty bottles, cans, plastic and cardboard are processed and sold for the manufacturing of new glass bottles and aluminum cans. Thames River also sorts and repackages some bottles to be cleaned and refilled by specific breweries.
A. Gallo & Company – A. Gallo & Company provides Miller, Coors and import products to customers, as well as premier non-alcoholic products such as Snapple.
Working closely with its customers, and suppliers, New England Wine & Spirits strives to procure and supply quality brands and excellence customer service, and add value to its supplier and retail accounts. The company prides itself on being the preferred choice of its suppliers and retail customers.
"Excellent customer service is at the heart of our business philosophy," the company says. "New England Wine & Spirits has been continuously devoted to delivering the best-quality products, providing exceptional customer service and adding real value to all of our customers. Our long-term success requires a total commitment to exceptional standards of performance and productivity, working together effectively, and a willingness to embrace new ideas and learn continuously. We conduct our operations with honesty, integrity, openness and with the greatest respect for our employees, customers and suppliers."