New Hope Mills continues a family legacy of producing baking mixes with natural ingredients.
In 1823, Charles Kellogg built a flour mill on the banks of Bear Swamp Creek in the town of Sodom, N.Y. As legend has it, once the flour mill was completed, the Forman climbed to the top and declared the town of Sodom renamed as New Hope.
Since that time, New Hope Mills Manufacturing Inc. has undergone relatively few ownership changes. Although New Hope Mills discontinued grinding flour at the original mill in 1996, it continued production in the same building until moving the packaging and production to a new building in Auburn, N.Y., in 2004. The original mills have been added to the National Register of Historic Places.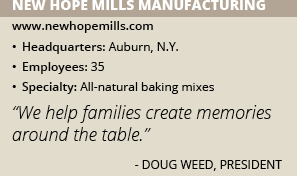 Today, New Hope Mills Manufacturing is owned and run by President Doug Weed, whose grandfather bought the company mill in 1947. Weed represents the third generation of Weeds to own and run the company, having purchased it from his father in 2012.
As it has for more than 190 years, New Hope Mills continues to make baking mixes, and other dry mixes, focusing heavily on their original recipes and using natural ingredients. "We produce memories one bag at a time," Weed says. "We help families create memories around the table."
Traditional Values
Doug's father, Dale, along with Dale's brother, David, purchased the company in 1980, and Dale became the sole owner when David passed in 2001. During the time he owned the company from 1980 until 2012, Dale Weed also served as a minister.
Weed preached traditional values that have been passed on to the current generation of Weed ownership. "His traditional values and outlook on life have served us well," Doug Weed notes. "As we continue to grow, we don't want to lose our identity."
That identity has been forged over an extended history of using all-natural ingredients in its mixes. Those include unbleached flour, which does not have as many chemical agents such as chlorine gas and benzoyl peroxide to speed up the flour's aging process.
The company also has a history of innovation. New Hope Mills is where Sylvester Graham, an early advocate of dietary reform, helped develop graham flour. Graham despised the discarding of nutrients such as germ and bran when flour was made for white bread, and believed that using all of the grain was a remedy for the poor health of many people during the industrial revolution. Graham's innovation is still in use today in graham crackers and is known as whole-wheat flour.
The mill has also been the site of manufacturing innovations.The mill was one of the pioneers in moving away from the process of stone milling, and in adopting the use of steel roller mills to grind flour. And since Doug Weed took the reins in 2012, there have been upgrades to all three of the company's production lines to increase efficiency.
Controlled Expansion
For Weed, one of the main challenges for New Hope Mills is to expand geographically while adhering to its upper New York roots. "Right now, we are in all Wegmans stores as well as TOPS and Price Chopper," Weed says, referring to three regional supermarkets in the mid-Atlantic. "We are also in a select group of Walmart stores, and maintain a strong presence in Amish all-natural bulk food stores."
New Hope Mills also has a strong presence in some family-owned stores and restaurants throughout the East Coast. "We're working on having a national presence," Weed notes. "But we're not there yet."
New Hope Mills is introducing new products to support its expansion. The company just launched a new Rustic Wheat Sourdough pancake and waffle mix, and has introduced many gluten-free products to its lineup.
"We want to grow, but in a controlled fashion," Weed says. "We don't want to lose our identity as a family-friendly label." And being a family-friendly label means adhering to its traditions of all-natural ingredients, according to Dawn Korbel, Doug's sister and sales and marketing manager for New Hope Mills.
"Once people try our products, especially our birthday pancake mix," Korbel notes, "they discover that having natural ingredients can also taste really good. We remain conscientious and wholesome."
New Hope Mills is also in the final stages of remodeling of its café and general store, both located at the site of the manufacturing plant. For Weed, having a physical store on site remains a family priority. "For us, we will always have a store," Weed says. "It remains a huge opportunity to connect with our customers, and to continue making memories."