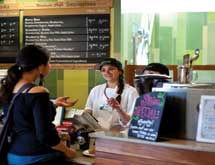 New Leaf Community Markets
A lot has changed in the natural/organic grocery business since New Leaf Community Market opened its first 3,000-square-foot store in a converted warehouse in a mixed residential/light industrial area of Santa Cruz, Calif., in 1985. Scott Roseman was working at the cooperative grocery while attending the University of California at Santa Cruz when in 1984, he offered to buy its assets. It had been operating for 13 years before that as a cooperative.
Now the six-store chain in the Santa Cruz area is expanding with its seventh store, this one in the heart of Silicon Valley that is due to open in October 2011. The stores vary in size from as large as 22,000 square feet to a downtown location that is 8,000 square feet. New Leaf Community Markets has been opening a new store every 18 months in the greater Bay area during the last four years.
The chain's food selection might be progressive, but the expansion philosophy of New Leaf Community Markets is conservative. "We look to expand the business when it is prudent for us," Partner Rex Stewart emphasizes. "We like to pick places where we can make a difference in the community, so that we are looked upon as a community resource, not just a food store. If we make that contribution, then the community will support us and see us as something more than a food store."
New Leaf Community Markets is serious about contributing to the community. It donates 10 percent of its annual profits to more than 100 local nonprofit groups. The groups are chosen by the individual stores, and the list is continually evolving. Additionally, on one Thursday of eight months every year called Community Day, a local nonprofit organization receives 5 percent of the day's total sales from New Leaf.
Another charitable program rewards customers who use reusable bags with an Envirotoken. They can donate the 10-cent Envirotoken for each bag saved to an organization they choose annually.
Natural Selection
An example of turning a new leaf at the stores is the company's top rating from Greenpeace in its annual sustainability survey. New Leaf was the pilot project for the Fish Wise program, which affixes labels with red, yellow and green traffic lights on packages of fish to indicate the sustainability of the fish's species. Like traffic lights, red means a species is least sustainable, while green means it is most sustainable. Fish Wise now has more then 40 retailers participating in its program including Safeway.
"What happened over time is consumers stopped buying the red and sought other alternatives," Stewart recalls. "Now we only have green and yellow – we sell no red.
"We try to do some different kinds of things with design, making the stores more comfortable for those that shop there," he adds. "We believe it's essential to create an environment that people want to be in – a place where they want to spend some time in contrast to shopping being a chore. For example, the colors and lighting of the stores are constantly evolving."
Produce at the stores is 95 percent organic. "We focus on local and organic," Stewart maintains. "We buy directly from the farmers whenever possible. We have those kinds of relationships; we've had those for 25 years. We were selling local before it was even hip to sell [that way] – it was a way of life to us. It was the right thing to do."
A Quarter Century
New Leaf Community Markets celebrated its 25th anniversary in October 2010. "We had two big parties – one was for the community, where we had music and food," Stewart says. "We threw it in a parking lot and invited people that have supported New Leaf over the years – customers and vendors – to have a good time. The second party we invited all the vendors and did a big tasting fair. We had those for two weeks in a row and did other things on a daily basis. It was a lot of fun."
Stewart is modest about the store's growth. "We've been riding a good long wave here of organic food growth that's been happening over the last 20 years," he says. "We have been [successful] in my opinion because we've been able to ride those good trends. We have kept our eye on the market and evolved as the industry evolved."